Things to do in The Azores
Whale watching
The first time you see a whale surface after a long, deep dive, you'll find yourself gasping as well. There's nothing to beat the exhilaration of a good sighting on a clear day – especially if you're right down close to the surface of the water, as you will be if you've booked a trip on one of the Azores' smaller whale watching boats.

Cetacean experts count São Miguel, Terceira, Faial and Pico among the best places in the world for reliable sightings of several whale species. This quintessential Azorean adventure is made possible by the distinctive underwater landscape. Deep currents rush between steep-sided volcanoes, bringing in nutrient-rich water which allows krill and squid to flourish. With such a plentiful feeding ground, sperm whales, the iconic Azorean species, make the archipelago their permanent home.

The region is also a destination of choice for migrating species such as humpback, pilot, fin, sei, beaked and even blue whales, the mightiest of all. These are drawn here in spring as they travel between their calving grounds in the tropics and feeding grounds further north. Using skills learned in the days of whale hunting, the Azoreans are superb spotters, helped by the vigias, a holdover from the days of the whaling days. From these little coastal towers spotters can see up to 30kms out to sea.

Azorean whale and dolphin watching trips have a strict code of conduct and a strong conservation focus – it's not just about watching, there's also lots to learn.

Swim with dolphins in the wild
The Azores has some of the most abundant dolphin sightings, with seven species commonly seen including the deep diving Risso's dolphin - rarely spotted elsewhere. This is also one of the best places to
swim with dolphins
, with expert guides and boat drivers who can monitor the behaviour of each species – some local operators are involved in wider research activities. Week-long trips build confidence in open water as you get used to snorkelling around curious cetaceans.

With tranquil country lanes, inspiring routes around crater lakes and gnarly mountain trails, the Azores offer all kinds of two-wheeled adventures.

Get on your bike
The Azores aren't particularly well known as a cycling destination, so you'll feel like a pioneer as you explore. São Miguel's choice of easy and more challenging routes makes it a good target, especially if you organise transfers to the best spots. Terceira, Pico, Flores and São Jorge also have trails to get your heart racing. After a long day in the saddle, you can cool off with a spot of wild swimming in a natural tidal pool.
Our top trip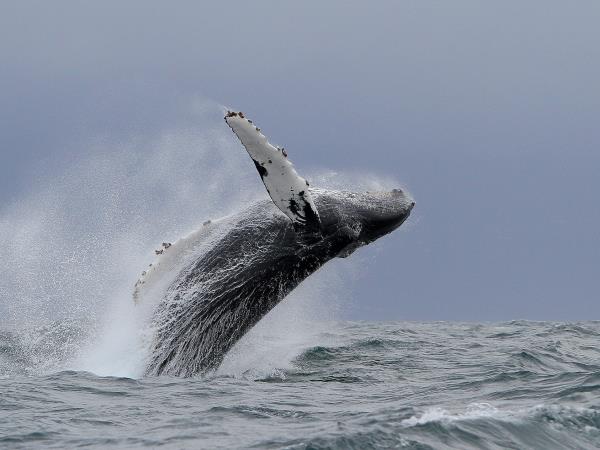 Classic whale watching trip in the Azores archipelago
From
£830
7 days
ex flights
Tailor made:
This trip can be tailor made to start on any day of the week from March to October
If you'd like to chat about Azores or need help finding a holiday to suit you we're very happy to help.

Hike ancient trails
The Azores are so steep that, for centuries, the easiest way to get from one part of an island to another was by boat. On land, few roads were built – just footpaths, by which the islanders travelled to Christian festivals, moved livestock to pasture or tended levadas (water courses). These paths now make excellent hiking routes, many of them graded, mapped and waymarked.

Enjoyable rural trails include the stunning hike through São Miguel's Reserva da Lagoa do Fogo or the 10km walk from Loural to Fajã de São João on São Jorge, with Pico and its towering volcano rising out of the ocean in the distance.

On Faial, you can walk to a lighthouse that was semi-buried by a eruption in the 1950s and is now part of a volcano museum, and on Pico you can tackle the archipelago's signature hike, climbing right to Pico's summit, an enjoyable, six-hour scramble over rough, rocky slopes with spectacular, panoramic views.