Things to see & do on
Faial Island, the Azores
One of the central group of islands in the Azores, known as the 'Triangle', Faial, like its neighbours, once had a major whaling industry. Today it's a well established stop for transatlantic yachts (grizzled boaties invariably gather at the iconic Peter's Cafe Sport in Horta's harbour). But Faial, and indeed the Azores as a whole, is best known now as one of the best places in the world for whale and dolphin watching. The chance to see these magnificent cetaceans in their natural habitat aside however, there is an enormous number of cultural and natural attractions to prompt a visit to Faial Island.

Like neighbouring Pico (a 30-minute ferry across a 6.5km-wide channel) and São Jorge, the island's physical geography has been shaped dramatically by volcanic and tectonic activity. Most impressive is the vast Caldeira, the crater of a long-extinct volcano, with a diameter of some 1.5km. Black sand beaches, islets and rock pools such as those of Varadouro make for a very distinctive coastline and Faial is known as the 'Ilha Azul' – the Blue Island – after the reams of bright blue hydrangeas that blanket the island in summer, lining roadsides and hedgerows, and decorating houses.

Thankfully, whaling ended in the Azores during the 1980s. A factory that once turned whale blubber into oil has now been converted into a museum where you can trace the industry's history and view much of the machinery involved in the processing. There are also various artist studios and shops around Faial that sell scrimshaw, which is traditional engraved handicrafts using whale teeth and bones from whales hunted many decades ago. Due to the whaling ban, and the lack of new materials, these can now be quite expensive of course. And there is a very interesting interpretive centre close to the Capelinhos Volcano on the west of the island, detailing the 1957 eruption which coated the nearby village in ash.
Things to do on Faial Island
Hiking & mountain biking
Explore Faial's stunning coastline on foot or on two wheels, pausing here and there at the old vigia towers, once used for whaling and now useful for catching sight of tell-tale blows and fins far out to sea. Inland, there are many scenic walking routes, and you can also walk around the Caldeira, a crater some 1.5km in diameter. Carpeted in green grass, this nature reserve presents views across to the island of Pico.
Whale & dolphin watching trips
Well over 20 species of whale and dolphin can be found off the Azores at different times of year. Especially in the spring, you may see mighty blue whales, huge pods of dolphins, sea turtles, manta rays and marine birds, many of which are endemic to the islands. Whale conservation holidays are also a popular option in the Azores, where you will head out to sea every day to assist marine biologists with a variety of research techniques.
Jeep tours
The most arresting landscape on Faial is unquestionably that around the Capelinhos Volcano, perhaps the westernmost point in Europe. Since the 1957 eruption the area around the volcano has had a grey, rocky, almost lunar appearance in stark contrast to the rest of the island which remains lush with vegetation. Nearby, the iconic Ponta dos Capelinhos lighthouse stopped working after the volcano, when a layer of dust some 7m deep fell into its courtyard. Jeeps are ideal for travelling around this terrain, and you can take a '10 volcano' tour, which gives you some idea of how powerful the forces were that shaped the Azores.
Our top trip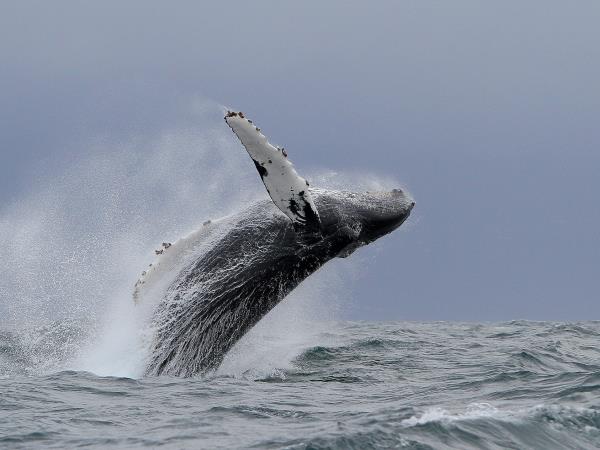 Classic whale watching trip in the Azores archipelago
From
£830
7 days
ex flights
Tailor made:
This trip can be tailor made to start on any day of the week from March to October
If you'd like to chat about Azores or need help finding a holiday to suit you we're very happy to help.

When to go to Faial Island
Most small group holidays in the Azores take place between April and October, which is when you will enjoy the warmest, sunniest weather. You can visit in the winter too, and though it's damper and the sea is rougher, it's still pretty warm. If you want to see whales and dolphins, your best bet is spring to late summer. In the spring the baleen whales, including blue whales and fin whales, arrive to feast on plankton blooms.

Sea Week, held in early August, is among the biggest festivals on Faial. Unsurprisingly, this is a celebration of the sea and all who sail on her, with a regatta, races and many events centring on the capital, Horta, with its traditional cobbled streets. Don't miss the colourful murals on the harbour wall – it's customary for sailors to paint a story of their own travels here before moving on.