Dolphin watching holidays
in the Azores

In the Azores we often see the dolphin 'superpods', so get ready to be surrounded by hundreds of dolphins leaping from beneath the waves with playful exuberance.

– Amanda Stafford, founder of our supplier Dolphin and Whale Connection
The Azores, a volcanic archipelago in the Atlantic, are widely regarded as one of the best places in the world for dolphin watching holidays. Many species of marine mammals are either resident in these waters, or pass through them between April and September every year. Species of dolphin that you're likely to see here include common dolphins, which can number 100 or more in a single pod, Atlantic spotted, striped, Risso's and bottlenose. Bottlenose dolphins are the largest, and the most likely to be targeted by dolphinariums, so the joy of seeing them in the wild is all the greater.

The most popular Azores islands for dolphin watching trips include Pico, Faial and São Miguel, all of them once home to whaling communities that have now transformed themselves into places where cetaceans are protected and celebrated instead. One key remnant of the whaling industry is the vigia towers that dot the coastlines of the islands. They were once employed for hunting, but now dedicated and expert spotters use them to direct the dolphin watching boats by radio – some are so practised they can identify an individual species far out to sea. This means that, although dolphin watching trips are always weather dependent and involve a degree of luck, you're never just heading out with fingers crossed. And naturally, the more boat trips that feature in your holiday itinerary, the more chances you have of an encounter.

Dolphin watching trips will often be accompanied by a marine biologist able to add an extra dimension to what you're seeing with a fascinating live commentary about dolphin behaviours, ecology and conservation efforts. Boats use hydrophones so you can hear the dolphins chatter beneath the surface. For a more in-depth take, there are also dolphin conservation holidays available that see you taking part in data gathering and research. Another option is to opt for a trip where you're only out at sea a few times, with the rest of your holiday spent exploring the Azores in other ways such as walking, wine tasting, mountain biking or jeep tours. All of these present opportunities to see dolphins, as well as whales of course, from land using the many vigia towers on the coast.
Swimming with dolphins in the Azores
Seeing dolphins from the boat is one thing; actually getting into the sea to swim alongside them, hearing them squeak and squeal around you, is another matter entirely. It's a life-affirming experience to be with these curious, intelligent and playful creatures in their natural habitat, and in the Azores there are several species of dolphin with which you can swim and snorkel.

It will always be the skipper's decision whether or not you get in the water with the dolphins, and there are strict rules to follow at all times. After all, you're there to observe, not disturb. So you'll be asked not to touch or chase the dolphins. When the dolphins are clearly feeding or resting this will be respected, and if the waves are too rough you won't be swimming either. Some operators also require you pass a medical check beforehand.
Typically you can expect to be in the water for between 10 and 15 minutes. You don't want to be in too long as this is the Atlantic we're talking about, and even wearing a wetsuit it gets pretty chilly. However, swimming with dolphins, whether you're a child (minimum age is usually seven) or an adult, is something you're going to be talking about for a long, long time to come.

Amanda Stafford, founder of our Azores holidays supplier Dolphin and Whale Connection:
"Obviously the experience of swimming with dolphins can be absolutely magical. But while we do offer this, it's not something we actively promote right now, the main reason being that managing it sustainably and safely can be a challenge. Done properly, swimming with dolphins isn't a bad thing. However with too many tourists and a lot of pressure on the dolphins the experience may not be as good as it can be. As the water is so clear we believe it's just as satisfying to see these beautiful creatures from a boat, leaping in the bow wave a few feet below us."
Best time to see dolphins in the Azores
You can see dolphins all year round here, as several species (common, Risso's and bottlenose) are all resident. But during the winter sea conditions can be pretty choppy and the skies darker, worsening the effects of seasickness and hampering visibility. Some trips may also be called off if the waves are simply too rough.

May to September, is the best time for dolphin watching in the Azores. There are more species passing through, pods tend to be larger and there are also a lot of cute calves around. July and August are peak season, when sightings are most common, but that means more boats out on the water, so perhaps consider visiting a little earlier or later.
Our top Azores Holiday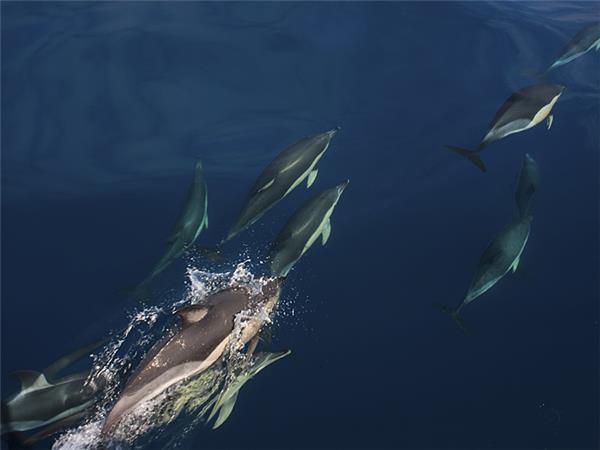 A true paradise for nature lovers
From
£1749
8 days
inc UK flights
Small group travel:
2019: 31 Aug
If you'd like to chat about Azores or need help finding a holiday to suit you we're very happy to help.
Dolphin watching tips from our Azores holiday reviews

The trips on the RIB boats were much better than on the catamaran as the boat is much smaller and closer to the water so you get closer to the animals.

"The full day marine biologist trip on the RIB was the best of all of the trips. The trips on the RIB boats were much better than on the catamaran as the boat is much smaller and closer to the water so you get closer to the animals. It was fantastic – a brilliant family holiday with two children (6 and 9)." – Paul Purslow

"Even though the Azores doesn't get sunshine all day at this time of year, it is still possible to get a 'sea' suntan when out on the water so bring a sunblock if you burn easily." – Kathryn Dodd

"Be prepared for changing weather. There is a local saying that you can experience all four seasons in one day, which is true, so pack for fog, rain, wind, sunshine, hot and cold weather" – Mark Davey
Back to the top
Convert currencies