Best time to visit The Azores

One word sums up the weather in the Azores – unpredictable.

The Azores are north of the Canary Islands and Madeira, on roughly the same latitude as Lisbon and Washington DC. Influenced by the Gulf Stream, the islands enjoy a mild, breezy climate, with daytime temperatures rarely dipping below 14
°
C in winter or rising above 25
°
C in July, making them a good choice for an outdoorsy break in any season. Whales and dolphins can be seen at any time of year but summer is the best time to visit the Azores for boat tours, when conditions are calmest and warmest. Spring holidays, however, when the Azores are less busy, coincide with the April / May and June migrations of baleen whales. The sea temperature averages 17°C in spring and reaches 22°C in summer.
The Azores, Month by month
January and February are in the middle of the rainy season, however you can often find very affordable direct flights at this time of year if you're not fussed about grey skies.Temperatures aren't too bad and are starting to creep over 20°C as March turns to April. April also signals the return of direct flights and a fuller ferry timetable as nature lovers head to the islands in search of spring flowers.Whale watching is also in full swing during April and May, however dolphins and sperm whales can be seen throughout the year.June is one of the best times to visit the Azores if you're interested in walking, hiking and mountain biking, as there's not much in the way of rainfall and temperatures are akin to an English summer's day.The warm and calm conditions of July and August are perfect for boat tours with whales and dolphins attracting the crowds both on and off the beaches.September finds rainfall levels starting to rise although, in the main, this is a fine time to visit the Azores, especially if you're into wind-based water sports.October starts to see ferry timetables restricted and flights requiring a stop-over in Portugal although there are few crowds, and accommodation is much more affordable, so it's fine if you don't mind wrapping up. The end of the year, November and December, is very quiet in the Azores with the rains well under way and not much chance of spying whales or dolphins amongst the rougher sea conditions.
Responsible Travel Recommends
Lesley Woodward of Azores High is one of our suppliers. She shares her favourite time of year:
"I love the springtime – especially May and June. It's not quite as hot as July and August, there are lots of flowers and whale watching is great as baleen whales, as well as the more common sperm whales, are in the area."
Our top Azores nature pick
The annual migration of whales through Azorean waters is a phenomenon as impressive as East Africa's Great Migration of wildebeest and zebras. It takes place from February to October, with March the peak month for blue whale sightings. By April, a dozen different migrant species are powering through the deep blue channels.
Our top Azores Holiday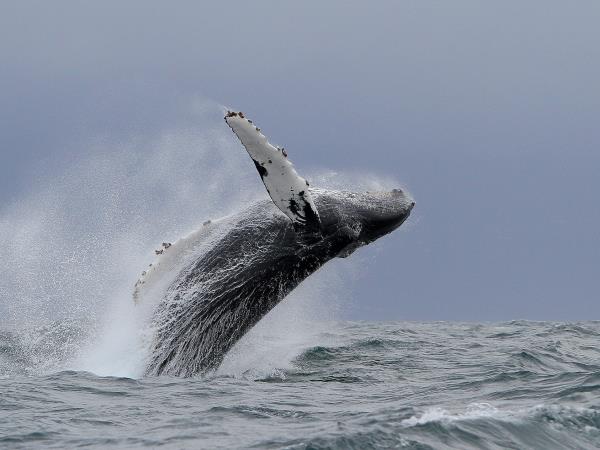 The Azores is one of the best spots for spotting whales – and this is our top selling tour
From
£610

to

£745
7 days
ex flights
Tailor made:
This trip can be tailor made to start on any day of the week from March to October
If you'd like to chat about Azores or need help finding a holiday to suit you we're very happy to help.
Festivals & events in The Azores
Festa do Divino Espírito Santo
Held throughout the Azores over several weeks in spring and early summer, the Pentecostal Festival of the Divine Holy Spirit calls for processions with flags, drums and singing around each império, a brightly painted chapel dedicated to the Holy Spirit. A traditional meat and vegetable soup with bread and wine is offered to the needy – and often to visitors, too.
Sanjoaninas, Terceira Islands
Locals fill the streets of Angra do Heroismo for ten days each June in honour of Sao Joao. There are concerts, food stalls, theatrical shows, fireworks, sporting events and popular dances. The highlight takes place on the night of 23rd, when the parade courses the crowded streets.
Walk&Talk
Founded by two young Azoreans, this is a cutting-edge festival of public performance and visual arts. Taking place over two weeks in July in Ponta Delgada, Ribeira Grande and Lagoa on São Miguel, it features street artists, sculptors, designers and video directors from three continents.

Back to the top
Convert currencies