Whale watching in the Azores
Why book a whale watching holiday in the Azores? Because the whales themselves are drawn irresistibly to this volcanic archipelago in the Atlantic, and if you want to have the amazing experience of seeing several species all at the same time, there's nowhere better to be.

The reason so many cetaceans can be found in these waters is their immense depth. It's over 1.5km deep just off the coast of Pico, and nearly 3km deep just a little further out. That can make swimming a little unnerving, but for the whales it's paradise. Nutrients swirl around in water heated by the Gulf Stream. Baleen whales such as fin, humpback and blue whales feast upon plankton blooms in spring, while the resident sperm whales can dive for up to an hour in search of giant squid.

Up until the mid-1980s the Azores was better known for hunting whales rather than watching them, and one remnant of this industry is the towers that line the coasts of several islands, which vigias (spotters) use to keep track of whales and direct the boats to them by radio.

Nowadays, of course, their purpose is to support whale watching tour boats, but these eagle-eyed experts really know their stuff. For many it's a family business, often very competitive, with knowledge handed down through generations based on the whales' behaviours. It goes without saying that the transition from whaling to whale watching has been significantly eased by keeping such occupations alive.

Amanda Stafford, founder of our Azores holiday partner Dolphin and Whale Connection, says: "The vigias (land-based lookouts) are incredibly important to whale and dolphin watching in the Azores. Their knowledge and abilities are often passed down between generations, and they are so good at their jobs that just by observing the angle at which a whale dives they can make a fair estimate as to when and where it will resurface, so a boat can be there waiting for it! They also observe boat operators and ensure they follow the best practice guidelines so that the whales aren't crowded by too many boats, and of course this profession provides a vital income stream to some former whalers."

The most popular Azores islands for whale watching include São Miguel, Faial and the far less developed Pico, where whales can frequently be observed very close to the coast. Depending on the time of year you may encounter blue, humpback, fin, sei, false killer, minke and beaked whales on their annual migrations, as well as sperm whales which can be seen all year-round. Your trip may be focused solely on seeing whales, but you can easily combine it with other Azores activities from wine tasting to hiking, mountain biking or horse riding.
What do whale watching trips
in the Azores involve?
The boats used are usually RIBs (Rigid-hulled Inflatable Boats) or catamarans, the latter best for anyone that suffers with a bad back or neck as RIB journeys can get quite bumpy. All participants will be equipped with a life jacket, and waterproofs are recommended to cope with the spray and wind. Some boats are fitted with hydrophones, so you can hear the magical sound of whale song beneath you, and many trips are accompanied by a marine biologist able to shed a lot of fascinating detail on whale behaviours, ecology and conservation issues. So deep are the waters here that you can often be among the whales within just 10-20 minutes aboard a fast boat.

Because the Azores takes a very proactive approach to sustainable management of whale watching, there are only a few licensed operators. Land-based vigias direct boats to the whales while also ensuring that there is adequate space between boats and no crowding. Luck plays a part and sightings can never be guaranteed, but the art of the vigias, the knowledge and experience of the boat crews and the sheer number of species found in these waters mean that if you want to see whales in the wild, the Azores is a very safe bet.
Our top trip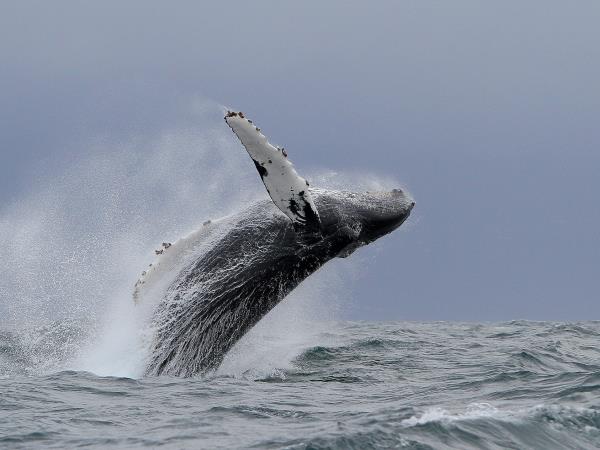 Classic whale watching trip in the Azores archipelago
From
£830
7 days
ex flights
Tailor made:
This trip can be tailor made to start on any day of the week from March to October
If you'd like to chat about Azores or need help finding a holiday to suit you we're very happy to help.

When to go whale watching
in the Azores
If you want to see the majestic blue whale and other baleen whales in the Azores as they feed on plankton before continuing their migration, then the best time to visit is during the spring; by late-May and June they are moving on. Sperm whales are resident in the Azores throughout the year, as are several species of dolphin, and pilot whales can be seen until October.

The Azores is pleasantly warm all year round, with temperatures ranging from 16°C to 26°C, though the winter months can be wet and windy. Rough seas mean that the waves can be choppy on boat tours, and visibility from land can be impaired, although the vigias still do a masterful job.