Where to go on a family holiday in Croatia
---
MAP & HIGHLIGHTS
Not only does Croatia have an archipelago, it has several archipelagos. It also has an island national park, namely Mljet, and seven inland national parks, with mountains, canyons, rivers, lakes and waterfalls. It is a family fest of fun, whether you are sea kayaking around Vis Island, the most far out inhabited island, or paddling around the ancient walls of Dubrovnik; white water rafting down the Cetina River, or plunging into waterfalls in Plitvice National Park. So, when working out where to go on a family holiday in Croatia, there are plenty of ways to escape the summer crowds and still be cool, in all respects of the word.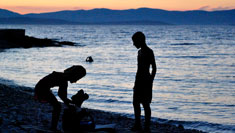 Brac Island
Most famous for its sublime beach at Zlatni Rat, a white limestone pebble peninsula that trickles into nonstop turquoise, it also has the Adriatic's highest peak, Mount St. Vid (780m). So, not only are sea kayaking, windsurfing, swimming and snorkelling a treat, but so is hiking and rock climbing in its limestone landscapes. It also has buildings and monuments dating back to Roman times, so not culturally lacking either.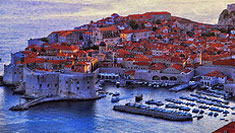 Dubrovnik
Not only is this a city with stunning cultural heritage, it nearly always has the sea at the end of the street to keep non historians in the family happy. It gets crowded when the cruise ships descend, so do your sightseeing early in the morning or in the evening, and enjoy escaping to the nearby Elaphiti Islands during the day. You can also escape the crowds by hiking up to the town's natural protector, Mount Srdj.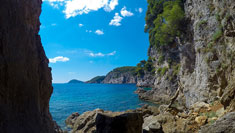 Kolocep Island
Very popular with walkers, the dramatic scenery of high cliffs and rocky beaches that stretch out to nearby reefs means there is never a shortage of stunning views or sublime swimming at the end of a walk. The Blue Cave is a must for the latter. With idyllic waterfront villages Gornje Celo and Donje Celo, the ruins of an ancient basilica and various chapels, your hiking will also be rewarded with superb seafood.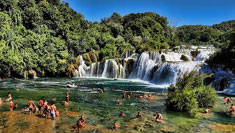 Krka National Park
A popular spot for day trippers going to see the 44m-high Skradinski Buk waterfall, which is multi layered and breathtakingly beautiful. Family adventure experts know better than to spend 24 hours here, so by staying in nearby Skradin you can have a whole week of cycling through the park, discovering other waterfalls and boating across Lake Visovac to its island, home to a Franciscan monastery.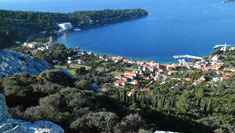 Lopud Island
Popular with day trippers visiting from Dubrovnik, you can wave the boats goodbye at the end of the day as you settle in for a week of family sea kayaking and local, chilled out life. Kayak around the island to secret spots, go swimming in sea caves and remote coves, try SUP and discover other nearby islands in this Elaphiti chain by kayak, such as Kolocep and Sipan.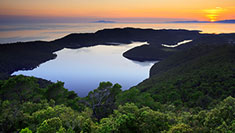 Mljet Island
In many ways this island is like a film studio with many different sets. Apart from the fact it is an island idyll, with the north part covered in dense, green forest, it also has two stunning salt water lakes, one of which has a 14th century monastery on it. Mljet is Croatia's only island national park where you can not only go walking or cycling on wonderful trails, but also swim in the lakes.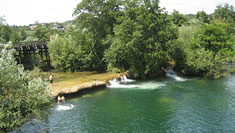 Mreznica River canyon
Another natural funderland, the Mreznica River is a superb spot for white water kayaking and rafting, depending on the time of year, flow of water and ages of your group. With narrow gorges where you can touch the gleaming white limestone cliffs, waterfalls to plunge under (there are 93 along the river's course) and, the highlight for many, canyoning down slippery slopes into glistening pools.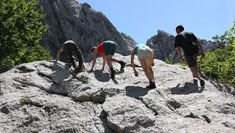 Paklenica National Park
Nearly 100km2 of karst limestone valleys and canyons, including Velika Paklenica and Mala Paklenica canyons. Due to the limestone terrain, climbing is a big sport here, with a maze of hiking trails through ancient beech and pine forest or to the park's highest peak, Vaganski Vrh (1,757m). The park is a UNESCO Biosphere Reserve and, partnered with nearby Northern Velebit, makes one big Velebit Nature Park.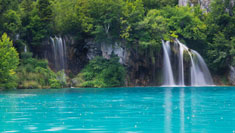 Plitvice Lakes National Park
Plitvice is plunging and plodding paradise, brimming over with 16 freshwater lakes, 90 waterfalls and a landscape that is like a crown packed with jewels. If you want to convince anyone that Croatia is not just about the coast, show them photos of Plitvice. A UNESCO World Heritage Site, go mountain biking, white water kayaking, canyoning and swimming in endless waterfalls, not forgetting the lakes.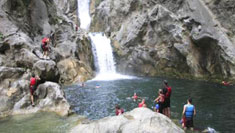 River Cetina
One of Croatia's best kept secrets, it begins its journey on the slopes of Mt Dinara, and speeds its way through canyons and karst limesone valleys all the way down to the Adriatic. A wonderful place to go canyoning, hiking, climbing, white water rafting, waterfall hunting and swimming, such as at Gubavica Falls. Family adventurers can base themselves in Trilj, right on the river, for nonstop fun in the sun.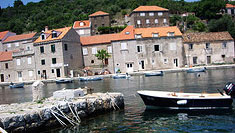 Sipan Island
The mother of all Elaphites, as this island chain is referred to, it's a family free for all. Almost car free, cycle around a plethora of romantic towns, up to the medieval Beccadelli Castle, or kayak from cove to cove as well as across to neighbouring Ruda Island. It is also popular for families keen on walking and mountain biking, taking on routes such as the one up to the highest point, Velji vrh.
Vis Island
Three words: Vis is bliss. As well as having the picture postcard aquamarine coves it has a passionate slow food movement with prolific producers all over the island. It also has a superb family run activity holidays provider, inviting other families into their fun filled fold to enjoy sea kayaking, snorkelling and biking. With fishing, feasting or just floating in bliss are all part of the Vis scene too.



Hello.
If you'd like to chat about Croatia family holidays or need help finding a holiday to suit you we're very happy to help.
Rosy & team.
01273 823 700