Where to go on a cycling holiday
The world is your oyster when it comes to choosing where to go on a cycling holiday, so it is tricky to pick out the pearls. The advantage is that almost every country in the world has been discovered by cycling holiday experts already. They have worked their way up and down the mountain trails of Montenegro, along the wadis of Jordan, through the backwater villages of Kerala or from cove to cove in Catalonia, finding you all the best bits. Some of the best cycling to be had is, of course, where riding a bike has always been part of the culture, such as in Cuba, China or Vietnam. Here, you will always be given a cyclist's welcome and you will rarely cycle alone.
1. Catalonia
The famous regional pride is hardly surprising when you take in the wealth of natural Catalan beauty on offer to cyclists. From the snowy Pyrenean peaks to sun-soaked Mediterranean coves, there is also a volcanic park and plethora of cycling trails. These traverse wild deserted coasts and dainty turquoise coves, medieval villages or the inland Aiguamolls Nature Reserve.
2. Central America
Central American countries are slowly waking up to cycling opportunities for visitors. Some cycling holidays take you from Granada in Nicaragua to Panama City, taking in Costa Rica on the way. Because it would be rude not to, really. And at many spots along the way, you get to discover rainforests with wildlife and birdwatching aplenty.
3. Costa Rica
The Coast to Coast cycle route is a circuit of discovery indeed, traversing varied landscapes of rainforest, volcanoes and coast. Head south along the Pacific from San Jose, climb up to the Cerro de la Muerte Pass, and down through plantation filled valleys to the, oh yes, the Caribbean. So, if the cycling doesn't take your breath away, the scenery certainly will.
4. Croatia
Although most famous for its coastline, there are extraordinary cycling holidays to be had in Croatia even just an hour inland. Explore the 16 emerald-green lakes of Plitvice or the Velebit National Park where the wide trails are perfect for mountain biking. You can cycle the coast too, of course, hopping and pedalling islands like Vis. Which is, of course, just bliss.
5. Cuba
The island's diverse landscapes – from the Caribbean coast to the Sierra Maestra Mountains, the tobacco plantations to the streets of heady Havana – mean you will be pedalling through the past and the present, the urban and the wild. Follow in Fidel's revolutionary footsteps, or take a cultural route, stopping in local bars and music venues. You'll certainly earn your mojitos on a Cuba cycling holiday.
6. France
You don't have to do the Tour de France to have a tour de force cycling holiday. France has a host of 'Voie Vertes' designed for bikes only, and a fine network of long distance cycling routes. Gems include the coastal cycle from Saint-Malo to Mont-Saint-Michel. Or pedal through the vineyards of Burgundy, Alsace or Beaujolais. And of course the Dordogne is always divine.
7. Italy
With all that amazing food it's just as well Italy's cycling menu is equally rich, to work it all off. For starters: Tuscany's rolling hills around Lucca or Liguria's beautiful Cinque Terre coastline. Main course: Puglia, following both the Adriatic and Ionian coasts. Or Umbria, packed with Roman ruins and divine hilltop villages. And how can you resist Sardinia for dessert?
8. Jordan
From the wooded hills of the north to the stark mountains south of Madaba and the plains of the Jordan Valley, there is a wide diversity of terrain in Jordan ideal for cycling. The mountain biking is still embryonic, but with good guides you will find the still unmarked goat tracks and farmers' paths that MTBers go mad for.
9. Kerala
Cycling is of the finest ways to discover Kerala. Within a few hours out of Cochin, you can be flying through spice and coconut plantations, along the banks of the River Periyar with birds and butterflies that you can only have dreamed of, following you along the route. Cycle through small villages, staying at homestays along the way. And relax those cycling muscles en route with a traditional Ayurvedic massage.
10. Montenegro
Montenegro's coastline is something else, with cycling taking you along some of the most stunning coves and clifftop views that the Mediterranean has to offer, including the UNESCO World Heritage Site Bay of Kotor. It's not all coastal cycling here though, with opportunities to bike around the shoreline of Lake Skadar, the biggest in the Balkans, or up into the Budva Mountains for some challenging climbs.
11. Portugal
Portugal offers freewheeling perfection. The Alentejo mixes fertile plains, shady oak forests and coastal delights, while Sintra's lush undulations are scattered with UNESCO architectural gems demanding picture stops. The Algarve hinterland offers gentle hills dotted with ancient villages like Moorish beauty Silves. But if you want hills, head to the Serra da Estrela, where wineries flank the ancient university town Coimbra.
12. South Africa
Seeing South Africa from a saddle is something else. The Cape Town circuit is not to be missed, with highlights including Langeberge Mountains, Bontebok National Park and the Great Karoo Desert. Quench your thirst with vineyards everywhere too. To push yourself a bit more, head to the Drakensburg Mountains, the highest in South Africa, passing through wonders such as the Blyde River Canyon, and on into Kruger National Park.
13. Sri Lanka
Cycling just seems like the right thing to do in Sri Lanka. It feels less invasive, somehow, arriving at its many sacred sites, such as Anuradhapura or Sigirya, on a bike. Popular routes include the tropical backroads that wind their way through tea plantations around Ella, or saunter along the coastal wetlands of Bundala National Park, with cool off sessions on Sri Lankan beaches such as Mirissa.
14. Sweden
Cyclists who don't like to stray too far from water will love pedalling around Sweden. Stockholm, already very bike friendly, makes a great starting point. From here, head into Sörmland where you can disappear for days around wooded lakes and through seaside towns such as Mariefred and Trosa. But you can't miss Sweden's archipelago, where you can hop across a handful of its 24,000 glorious islands.
15. Vietnam
The coastal cycle from Hue to Nha Trang is slow travel at its most sublime, from the historic monuments of Hoi An and Hue to the relaxing beaches of Whale Island. You can combine a cycling holiday here with visits to hill tribe villages, some kayaking on the lakes of Ba Be National Park, scuba diving or snorkelling and visiting cultural icons such as My Son, the ancient centre of Cham civilization.
Our top Cycling Holiday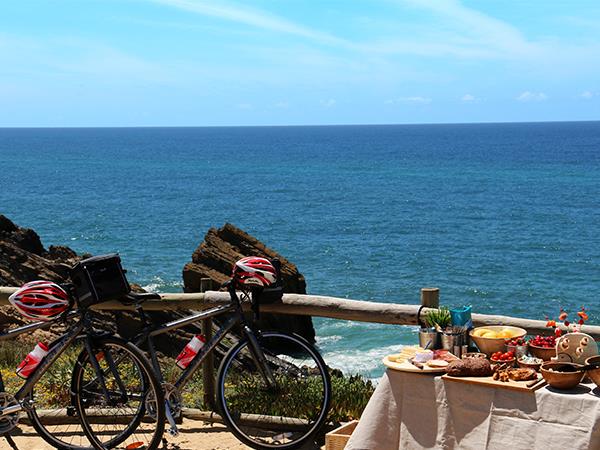 Flat terrain tour along the coast
From
€845

to

€1068
8 days
ex flights
Tailor made:
This trip can be tailor made throughout the year to suit your requirements
If you'd like to chat about Cycling or need help finding a holiday to suit you we're very happy to help.

Our cycling holiday highlights
Melanie McAnaw, from our cycling holiday specialists Headwater, says: "Lake Constance is a superb option for those who are new to this kind of holiday – flat cycling routes, interest-packed routes, with loads of options to shorten or lengthen the routes using the train or boats."
Andrew Appleyard, from our leading cycling holiday experts, Exodus, is the man to ask where to go on a cycling holiday:"We have a cycling trip that goes across Tanzania. It's a great way to see Africa; it's completely different. Lots of people worry about cycling across game parks with the various wildlife, but the only thing I've seen is some footage of a topi being chased by a lion and knocking the cyclist off his bike! A lion will not see someone with a soft-shelled hat, padded shorts and two wheels as something that's appetising. But cycling across the Serengeti is underrated."
Tomi Coric, founder and guide at our cycling specialists Epic Croatia, shares his recommendations: "The route through the peninsula vineyards is a great; one of my favourites. But I also really like the countryside between Dubrovnik and the Montenegro border – it's green, with cypress trees, small villages, farms and vineyards. It's a bit demanding for some people, but in the valley you can also find somewhere for light cycling."