Family winter sports holidays
in Finland
Very traditional, and very adventurous. That's how we'd sum up winter family sports holidays in Finland, but if you wanted us to go into a little more detail we'd probably throw in a flurry of other choice adjectives such as fun-filled, welcoming, chilly and completely unforgettable.

Predominantly small group trips, over the course of a week these holidays introduce you and your family to a fantastic range of Finnish winter sporting activities, with always something different to look forward to every morning and always something to talk about over dinner every evening (anyone for more reindeer sausage?). As an extra bonus, you'll usually be provided with suitable winter clothing for everyone over the duration of your stay, which can be a major cost saving. And yes, it's 100 percent necessary.
Our Family winter sports family Holidays
What will we be doing?
Grownups take the reins on exciting husky sledding expeditions, while children ride along with the guide. There are action packed snowmobiling safaris, with kids under 18 safe on a sled pulled by the guide's machine. You'll pad along on snowshoes through forests blanketed in the white stuff, try your luck fishing in frozen lakes, cross country ski across frozen wilderness, and – if the kids amazingly have some energy left at the end of the day – there's always the option of tobogganing.

In Finland, winter sports don't involve flashy posing on the pistes, or cannons blasting out artificial snow while tacky jingles try and force you into a Christmassy mood. Here it's all about, dare we say it, authenticity. These sports are exciting for visitors sure, but for the Finns, they're just regular day-to-day activities in winter, and the magical feeling you'll get is totally natural.
Where will we be staying?
Finland winter sports holidays take place in a variety of locations, from Jeris, a Lapland lakeside resort surrounded by serene pine forest, to Ruka, a premier ski resort; Oulanka National Park where you'll stay in a wooden wilderness camp north of the Arctic Circle and Menesjärvi, where you'll be hosted by the welcoming local Sami community and their reindeer herds.

Accommodation ranges from cosy cottages with personal saunas, to luxurious private apartments and typically Scandi family friendly hotels with lots of equipment available for exploring the outdoors. You may also spend an evening in a remote wilderness lodge, toasting marshmallows on the fire and waiting hopefully for the Northern Lights to make an appearance.

Many holidays take you to Finnish Lapland, the sparsely populated northernmost region of the country. The wintery landscape here, all pine and spruce forests and vast herds of reindeer mean Lapland is forever associated with Father Christmas – it's one of those places where no matter how cold it gets, every member of the family will adore the atmosphere.
Our top Family winter sports family Holiday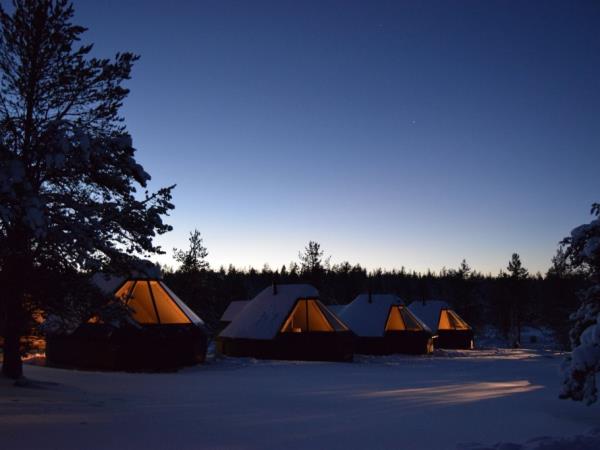 A mix of Lapland family activities and a relaxing spa hotel
From
£1225

to

£2250
4 days
inc UK flights
Tailor made:
This trip can be tailor made to suit your requirements
If you'd like to chat about Family winter sports or need help finding a holiday to suit you we're very happy to help.

Cultural experiences
While trying out different winter sports each day is obviously the main focus of a trip, simply because of where you are there is also a wealth of cultural diversions that tie in perfectly with the activities. You might visit a Sami reindeer farm, where you can learn to throw a lasso like a real herder, and take a jingly jaunt. You can spend an afternoon wandering around an enchanting Winter Village, built anew from snow and ice every year and not cheesy in the slightest, and pick up some valuable wilderness skills such as identifying and tracking animals by their prints in the snow, and map-reading.
You'll stay toasty in traditional wood-fired saunas and outdoor Jacuzzis (wonderful if it snows), build igloos and snowmen, tuck into delicious and filling homecooked Finnish meals and, of course, during winter in Finland you have an excellent chance of witnessing the Northern Lights. Your best hope is to head out to an Aurora lodge, a remote cabin where there is zero light pollution, and you can wait in comfort for this incredible natural spectacle to illuminate the night sky.

"Be prepared for an ambivalent relationship with your snowsuit and other protective clothing, gloves, helmets etc. Taking them on and off takes time and they feel clumsy and uncomfortable at times – know that you will grow to LOVE them once you realise you can only enjoy the snow and the adventurous activities if you are wearing them. 10 mins without those layers will convince you. This can be a tough lesson for small children initially. My Australian son in law and granddaughter (aged 6) had never touched snow before. I wanted to share a special experience with them and my daughter and it was certainly that. It worked for us all whatever age or stage. It's a relaxed and welcoming place where you feel they are taking care of you but they are also providing challenging and memorable activities and sharing their own experience and passion for the landscape and its wildlife." – Liz Garrett a review of her Northern Lights family holiday  
More about Family winter sports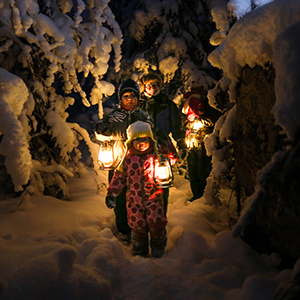 If you're looking for a trip to remember then our family winter sports holidays guide will provide you with plenty of inspiration.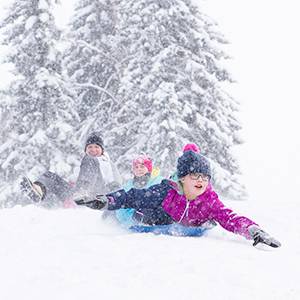 Discover where to go on a family winter sports holiday with our map and highlights page, for some truly magical experiences sprinkled all around Europe.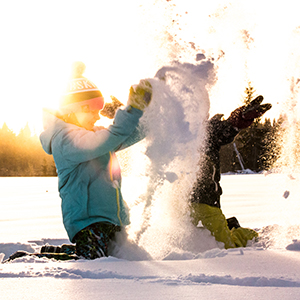 Classic winter sports go way beyond just skiing and snowboarding, as fun as they can be (but no eco-unfriendly snow cannons please!).