ITALY CYCLING HOLIDAYS ADVICE
Choosing your route
Andrew Ross, Cycling Programme Manager for our supplier Exodus:
"If you choose your route carefully, the Dolomites can be a great place for a leisurely and relaxing ride. There are some lovely hotels, the scenery is spectacular and they also take their food and wine very seriously. If you are looking for a challenge I'd recommend the lesser known mountains north of Tuscany, and the coast to coast route from Puglia to Amalfi, which crosses some excellent mountain passes."
Packing advice
Melanie McAnaw, from our cycling holiday supplier, Headwater:
"Cycling shorts are a must. You can get good, padded under shorts now that fit under normal clothing and play down the nappy effect. Take comfortable clothing – you're on a relaxed cycling holiday, so Lycra is not essential. Pack lightweight waterproofs that can be pulled out if needed. For the keen cyclist, go for wider cycling sunglasses as they offer complete protection from 'fly in the eye'. And we always tell guests to pack a cycle helmet; we can't provide them as we can't guarantee their history."
Andrew Ross, Cycling Programme Manager for our supplier Exodus:
"I'd always recommend taking your own saddle and pedals if you're using a local hire bike. Also pack padded shorts, and a map to properly understand the route (even if on a guided group ride)."
Preparation Tips
Andrew Ross, Cycling Programme Manager for our supplier Exodus:
"Do as much training as possible beforehand. The fitter you are the more you can relax during the trip and properly appreciate the experience and where you are cycling. That said, always avoid the temptation to be competitive on the trip; someone will always be the slowest rider and it really doesn't matter if that is you. A good cycling holiday will always have been designed to allow enough time for most people to complete the rides each day."
HEALTH & SAFETY ON ITALY CYCLING TOURS
HEALTH
Keeping hydrated whilst cycling in Italy is essential, no matter what time of year you're visiting. Even on cloudy days you should regularly be taking on fluids and stopping to rest. Backpacks with water bladders are really handy, although reusable water bottles do the job just as well. They also encourage cyclists to stop, rest and drink.
Beware of sunburn. There is often a lack of shade on routes and exposed skin can burn quickly. Cover up with breathable long sleeves. Shades and sun block are essential, and you can look for a helmet with a (removable) peaked brim. Try to avoid cycling around midday, especially in July and August. Remember, even on cloudy days you can get burned.
Conversely, when resting, make sure you keep warm as all the heat rushes from your body. Working up a sweat is almost inevitable on a cycling holiday but remember to cool down gradually without removing too many layers at once. It's much harder to warm up once you've cooled down than it is to stay warm. Your body's cooling process is definitely worth paying attention to if you're cycling in the mountains and towards the end of the day as the sun begins to set.
Use a bike that's suitable for your height, weight and ability. Be honest when an expert is adjusting a bike to suit your body. Injuries and chafing can occur because of ill-fitting bikes so just make sure you undertake all the necessary checks, to avoid pedalling into pain.
SAFETY
Italians are used to seeing cyclists on the road; they're patient, too, more so than they are with fellow drivers. Just pay attention to road markings and learn, at least, the basics of the Italian Highway Code. Inevitably, not every driver, nor cyclist, is going to respect the rules of the road but getting to know the Highway Code is still the responsible thing to do, and the safest way to cycle. Don't listen to music, podcasts or chat on the phone while cycling; it's just not safe. Stop and soak up the surroundings and listen to the road. Also, be careful if chatting to fellow cyclists. Italians are patient with cyclists but there are limits. Two abreast is not always best. Cycling helmets are not compulsory in Italy. They've only just got used to mandatory motorbike helmets! We advise all of our cyclists to wear a helmet that they've brought from home. This ensures comfort and also confidence in the helmet's history. Lights and high visibility gear if you're cycling at sunset are a must. Although a cheeky lunchtime limoncello in Sorrento or an afternoon glass of Chianti in Tuscany can be extremely tempting, just try not to overdo it if you're cycling. Save it for sundown – much safer and more satisfying. Even if you're on a small group guided cycling holiday in Italy it still pays to know where you're going. Making the most of GPS signals or good old-fashioned route maps will give you a deeper understanding of the landscape and might also come in very handy in the event of unforeseen circumstances. If you're on a self guided cycling holiday in Italy it's best to be prepared for every eventuality. Keep a First Aid kit, emergency bike repair tools and tour operator and host contact details secure within your saddle bags. Also, keep mobile phones charged and emergency contact details pre-programmed. Be aware that weather in Italy can change in an instant – especially if cycling in the Dolomites and around the lakes. Thunder storms can really break up an afternoon, especially in the summer. Pack waterproofs accordingly and pay attention to local weather forecasts before you set off. In the event of a flash flood or lightning storm, get off your bike and seek shelter. Summer storms might well pass no sooner than they've started but they can be hazardous, so take care.
Our top trip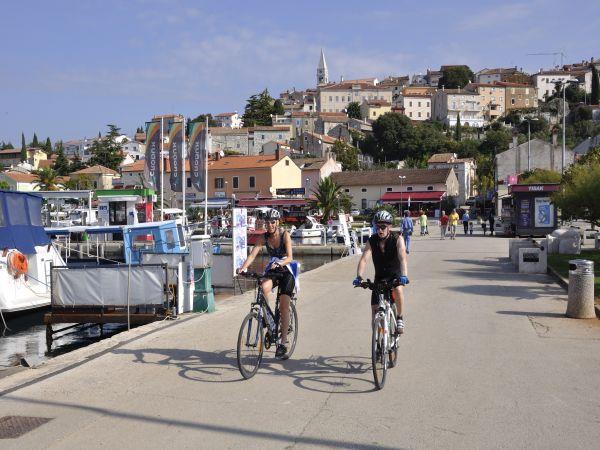 Self-guided cycling tours through Italy, Slovenia and Croatia
From
€960

to

€1130
8 days
ex flights
Tailor made:
This trip can be tailor made throughout the year to suit your requirements
If you'd like to chat about Italy cycling or need help finding a holiday to suit you we're very happy to help.

ITALY CYCLING HOLIDAYS TIPS FROM OUR TRAVELLERS
At Responsible Travel, we think the best people to advise our travellers are often... other travellers. They always return from our tours with packing tips, weather reports, ideas about what to do – and opinions about what not to.

We have selected some of the most useful Italy cycling holiday tips that our guests have provided over the years to help you make the very most of your holiday – and the space inside your panniers.

The whole trip was memorable... Tuscany is one of the most beautiful places we have ever been to.

– Manpreet Annand cycling from Pisa to Florence
"Bring clothes for all weathers. We had one day when we needed sunscreen and a hat, and the next it was freezing rain. It's not a tremendously demanding ride, but you do need to be able to ride 30 miles a day and climb a hill or two." – Wendy Pillar cycling in the Dolomites

"Do some training riding up hills! On two of the days there are very long climbs (and very long descents afterwards). Bring clothes for a wide range of weathers if travelling in April as it can be cool and wet, but when the sun comes out it can also get pretty hot." – Wendy Pillar, cycling in Sicily

"Get some cycling practise in - most of the riding is on quiet roads, although it's still worth getting used to cycling in traffic." – Michelle Bickle, cycling in Umbria

Be prepared to eat lots of amazing food

– Charlotte Graham cycling in Sardinia
"The whole trip was memorable... Tuscany is one of the most beautiful places we have ever been to. I think the most exciting part of the trip was when we were biking to Pisa and got our first glimpse of the leaning tower. It was so surreal!" – Manpreet Annand cycling from Pisa to Florence

"Be prepared to eat lots of amazing food, pack a swimsuit." – Charlotte Graham cycling in Sardinia

"All of the services and accommodations were wonderfully done by small local groups and families." – John Holder, cycling in Umbria
More Italy cycling articles