Am I fit enough to climb Kilimanjaro?
You want to be in good physical shape to climb Kilimanjaro, but there's no need to be super-fit. This is a trek, not a climb after all, and if you can run for 30 minutes two to three times a week, and enjoy an all day hike at weekends, you should be fine. That said, many people do underestimate Kili. Its conical shape, rising straight up out of the plains, leaves little time to develop a head for heights and, unlike on other treks, if altitude sickness kicks in that's it. There isn't the infrastructure or support to rejoin your group for the final ascent. Read more about how fit you need to be to climb Kilimanjaro, and how to prepare.
Having a high level of physical fitness will make your climb easier and more enjoyable, but you don't need to be a daily gym goer. Plenty of people who are not at the peak of physical performance have climbed this mountain. Nor do you require any real experience; the routes may be long and arduous, but they're not technical.

As a rough guide for determining whether you are fit enough for the climb, if you are happy hill walking for six to seven hours, with an ascent of 1000m (the height of Mount Snowdon in Wales) then you should be able to trek Kilimanjaro. If you're a keen walker already clocking up regular miles, and you can keep pace during an hour's cardio class at the gym, then you're well on your way to reaching your fitness goal.
You won't have to worry about being weighed down during the trek, local porters are employed to help carry your kit, but you will be expected to trek with a 30-40 litre daypack – so be sure to pack light. Trails are mostly well defined but can be slippery in wet weather, and the final ascent consists exclusively of scree and loose rocks. A decent pair of walking boots will make a world of difference, but you can anticipate tired ankles and knees.

As much a part of your success as your fitness is your mental preparedness. Walking up to seven hours a day, seven days a week requires an "eat, walk, sleep, repeat" routine. Altitude affects your appetite, but it's essential to keep your energy and hydration levels up. This trek will be a test of your psychological endurance.

Andrew Appleyard , from our supplier Exodus, says:
"We find that solo females and older walkers tend to be much better at making a steady and successful ascent. They have more experience of walking in the UK and are better in terms of 'body maintenance' – keeping on top of bodily fluids, staying hydrated. Slow and steady wins the race. I'd prepare for this trek the same way I would prepare to run the London Marathon. You have to have it in your mind that you're going to finish."
Which route should I choose?
The easiest route up Kilimanjaro is often thought to be the Marangu route, the so called 'Coca cola' route. Best known as being the only one that offers hut accommodation, Marangu is also misleadingly referred to as the tourist trail. However, with too many trekkers attempting to summit in the minimum five days required for this route, and many underestimating its physical challenge, it's actually the route with the lowest success rate.

The choice with the greatest chance of success is the Lemosho route. An estimated 90% of all trekkers who take this track make it to the top. One of the newer routes on Mount Kilimanjaro, this particularly scenic path is also one of the longest, taking up to eight days to complete. Allowing lots of time to acclimatise makes it an ideal choice for anyone new to high altitude environments.
Our top Kilimanjaro Holiday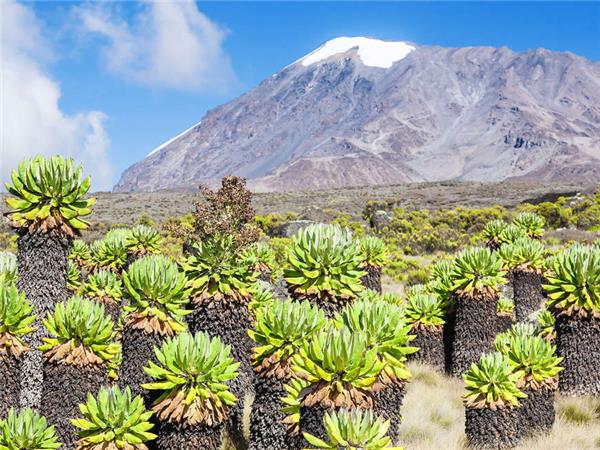 Strenuous route up Africa's highest peak
From
£2960

to

£3259
10 days
ex flights
Small group travel:
2023: 26 Oct, 21 Dec
2024: 18 Jan, 1 Feb, 8 Feb, 22 Feb, 29 Feb, 27 Jun, 8 Aug, 22 Aug, 5 Sep, 12 Sep, 19 Sep, 26 Sep, 3 Oct, 10 Oct, 24 Oct, 19 Dec
If you'd like to chat about Kilimanjaro or need help finding a holiday to suit you we're very happy to help.

Advice for walking at high altitude
Good fitness will get you so far but when it comes to reaching the top, it's all down to your ability to adapt to the altitude. While being fitter puts you at a lower risk of developing altitude sickness, it is very difficult to predict whether or not you will be susceptible to it. Someone very fit can suffer, while someone who is new to mountain trekking may find they adapt more quickly to the higher altitude conditions.
If you don't have the luxury of living in a part of the world that allows you to train at altitude, spending some money training at a specialist centre is an option. But by far the most important thing you can do choose a tour that spends longer on the mountain, allowing you more time to adjust, and not make the ascent too quickly. Routes that allow you to walk high and sleep low, zigzagging up and down over the course of the trek, and taking six or more days to summit, have the highest success rate.
Of course, your guides will be trained to recognise the symptoms of altitude sickness and respond appropriately with first aid, or arrange for you to descend the mountain if necessary. However, it is important that you also keep an eye on your own symptoms and know what to watch out for. For more information, read our
guide to avoiding altitude sickness
during high altitude trekking.
Andrew Appleyard , from our supplier Exodus, says:
"We have guides who've climbed Kilimanjaro 542 times. Our guides can tell you exactly who is going to make it, or who is going to need to drink more fluid the following day. They're experts in assessing people."
Kilimanjaro training tips
Start training at least two months ahead of your trip. Think miles over mountains. Whether you're hiking in the hills behind your house or summiting mountains, what matters most is the amount of time you spend on your feet. Trekking Kilimanjaro requires roughly six to seven hours of solid walking per day, and it's this that people often find the most tiring. Train in your trip kit. Get used to carrying a heavy bag, it'll help you get fitter faster and prepare you for any discomfort ahead, and ensure your walking boots well and truly worn in. Cardio is key to being fit enough to summit Kilimanjaro, so take the time to fit in some alternative forms of exercise alongside your long distance hill walks. Cycling, jogging and swimming (front crawl rather than breast stroke) or anything else that gets your heart racing. Strength exercises are also an important part of your training. Think about where you feel the burn after climbing a steep hill – these are the areas you need to focus on. Squats and lunges will work wonders for strengthening your calf muscles, while sit ups, kettle bells and shoulder presses will improve your upper and core strength for stability and carrying heavy gear. Your tour operator will most likely provide you with a training plan and you can also seek the assistance of a personal trainer or advise from someone at the gym.