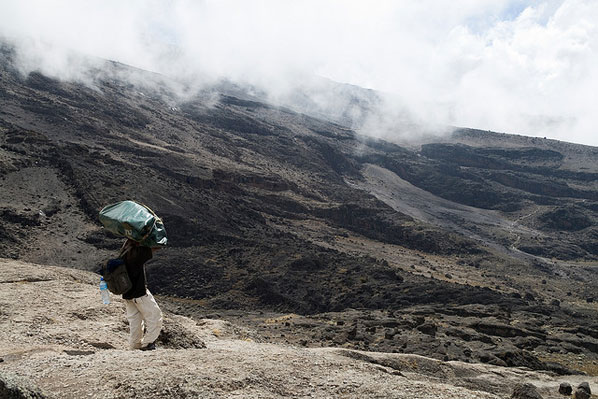 As they zip up and down the mountain that, for most travellers, presents the challenge of a lifetime, it's easy to view porters as having some kind of superhuman skill, undefeated by altitude, heavy luggage or the cold. But to do so is not just naïve, but dangerous. The lack of respect towards porters – who may be climbing Kilimanjaro in flip flops, carrying over 20kg of luggage, eating insufficient food and being paid a pittance – means that tourists who have paid thousands of pounds to enjoy this holiday may be climbing alongside people who are living on the edge of poverty. Ignoring porters' rights puts the porters at risk of injury, disease and even death – in the past they have succumbed to malaria and hypothermia – a high price to pay for someone else's dream holiday.
The good news is that there are guidelines in place for companies offering Kilimanjaro treks. The bad news is that these guidelines are not always enforced by a higher authority, leaving tour companies to decide themselves if they want to stick by these principles. Although recommended wages are just £3 per day, porters can be paid as little as half this amount, with no sick pay if they get ill or injured on the mountain, leaving them and their families with no income. Read more from the
Kilimanjaro Porters Assistance Project (KPAP)
about the poor treatment of porters. Many tour operators are members of this association and others have created their own initiatives that support and maintain fair treatment of people, respecting their very basic human rights. It is worth noting, however, that this abuse of people is not just historically from tour companies, but also from guides. Porters are always keen, sometimes desperate, to work with guides. But due to the guide-porter hierarchy, there are horror stories of guides taking advantage of porters' need for work, agreeing to let them come on a trek but, in exchange, demanding they work for them for no pay on their farm during the off season for example. Or they take a certain percentage of their tips. But KPAP has helped all of this, so make sure your tour operator is a member. It is shocking to see how many are not. Few tell it better than in this half hour documentary, Porters on the Stone of God. Please watch before you book and definitely before you go.
Porters on the Stone of God from Cheverus 319 Productions on Vimeo.
What you can do
Choosing a responsible Kilimanjaro tour operator is the most important thing you can do to improve the lives of porters. One that goes out of its way to respect the human rights and living conditions of porters. You can also keep the weight of your bag down, ensure your porter is properly dressed and give your tips directly to your porter – but this will only make a short-term difference if the porter is not being employed by an ethical company.
Our suppliers believe in porters' rights, and some have even set up their own initiatives, providing them with proper footwear and offering classes during the rainy season, when many are out of work. But there are other ways you can ensure your porters are being fairly treated, including sending sick or injured porters down the mountain for treatment, checking the porters have adequate shelter and decent sleeping bags, and, of course, reporting any maltreatment to KPAP, at info@kiliporters.org.