The beginner's guide to climbing Kilimanjaro
Kilimanjaro is the highest free-standing mountain in the world. Bang in the middle of the Great Rift Valley, Kili rose out of the Tanzanian and Kenyan plains that surround it a million-odd years ago. This created a massif with three separate volcanic cones, Kibo, Mawenzi and Shira.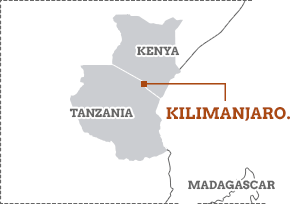 Kilimanjaro National Park takes the responsibility to train local guides who expertly lead keen trekkers up its summit, Uhuru Peak (5895m).

Our main advice: preparation is the main prerequisite for summiting Kili. You don't need climbing skills, but you do need to be determined and know what to expect. This guide covers everything from how fit you need to be to how to cope with the altitude. With the first-hand advice of our expert partners, we detail the best time of year to climb Kilimanjaro, the pros and cons of the various routes, and how to climb Kili with kids. With this guide, you'll have all the basics covered.
Need to know about climbing Kilimanjaro – the essentials

The fastest walkers on Kilimanjaro, many of them fit and young, were the ones who struggled with altitude. It pays to slow down and admire the views.

– Justin Francis, founder of Responsible Travel
Can you climb Kilimanjaro without experience?
Kilimanjaro is not a technical climb, and perfectly suitable for beginners with little or no experience, but you do need to be fit and ready for what's involved. Success depends on being prepared, which means not rushing the climb (altitude sickness is not to be underestimated). It also means having the right equipment such as a good broken-in pair of boots, and putting in some practise beforehand.
Which is the best climbing route for Kilimanjaro?
There are seven established routes up Kilimanjaro, some of which merge with others, and each has its own advantages and disadvantages. The Marangu Route, or Coca Cola Route, is the shortest at just five days, and generally considered the easiest. Ironically, however, it also has the lowest success rate, as it tends to attract inexperienced and unprepared trekkers. Other Kilimanjaro routes such as Machame, Lemosho and Rongai are slightly longer and trickier.

Ultimately, your choice of route will depend on many factors such as your budget, your available time, what kind of scenery you want, and whether you want to avoid the most crowded trails.

"For me, the Rongai route is the most beautiful way of going up the mountain," says Andrew Appleyard, from our partner Exodus Travels, "mainly because I love being in Mawenzi, which is the twin peak of Kilimanjaro. It's on the old crater, so you actually sleep there by the crater lake. But also it's better for acclimatising; you walk high and sleep low."
How long does it take to climb Kilimanjaro?
It usually takes between five and nine days to climb Kilimanjaro and make the descent, depending on the route you take. At five days, the Marangu Route is the shortest, while the Northern Route is the longest at nine days. If time is a concern, there are plenty of trips that can get you up the mountain and home in just a week.
Who will I be climbing with?
There are both small group trips and tailor made tours available for climbing Kilimanjaro. The classic experience is a small group trip, when you'll be accompanied by around 6-14 other walkers. That means great company along the way, and it's very motivational.

Our responsible travel partners will have a strong support team in place too, usually with one highly qualified guide for every 2-3 people, and three porters per person. You won't have to carry anything more than a day pack. You can also be assured that the porters receive a fair wage for their efforts.
How to avoid altitude sickness on Kilimanjaro
You don't need oxygen to climb Kilimanjaro, but you do need to avoid altitude sickness, which is one of the main reasons people fail to make the summit. The trick to avoiding it, or coping with it, is by pacing yourself. Longer routes give you more opportunity to get used to walking at this height. Your guides are very experienced and alert to the signs of altitude sickness, and will have your safety front of mind.

At the summit there is around 40 percent less oxygen in the air than at ground level, so it's a bit like walking with one lung. Consequently, anyone with heart conditions or respiratory problems should seek medical advice before attempting the climb.
Where do you sleep on Kilimanjaro?
There is no luxurious way of climbing Kilimanjaro, but if you travel with a reputable tour operator they will have high-quality mountain tents and provide a decent standard of food. You need to be prepared for at least five days of real mountain living, sharing a tent with one or two others (though some single tents may be available). Lie-ins are not really a thing. It pays to get used to camping before you go: sleeping on a thermal mattress, tucking up in a sleeping bag, and stretching your muscles until they wake in the mornings – lack of sleep can be a major hindrance.

If you don't think you can cope with a tent, the Marangu Route has mountain huts you can stay in. And there are a few bits of good news. Most trips usually accommodate you in a hotel on the first and last nights of your trip, and you'll wake up every morning to the aroma of fresh Arabica coffee, often grown right there on the slopes of Kilimanjaro.

No-one ever goes hungry on Kili. There's loads of food, it's easy to cater for vegetarians, we've even had gluten-free travellers – as long as we know. We have great chefs on the mountain.

– Andrew Appleyard from our partner, Exodus Travels
If you'd like to chat about Kilimanjaro or need help finding a holiday to suit you we're very happy to help.

How do you go to the toilet on Kilimanjaro?
Going to the toilet on Kilimanjaro is not the most fun part of the trip. There are toilet facilities at the mountain campsites, but they are basic. Think hole in the ground basic. Many tour operators bring their own portable loos, which they enclose in a small tent and which one of the porters has the unpleasant job of emptying into the public toilet. So bring biodegradable baby wipes. Biodegradable nappy bags come in handy too if you are caught short.

As you can imagine, water is also a big issue on Kilimanjaro, so forget any notion of showers. Any water that is used is carried for you by porters. Hot water is usually provided for washing, but the best tip you will get is to bring a few good flannels. And break out those baby wipes again if necessary.
Combining Kilimanjaro with safaris and beach
Climbing Kilimanjaro can easily be combined with a safari in Tanzania and/or a few days on an idyllic beach in nearly Zanzibar. Given that you'll be flying to Tanzania anyway, it makes sense for you from a financial perspective and also means your holiday will have more of a positive impact on local communities.

Kilimanjaro is not far from the spectacular Serengeti National Park, where if you time it right you could witness the Great Migration, and you can also enjoy a foot safari in the wildlife-packed Ngorongoro Crater.
Our travellers also ask...
How hard is climbing Kilimanjaro?
It's not hard to climb Kilimanjaro if you're reasonably fit, but success depends on preparing well and not under-estimating the mountain. Pacing yourself to avoid altitude sickness, putting in some hill-walking practise before departure, and having the right kit are key.
Is it expensive to climb Kilimanjaro?
Climbing Kilimanjaro is not cheap (although it's nowhere near as expensive as Mount Everest), which is why we recommend preparing well to give yourself the best chance of success. It also makes financial sense to add on more time in Tanzania, such as with more trekking elsewhere, a few days on the beach to relax after summiting Kili, or a safari in the Serengeti National Park.

The longer you're on the mountain, of course, the more expensive it gets, as you need to cover extra expense for porters, guides and park fees. You also need good travel insurance to climb Kilimanjaro – one thing that is definitely not worth cutting costs on.
Can I climb Kilimanjaro without a guide?
Anyone trekking on Kilimanjaro must be accompanied by a Kilimanjaro National Park-qualified guide. These guys are the business, undergoing a three-year training programme and summiting up to 30 times a year. Responsible travel companies will often interview guides personally to ensure that they have the right stuff.

The guides are with you not only to lead the way, but to ensure you're safe on the mountain and that the habitat besides the trail is not disturbed. They're also a fantastic source of stories about the history of climbing Kilimanjaro, Tanzanian culture and traditions, and the mountain itself.
How long will I spend at the summit?
You will generally be at the summit for no more than 15-30 minutes – enough time to take in the views, snap some photos, have a snack and a drink and catch a breather. In most cases, summit day actually begins in the middle of the night so that you'll hopefully reach the top in time for sunrise.

If you make it as far as Uhuru Peak, at 5,896m, congratulations, you're at the highest point in Africa. It will be really cold that early in the morning, so you won't feel too sad about embarking on the two-day descent pretty much straightaway.
Is climbing Kilimanjaro worth it?
Climbing Kilimanjaro is an incredible experience, with a real feeling of achievement at knowing you've reached the highest point on the African continent. With no other mountains around it, if you can be there at sunrise, you can actually see the curvature of the earth.

Additionally, Kilimanjaro is on the edge of the Serengeti National Park and also only an hour's flight from Zanzibar. So you can summit, safari and snorkel, all within 10 days if you want.