Climbing Kilimanjaro guide
Kilimanjaro is the highest free standing mountain in the world. There is no mountain range enveloping it because it is, in fact, a volcano. Bang in the middle of the Great Rift Valley, it rose out of nowhere from the flat plains that surround it a million-odd years ago. This created a massif with three separate volcanic cones, Kibo, Mawenzi and Shira. It stands proudly like an overseeing elder, wrapped in a cloak of white, waiting to greet those who are brave enough to take on a trek that totally transcends Tanzania.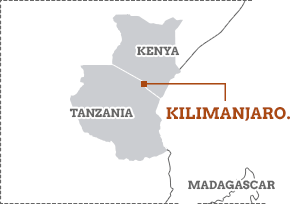 I had no idea that I could summit Kilimanjaro. I thought it was only for celebrities and the super fit. Turns out that weekly hike on the South Downs did the trick

And confidence is the main prerequisite for summiting Kili. You don't need climbing skills, just good fitness levels and a lot of determination. Kilimanjaro National Park is the real overseer, of course, taking responsibility to train local guides who expertly lead keen trekkers up its summit, Uhuru Peak at 5,895 metres. Where, if you can make it at sunrise, you can actually see the curvature of the earth. No wonder Uhuru means 'freedom'.
Trek Kilimanjaro if…
You want to summit Africa. It's the tallest mountain on the African continent and when you get to the top you certainly know it. With no other mountains around it, if you can be there at sunrise, you can actually see the curvature of the earth.
You are fit. But you don't have to be a marathon runner. If you can run for 30 minutes two to three times a week, and enjoy an all day hike at weekends, you will be fine. Nor do you have to have technical climbing skills. Just the ability to put one foot in front of the other. And a lot of determination.
You enjoy the company of an expert local guide. You have to be accompanied by a Kilimanjaro National Park qualified guide to trek on Kilimanjaro. These guys are the business, undergoing a three-year training programme and summiting up to 30 times a year.
You want to absorb Africa. Kilimanjaro is on the edge of the Serengeti National Park and also only an hour's flight from Zanzibar. So, you can summit, safari and snorkel, all within ten days if you want.

Don't  trek Kilimanjaro if…
You want to race to the top. Kilimanjaro is not to be raced. It takes at least five days of trekking to summit Kilimanjaro and at 5,895m high, you have to pace yourself carefully in order to adjust to the altitude. If you have respiratory or heart conditions – Trekking at altitude puts a lot of stress on the body. At the summit of Kilimanjaro, there is 40 percent less oxygen in the air so it's a bit like walking with only one lung. Consequently, if you have any heart conditions or respiratory problems, that is quite dangerous. You don't like roughing it – there isn't a luxurious way of doing Kili. Although if you travel with a reputable tour operator, they will have top quality mountain tents and food as good as possible. But be prepared for at least five days of real mountain living. And lie-ins are not really a thing on the mountain either. You are more into Michelin Stars than star gazing on a remote mountainside. Tanzania is not famous for its culinary highlights, and even less so on a mountainside. You'll get the best Arabica coffee around, though, grown on the slopes of Kilimanjaro.

Our top Kilimanjaro Holiday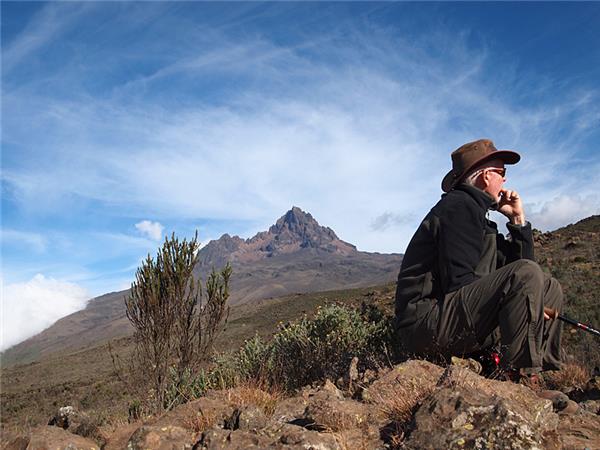 Ascend Mt Kilimanjaro's Rongai Route
From
£3899

to

£4149
10 days
inc UK flights
Small group travel:
2022: 17 Jun, 1 Jul, 26 Aug, 14 Oct, 2 Dec
2023: 13 Jan, 17 Feb, 16 Jun, 28 Jul, 25 Aug, 8 Sep, 21 Oct
If you'd like to chat about Kilimanjaro or need help finding a holiday to suit you we're very happy to help.

What does trekking
Kilimanjaro entail?
When trying to get your head around all the details of what a trek up Kilimanjaro entails, we have listed a few key 'S' words which encompass most of the questions people want answered:
Success
This is the question on everyone's lips. Will I make it? The route you choose is often key to this, with some boasting higher success rates than others. Success rates depend mostly on altitude and the speed at which you tackle Kili. If you go up too quickly, you are in much more danger of suffering from altitude sickness. And anything more than mild altitude sickness means coming back down again. There are seven routes to choose from, and each has a different rate of success. They are: Marangu and Machame, Rongai and Lemosho and, less frequented, Northern, Shira and Umbwe.

The qualified Tanzanian guides summit Kili 20-30 times a year, and to insist on bringing 'one of our own' has an unpleasant whiff of colonialism about it. And, at worst, racism.

Support
The classic trip up Kilimanjaro is on a small group holiday, led by highly qualified mountain guides. The good news is that you can fly to Kilimanjaro International Airport, Tanzania, acclimatise at the national park's main town of Moshi , trek to the summit and be back home in a week, if time is a concern. And that is not even racing it. You can also choose a longer trip, of course, which might take a different route up to the summit, and then you can include a safari and a beach trip while you are at it. Generally, you are going to spend at least five days on the mountain. A responsible tour operator will have a strong support team, usually with one qualified guide for every two to three people, and three porters per person; you won't have to carry anything more than a day pack. The trekking guides are all highly qualified, having undertaken three years of training with the Kilimanjaro National Park. You cannot trek on Kilimanjaro without one of these qualified Tanzanian guides. It isn't just a case of being allocated a guide on the day either. Tour operators interview the guides themselves, work with the ones they know well, and create strong working relationships with them.
Sleep
On the Marangu Route there are mountain huts to stay in. But for all the other routes, you will be sleeping in state of the art, three-person tents, although you can usually request a single tent if you wish. How you sleep becomes a big talking point on Kili treks. So, before you go, it is worth getting used to camping, sleeping on a thermal mattress, tucking up in a sleeping bag, and stretching your muscles until they awake in the mornings. It is amazing how many people trek Kili who have never spent a night in a tent and the lack of sleep can become a major hindrance to their success in getting to the summit. In fact, the final ascent usually starts in the middle of the night. Of course, even if you have slept in a tent plenty of times, the altitude itself can be a major cause of insomnia anyway, and unfortunately this isn't something you can prepare for. The good news is that most trips usually accommodate you in a hotel on the first and last nights of your trip.
S*** and a shower
There's no avoiding the 'S' issue most of us are too polite to ask about. There are toilet facilities at the mountain campsites, but they are basic. Hole in the ground basic. Many tour operators bring their own portable loos, which they enclose in a small tent and which one of the porters has the unpleasant job of emptying into the public toilet. So, bring bio-degradable baby wipes. And bio-degradable nappy bags come in handy too if you are caught short. As you can imagine, water is also a big issue on Kilimanjaro, so forget any notion of showers. Any water that is used is carried for you by porters. There is hot water for washing, but the best tip you will get is, bring a few good flannels. And break out those baby wipes again if necessary.
Sustenance
Food is prepared by your porters and guides, and although Tanzania isn't actually way up there on the world map of gastronomy, you will devour the local meat stews and rice after a day of hiking. Of course, responsible tour operators should be able to cater for most dietary needs if you let them know in advance. There is usually a communal tent with tables and chairs for meal times.
Sickness
Mount Kilimanjaro stands at 5,895m – altitude sickness, or Acute Mountain Sickness (AMS) can kick in at less than half that height. One of the worst things about altitude sickness is that it is very hard to predict. You can be very fit, but still get hit badly when the moment comes. The ideal thing is for you to test your abilities at altitude before you go by heading up somewhere that has a quick way down if you suffer badly. But for this, you need to get to over 4000m, which isn't always practical for most people and not possible in the UK. There are plenty of people who summit, however, who have no idea in advance how prone to altitude sickness they might be. Ascending slowly is key to reducing your chances of feeling ill, with several routes allowing you to 'walk high, sleep low' i.e ascend during the day, but descend a little to sleep, putting a lot less stress on your body. If you do get sick, the best cure is to descend – even a couple of hundred metres can make a difference. For this reason, we recommend the longer routes to the summit. Keep well hydrated and let your guide know if you are feeling unwell. They are the experts and won't consider anything too small a symptom to worry about.
A brief history of Kilimanjaro
You can see the history of trekkers spelled out across Kilimanjaro, depending on which route you take. Such as the Hans Meyer Cave, located on the final stretch, named after the German geology professor who was the first recorded person to have summited Mount Kilimanjaro, alongside Austrian Ludwig Purtscheller in 1889. The highest peak, now called Uhuru, was originally named Kaiser Wilhelm Spitze, meaning Kaiser Wilhelm peak; Wilhelm was Germany's emperor of the time. One of the mountain's cones, Mawenzi, is also known as Hans Meyer Peak.
Read more