Best time to climb Kilimanjaro

The best time to start the summit is at sunrise. If you get the chance to sleep at the rim of the crater for dawn, you can actually see the curvature of the earth.

Kilimanjaro is virtually on the equator, so the lower slopes are generally hot and dry reaching 25°C during the day. This quickly dips with each ecological zone however, open heathlands, alpine desert and then, at the summit, categorically Arctic. Uhuru Point's nighttime temps are between -7 to -29°C. Kili has a couple of rainy seasons but not ones that put a stop to the trekking. But they do put a stop to the crowds. The best time to climb Kilimanjaro is really when you feel physically and mentally ready to do so.
Kilimanjaro Weather Chart
Kilimanjaro, month by month
January, February and the first half of March are the warmest months, with wonderful clear skies mornings and evenings, making these very popular times to climb. Although you may get a few showers during the day. June, July and August are the "winter" months in Tanzania. Although it's still warm during the day, nights are cold. But then Kili can be chilly year-round anyway. August and September are peak season on Kili, so if you want to avoid busy trails you might want to consider another time of year. It is , however, also migratory season for wildlife if you want to add a safari into the already magical mix. September is a little quieter and also warmer than August. Climbs around full moons are very popular for obvious reasons. There is a rainy season in April and May, which generally means one pretty heavy rainstorm every day on Kili. However, even that is not guaranteed and it doesn't last for hours with most of the rain hitting the coast. So although some people want to avoid this, others embrace it, as rain equates with more solitary slopes. There is another shorter rainy season from November to December, although the showers are short, and quite refreshing too. October is usually a great time for climbing, getting in just before the rains do, but when many of the crowds have gone home.
Our top Kilimanjaro Holiday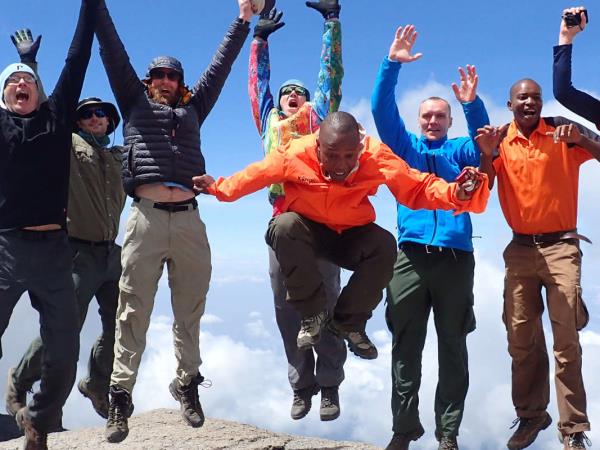 Awesome 10-Day Kilimanjaro Climb via the Lemosho Route
From
£2599
10 days
ex flights
Small group travel:
2021: 6 Oct, 13 Oct, 24 Oct, 12 Dec, 26 Dec
2022: 11 Jan, 23 Jan, 10 Feb, 19 Feb, 6 Mar, 16 Mar, 8 Jun, 16 Jun, 26 Jun, 7 Jul, 14 Jul, 20 Jul, 6 Aug, 11 Aug, 18 Aug, 24 Aug, 4 Sep, 15 Sep, 22 Sep, 3 Oct, 9 Oct, 20 Oct, 8 Dec, 25 Dec
If you'd like to chat about Kilimanjaro or need help finding a holiday to suit you we're very happy to help.

Responsible Travel recommends
Andrew Appleyard, from our supplier Exodus:
"I think that one of the best times for trekking Kilimanjaro is late September, as the crowds have gone home so the routes are quieter. The Serengeti is still in Great Migration season too, and so packed with wildlife but not so many people."