Kilimanjaro climbing advice
Budget advice
Andrew Appleyard of our supplier Exodus, experts in Kilimanjaro, has climbed Kili many times and is a font of information when it comes to Kilimanjaro climbing advice: "Altitude sickness is a complete unknown. But I would say that if you give yourself time to do a longer route and, therefore, have longer to acclimatise, your success rates are higher. My top tip is that if you're going to do it, do not scrimp on cost. Don't try and carry tons of your own gear so that you can cut down on porters, it's just not worth it. I did it a decade ago and there were 11 in our group – I took ten of those to the summit. The other group had 19 people and only three made it. They told us they came up too quickly, had altitude sickness, didn't eat enough food, ran out of water… "
Safety advice
Paul Deakin from our Kilimanjaro supplier, Private Expeditions:
"On Kilimanjaro, if someone has altitude sickness, we will get them back down the mountain very quickly. It depends on the severity, of course. We use a pulse oximeter to test their oxygen saturation, and then there is a system called the Lake Louise altitude scoring system which has a whole list of questions with points allocated to them. The number of points shows whether their altitude sickness is mild, severe or critical. As soon as we get warning signs that it is moving from mild to severe, then we bring them down by putting a guide under one arm, and a porter under the other arm, and run them down. Very rarely with altitude sickness would you need to stretcher someone down. If they are being stretchered down for altitude sickness, then you have done something very badly wrong."
Tips on keeping comfortable
Dr. Gotlind Blechschmidt , Vice President of conservationist organisation, Mountain Wilderness Germany: "Don't expect hotels or any comfort! They should be used to sleeping in tents or lodges with simple facilities. Be prepared for darkness (long nights), cold, storms, and a large amount of dust all over the routes. I took the Rongai Route for going up and Marangu down, so I made a crossing of the massif. Because you get only little water for washing it is good to take some wet wipes with you; a big plastic bag is useful (one can take it as a poncho against rain and put it in front of the tent to have a clean "entrance"). Everybody should be friendly to the porters and guides. Don't forget a tip at the end. Take care of the porters if they are cold in the nights, especially when up at the highest points."
Packing advice
Chloe Knott is another mountain expert at Exodus, our leading supplier in trips to Kilimanjaro. She shares her Kilimanjaro climbing advice for keeping warm: "If you have a metal Sigg water bottle, you can fill it with hot water at night, put it in a sock and use it as a hot water bottle. I learned that one at Everest Base Camp - it was a life saver!"
Our top Kilimanjaro Holiday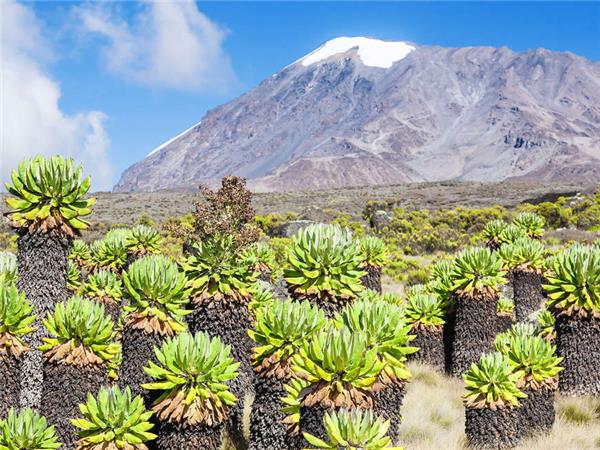 Strenuous route up Africa's highest peak
From
£2960

to

£3259
10 days
ex flights
Small group travel:
2023: 26 Oct, 21 Dec
2024: 18 Jan, 1 Feb, 8 Feb, 22 Feb, 29 Feb, 27 Jun, 8 Aug, 22 Aug, 5 Sep, 12 Sep, 19 Sep, 26 Sep, 3 Oct, 10 Oct, 24 Oct, 19 Dec
If you'd like to chat about Kilimanjaro or need help finding a holiday to suit you we're very happy to help.

HEALTH
If you have any respiratory or heart conditions, then trekking at this altitude is going to be very hard on your system. You will need to seek serious medical advice before attempting Kilimanjaro.
Remember that it is a long way up, so if you have any medical conditions that require daily attention, such as Type 1 diabetes, a lot of companies will insist that you travel with a friend who can support you. If you have a diabetic episode, it can take 6-7 hours to get you down the mountain under emergency measures. Also, guides are trained in first aid, mountain sickness and emergencies, but they won't dispense drugs or give injections.
Treat altitude with respect. Guides are well trained in recognising the symptoms, and do what they can to avoid it, such as descending to a lower position to sleep, which puts less pressure on the body at rest. If your guide tells you to stop, then do. It does not matter how fit you are, or how many times you've been at high altitudes before – the symptoms are unpredictable, and the only real cure is descending. Dehydration makes altitude sickness worse – you need to drink much more at high altitudes.
Visit your GP 6-8 weeks before travelling to Tanzania to ensure you have all the necessary vaccinations and medication. You may be requested to show an up to date Yellow Fever certificate on entry to Tanzania, so we recommend getting this vaccination as well.
Malaria is present in Tanzania below altitudes of 2,000m so antimalarial medication should be taken. Wear long sleeves and trousers and use your mosquito nets. Dengue fever (also carried by mosquitoes) is also present, particularly in cities, and tse-tse flies have a painful bite, as well as carrying sleeping sickness. They are attracted to the colour blue – so don't wear it!
Purchase comprehensive travel insurance to cover your trek and any other activities. Ensure this covers emergency medical repatriation; you may have to be evacuated if the hospitals in Dar es Salaam are unable to provide adequate care.
Tanzania is close to the equator and the sun is fierce – especially on Kilimanjaro, where it's magnified by the altitude, despite the cold. Remember to bring sunscreen, a hat, good quality sunglasses and lip salve with a high SPF .
Water carried by porters should be safe for drinking, although many people bring water purification tablets just to be extra safe. The EU banned iodine to be used to purify water on 25 Oct 2009, so chlorine tablets are the usual choice now. However, chlorine doesn't eliminate giardia bacteria. Check out Biox Aqua drops or tablets as they kill giardia and crytosporidium.

SAFETY
It goes without saying that when you are trekking on Kilimanjaro, do what your guides advise. This is no walk in the park, but a serious long distance and high altitude trek over at least five days.
Be sure to use a reputable company for climbing Mount Kilimanjaro. You can't go up Kili without a local guide who has undergone the rigorous national park training. However, the tour operators hire them directly and, therefore, get to know the best. So check out any feedback available on their guides to make sure you are walking with the ones with the most common sense, most safety aware and most switched on.
Tanzania is generally a safe country to travel in, with relative political stability.
Tanzania is a conservative country and all travellers should dress modestly. Women in particular should not wear shorts or sleeveless tops, especially when you have non-mountain days in coastal areas and on the islands – including Zanzibar – where the population is largely Muslim.
Homosexuality is illegal in Tanzania; same sex couples should act discretely.
Holiday reviews from our travellers
At Responsible Travel, we think the best people to advise our travellers are often... other travellers. They always return from our tours with packing tips, weather reports, ideas about what to do - and opinions about what not to.

We have selected some of the most useful Kilimanjaro climbing advice that our guests have provided over the years to help you make the very most of your holiday - and the space inside your suitcase.

do what the guides recommend, get to know them, and enjoy what's to come because the guides and staff are the personality of the mountain. Don't go overboard with the gear that you bring, a lot of people take too much with them.

"We all got sunburned on the backs of our hands during the trip very badly. This was due to holding walking poles. Try to protect your hands either with total sun block or a pair of thin silk gloves. Get sun block on at midnight on summit night. It sounds stupid but the glaciers and surface snow will burn you badly." – Craig Lewis

"Practice putting your equipment and clothing for Kilimanjaro climb in and out of your bag, Make sure you know where everything is when you might need it." – Lorraine Scott

"I would recommend taking a nail brush (you won't believe how filthy your hands and nails get), and hiring a down jacket, sleeping mat and sleeping bag from the company as they are all good quality stuff and saves having to pack them." – Catharine Gidney

"We did have a very special reason for wanting to climb Kilimanjaro - in 2003 our 24 year old son Neil was lost whilst climbing the second highest mountain in S. America (Mt. Pissis 23,000ft). After his death I set myself three challenges in order to raise money for the charity we set up in his name. Neil was a champion runner with an English rating, a long distance cyclist and a climber. My three challenges were to ...run for Neil.. I trained and completed the 2004 London Marathon in under 5 hours... to cycle for Neil....last August(2005) I cycled 1,041 miles from John O'Groats to Lands End in 15 days. The remaining challenge ... to climb for Neil....had to be to climb Kilimanjaro. I am absolutely delighted that I've actually been able to fulfil this challenge. The whole experience of being on the mountain will stay with me forever. Although our trip to Tanzania was born out of great sadness for us, we have certainly come back feeling ' on top of the world' ....and I have been!" – Gill Tucker

Go slowly (pole pole) right from day 1. This helps your body to get ready for the hard summit day... and really believe that you can reach the top