Climbing Kilimanjaro with kids
Children can climb Kilimanjaro, with the minimum age usually 10, however you need to be really sure that they're up to the challenge. The official minimum age to summit is set by the Kilimanjaro National Park authorities, although the risks of trekking at altitude mean it is advised against rushing into this trek with a child. For this reason, most tour operators only offer this trek to children aged 12 and upwards.If your family are regular walkers and campers then you should be fine. But ensure everyone is clear beforehand on the realities of spending five-plus days on the mountain involves, and that you factor in enough time to adjust to the altitude. And definitely consider rewarding their efforts with a safari or some well-earned beach time afterwards.
How to decide if your kids can trek Kilimanjaro
One of the most important factors when it comes to trekking Kilimanjaro with kids is that they have to be both really motivated and keen to do it, as well as being aware that it is not going to be easy. Having a good general level of fitness, attained from being involved in sports or going on regular family walks, is essential. One of the most difficult things about the Kilimanjaro climb is having to walk for hours every day, day after day. It requires physical and mental endurance, and there are definitely times when they are going to want to give up.
Bryony Cottam, a writer at Responsible Travel, spent a month trekking mountains in Tanzania when she was 16 years old: "Looking back I was completely fearless, I don't think I ever once considered that I might not make the top of the mountain. I don't think we give kids the credit they deserve when it comes to resilience. My one regret was not being fitter; rather than doing any practice treks I was powered on by some kind of youthful stubbornness, but prior training would have made everything easier and more enjoyable. It was my first trip that wasn't family camping in France, chosen by me and, while I've had plenty of memorable travel experiences since then, this was easily one of the best."
Our top Kilimanjaro family Holiday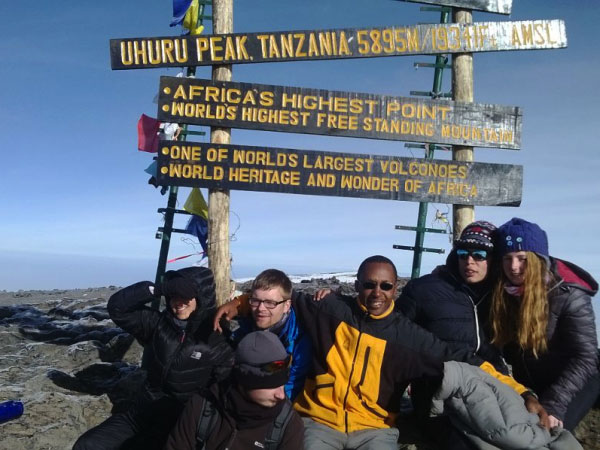 A child friendly Lemosho route Kilimanjaro trek
From
£2150

to

£2650
10 days
ex flights
Tailor made:
This trip can be tailor made throughout the year to suit your requirements
Choosing the right route and guide
When it comes to choosing the right route, it's important to look at longer itineraries that allow extra time for acclimatisation. While there is no real information to suggest that children are any more likely to develop altitude sickness than adults, it can be harder to recognise the symptoms. Longer routes, such as the eight day version of the
Lemosho Route
(which has the highest success rate), or a longer seven day version of the Machame Route, are the most suitable. You should also consider a responsible tour operator with experience of leading families or younger trekkers. Remember that your porters will be doing all the heavy lifting and watching out for signs of altitude sickness in the group, so it is in your best interest to choose a reputable company that treats its staff well. You may also want to opt for a route with private toilet tents rather than public ones (such as the ones along the Marangu Route) as these can get very dirty, and take a hot-water bottle – it can get very cold at night.
Chris Wrede, Director of our Kilimanjaro family trekking specialists Oasis Overland, on summiting Kilimanjaro with his two sons:
"The guides we use tailor the trek to every individual, encouraging them along the way and going at their pace. They are even more vigilant with children, getting the right pace for them and providing encouragement and breaks along the way.
My son, aged 14 at the time, got pretty bad altitude sickness on the final ascent day. He got 2 hours into the ascent and had to go back down to the last camp to rest and sleep before he attempted it again, and made it the second time. This was totally out of kilter with the 'climb schedule' and meant the guides had to go back down and up again with him. This is what I mean about tailoring the climb to the individual."
If you'd like to chat about Kilimanjaro or need help finding a holiday to suit you we're very happy to help.

Advice for trekking Kilimanjaro with kids
It is extremely advisable to get in as much hiking as you can before the trip. This is not only important for building up fitness and stamina, but for breaking in boots and getting familiar with trekking gear. Families with kids who are already active and used to doing longer walks will find they're already well on their way to being ready.

Be sure to purchase high quality, brand name equipment similar to your own. It can be tempting to choose cheaper options, given the risk of them quickly outgrowing clothing, boots and even bags, but it's important to arm them with the most suitable and protective kit for Kilimanjaro. Don't give them lower quality gear that you wouldn't use yourself.
Being in the right mindset is also very important. Talk to them about issues that may arise such as altitude sickness, diarrhoea and blisters and prepare them for how difficult the trek will be. Being realistic about expectations, as well as getting in some walking in advance, will help get them used to what lies ahead. It's a good idea to speak to their doctor for advice on altitude sickness prevention medication, as well as any rehydration sachets you may be thinking of using during the trip and their general health and fitness. For more information on altitude sickness and what to watch out for, read out guide to
trekking at altitude
.