Rongai Route Kilimanjaro trek
The Rongai route is the only route that approaches from the north, closer to the Kenyan border. This is, relatively, a gentler climb with a steady ascent and takes minimum six days to complete, although seven is recommended. Starting in Nale Moru village, you leave behind the local maize fields and enter the Rongai pine forest to the first camp at First Cave, at 2,600m. Woodland then opens up into wild moorland which, in turn, opens up views to the famous eastern icefields on the rim of Kibo cone. With each daily ascent, on this route, you not only gain views of Kili but also over the Kenyan plains. Green turns quickly to dusty brown as you approach the spectacular Mawenzi Tarn at 4,330m, with the jagged peaks of Mawenzi cone a majestic presence at this point.
The target on your sixth day is the "Saddle", a lunar like desert that straddles the land between the Mawenzi and Kibo peaks. Lots of space here to get your head around the final ascent, resting at Kibo campsite to prepare for a midnight commencement to the summit. This starts with a steep, zig zag and torch lit climb to the crater rim at Gillman's Point for sunrise – which unforgettably illuminates the snow that lines the final path all the way to Uhuru peak. The descent on this route is using the Marangu Route on the south east of the mountain and can take up to two days.
The pros and cons of trekking the Rongai route
The Rongai route trek up Kilimanjaro is a more expensive option as there is more travel involved to get you to the other side of the mountain. And also because it is longer, with a two day descent using the Marangu Route. It is also said to be not as varied landscape wise, but we don't agree, as it does offer spectacular views over the Kenyan plains, and the descent route is also stunning. Because this is still a quiet route, but gaining popularity, it is a good time to experience it now while wildlife, such as colobus and blue monkeys, still outnumbers trekkers. Rongai is also a good option during the rainy season because the north side of the mountain gets less rain. It is also good for those who are wary of steep climbs, as this way is gradual and steady, with good options for sleeping at lower altitudes.
Andrew Appleyard , keen Kili trekker and expert from our leading Kilimanjaro supplier, Exodus: "The Rongai route for me is the most beautiful way of going up the mountain, mainly because I love being in Mawenzi, the twin peak of Kilimanjaro. It's on the old crater, so you actually sleep by the crater lake. But also it's better for acclimatizing; you walk high and sleep low. Our success rate on Rongai is 86 percent up to Gillman's Point on the crater rim , and 76 percent up to the summit. We've been operating down there for decades."
Our top Kilimanjaro Holiday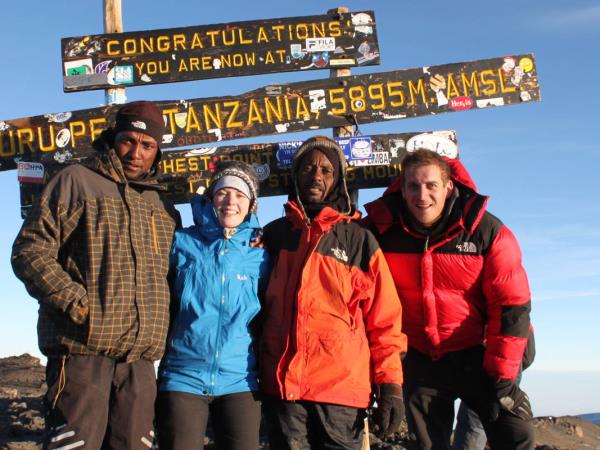 Amazing Private Or Group Kilimanjaro Climb: Machame Route
From
£2349
9 days
ex flights
Small group travel:
2021: 13 Dec, 19 Dec
2022: 8 Jan, 15 Jan, 5 Feb, 12 Feb, 26 Feb, 13 Mar, 11 Jun, 18 Jun, 2 Jul, 9 Jul, 16 Jul, 30 Jul, 7 Aug, 13 Aug, 20 Aug, 27 Aug, 10 Sep, 17 Sep, 24 Sep, 1 Oct, 8 Oct, 15 Oct, 3 Dec, 19 Dec
If you'd like to chat about Kilimanjaro or need help finding a holiday to suit you we're very happy to help.