Sierra de Gredos cycling holidays
In 2008, Carlos Sastre, Spanish cycling's 'Mr Clean', finally won the Tour de France. There was one region of Spain that celebrated more than most. Squeaky-clean Sastre, who never once faced drug charges in a notoriously dope-heavy sport, hails from the Sierra de Gredos, a mountainous region of central Spain. In this area, sweeping roads provide dream cycling training for Tour de France hopefuls, and its high passes frequently feature in the Vuelta a España, the Spanish equivalent.
Every June, Gredos puts on a yellow jersey of its own, thanks to its native piorno, or mountain broom. This hardy plant has pea-like yellow flowers similar to gorse, arriving in force in late spring and completely cloaking the hillside.  It's a stunning natural phenomenon that local businesses are hoping will put the region back on the tourist map, particularly for cycling. "It's absolutely spectacular in Gredos," Marlene Smith, from our partner company Go Cycle Tours, explains. She loves taking cyclists on rides through the broom.
"Empty" Gredos
The year Sastre won the Tour, Sierra de Gredos didn't have much to celebrate. It's one of the three most depopulated provinces of the country, and is essentially still in post-war decline. Young people, and especially women, leave; there's no industry for them here. Villages shrink every year. In 2019, one village lost four – or 20 percent – of its handful of remaining inhabitants.

The area is a prime example of what has been labelled 'La España Vacía' – 'empty' Spain, a national crisis of rural degeneration which has sparked a social movement, and waves of protest in Madrid. Madrid is, after all, just a couple of hours down the road from Gredos. Traditionally, the Sierra de Gredos was a weekend jaunt for Madrid hikers, but they mostly come in the summer holidays, leaving the area struggling out of season.

Aside from the broom, there aren't many living things that can tough it out on the high slopes of the Sierra de Gredos year round. It's bitter in winter, its cities characterised by forbidding walls, its slopes snowbound. "The barren plains, the rugged mountains of Castile," says Marlene, who is on the board of directors for the region's Chamber of Commerce. To the average Spaniard, this area is traditionally seen as "cold and hostile". But it's also "the real Spain, because this is where Castilian comes from".

But in the last five or ten years, the perception has started to change. And it's all thanks to Gredos's yellow jersey – its gorgeous mountain bloom.
Broom with a view
In 2009,
ASENORG
, the region's commerce association, realised it needed to do more to save the area. It launched an annual, month-long mountain broom festival, the
Festival del Piorno
. Surrounding events – from a yellow tapas festival to horse rides – have snowballed. In recent years, Sierra de Gredos has been recognised as a stargazing area by the Spanish Starlight Foundation, and ASENORG are working to protect its mycology and its birds, too. "It all started with the festival," Marlene says. A year later, Marlene launched Go Cycle Tours, offering challenging cycling trips through the famous broom.
Go Cycle Tours are hopeful that the 'Gredos model', as Marlene calls it, will give people a good reason to visit, and people in the region a reason to stay. "Go Cycle is ONLY about money in the community," she says. She sources everything from the bike hire to the transfer from Madrid from the area. Guests are pampered with surprisingly lovely, locally-run hotels – and might visit a winery. A few have started to focus on pure varietal wines, using Garnacha (Grenache) grapes. "It's so much fun there," Marlene says of the winery. "The guys that run it are absolute characters."
New hope
Change is slow to come, but Marlene, who visits the area frequently from her nearby home, often returns with anecdotes about new developments. There's the hotel that, inspired by patronage from Go Cycle Tours, started creating special packages, and now finds its weekdays booked out with adventure travellers. Then there's the woman in her 70s, living in the smallest village, who is convincing local shepherds to revive merino wool production. "She's convinced a number of shepherds to put coats on their sheep to protect the wool... She's a force of nature." Young people are coming back "to make cheese", and politicians are starting to sit up and take notice. "They signed a political pact in Gredos for repopulation, and a political commitment to repopulation in the area a couple of weeks ago," Marlene says.

This year, Marlene's preparing for the next Piorno Festival bike ride. "We call it the leg breaker," she says – of course, it sounds better in Spanish: the 'rompe piernas' in the 'piorno'; Carlos Sastre would be proud.
If you'd like to chat about Spain cycling or need help finding a holiday to suit you we're very happy to help.

What does this trip entail?
In eight days you can enjoy a small group cycling trip of the Sierra de Gredos, exploring the roads between little towns like Gredos and medieval cities like Ávila. If you're short on time, five days could also give you a taste of the area, especially if you take a self guided option.
What is the cycling like?
Conditions are close to ideal for road cycling. "It's safe, we have great roads, lots of secondary and tertiary roads winding through absolutely beautiful scenery; you're always looking at mountains," Marlene says. In the hills, cattle graze on the pasture, ibex roam, and you'll definitely see wild goats nibbling the broom – or worse, the asphalt. "I came across a herd of them licking the salt off the road," Marlene says of a recent encounter.
How fit do I need to be?
The area suits intermediate to advanced cyclists as the routes includes lots of ambitious portions of the Vuelta a España. "People that come on our tours need to be able to cycle 50-70km pretty easily," Marlene says. However, there are ways around this – you could rent an electric bike (increasingly popular) and every day there are options to do shorter or longer routes. One of the most exhilarating rides you can do is the ascent to the Pena Negra pass, above 1,900 metres. Marlene encourages everyone to reach the first 'port' on the climb. "It's all about pacing," she adds. The ambitious can continue to two other ports, whilst others can take a short route back.
What if my partner is the cyclist?
It's common to have just one peleton fanatic in the couple – but tours are used to this. There is amazing hiking, horse riding, even mountaineering and zip lining in the region. Look out for partner programmes which cater to non-cyclists accompanying wannabe kings of the mountain.
Where will I be staying?
If you're going to be cycling hard every day, you deserve a comfortable bed. In 1926, King Alfonso XIII selected Sierra de Gredos as the site of the first of Spain's paradores, a network of hotels in historic, important and beautiful buildings. Along with spa hotels and rural hotels, you can expect rooms bordering on the luxurious, Cava on ice, and even massages at the end of the road.
When is the best time to go?
If you want to see broom, go in June. The broom festival is a month-long, from the last week of May into June. That's still considered to be the region's shoulder season – a perfect time for cycling, as Marlene notes: "With climate change we often get better weather in the mountainous regions than the coast, especially on the shoulder seasons." Group cycling tours usually run from May to September, with July and August the hottest, busiest months.
More Spain cycling articles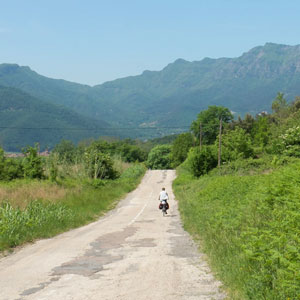 Get on your bike with our Spain cycling travel guide, with details on the best time to go.
Our Spain cycling highlights cover everywhere from Catalonia to Andalucia and Valencia, with a useful map.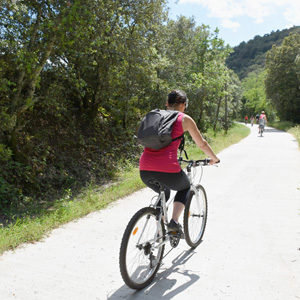 Many professional cyclists choose to base themselves in Catalonia - discover 'the cycling capital of the world.'