Cycling holidays in Catalonia travel guide

If a collective noun for cyclists is ever coined, it will surely happen in Girona – a little Catalan province which is called home by dozens of professional cyclists from around the world.

It's not hard to see why Spain's north-easternmost province is so appealing. Its Pyrenean foothills and Mediterranean coves offer varied and beautiful terrain for road and mountain bikers; coastal and mountain climates mean you'll find pleasant temperatures somewhere, all year round. But don't be put off by the proliferation of pros; as our cycling holidays in Catalonia travel guide reveals, this is a wonderful destination for amateurs. There are quiet backroads, trails leading along disused railway lines, superb cycling maps and plenty of quaint villages and medieval towns to explore – as well as the sea to cool off in.

Trips can easily be tailored to your experience, interests and fitness levels, and children are more than welcome. Setting out each day from a base means you need little more than water, sunscreen and a camera in your panniers – and the abundant local produce, markets and tapas bars are superb for lingering lunches during the heat of the day – with a bottle from a nearby vineyard sure to liven up an evening recounting tales of your adventures on two wheels.
Our Spain cycling Holidays
Best time to go cycling in Catalonia
Many cycling holidays in Catalonia are tailor made and self guided and can be booked all year round – but the best time to go on a cycling holiday in Catalonia is from mid-April to early June, or September to October, when the humid summer heat dissipates – as do the tourists. Inland Catalonia is surprisingly cold and wet in winter, particularly on higher ground, but the coast can still be warm and sunny – with pleasant temperatures for cycling. This region is also famed for its food festivals, which often take place in autumn – so chat with your holiday company to time your trip to coincide with a honey, olive oil or garlic festival, if that's what tickles your taste buds.

If you are tied to the summer holidays, don't fret – the air is much fresher in the mountains. Coastal rides will be hot, so don't push yourself – but set off early, plan for a long lazy lunch – and always pop a swimsuit in your saddlebag as you won't be able to resist a dip in the Med.

Our top Spain cycling Holiday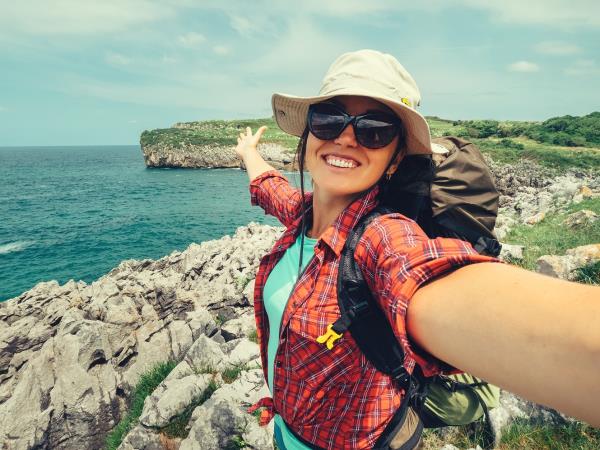 Self-guided walking holidays in Catalonia
From
€749

to

€845
8 days
ex flights
Tailor made:
Available all year round on any day to suit and can be tailor-made and adapted to your requirements
If you'd like to chat about Spain cycling or need help finding a holiday to suit you we're very happy to help.

Best places to go cycling in Catalonia
Catalonia's best cycling routes are clustered in the northeastern province of Girona. Here, routes incorporate a field of extinct volcanoes, spring-fed lakes, prehistoric caves, rivers, sunflower fields and Mediterranean beaches, as well as joining the dots between charming villages, walled towns and medieval architecture. Shorter daily stretches – under 40km – mean you will have plenty of time to explore these towns in the middle or at the end of your ride. Point to point tours allow you to see more of the region, and with your luggage transported for you, this is still a relaxing and flexible option. Many cycling routes incorporate the Carrilet (part of the Green Routes – or Vias Verdes) – a disused railway that was paved over and is now only accessible for walkers and cyclists.
Aiguamolls Nature Reserve
These coastal wetlands provide habitat for some 90 species of birds, including bitterns, egrets, cuckoos and herons, and the flat cycling trails take you along raised paths and boardwalks between the irrigation channels, lagoons and meadow – making it particularly suited for children. Spend time in a hide – or in the reserve's observation tower. Keep an eye out for fallow deer in the marshlands, too.
Cap de Creus
Cap de Creus is synonymous with Dali; the landscapes of Spain's most easterly point are said to have influenced his paintings. Pedal along a 77km loop across the Cap, taking in the 10th century monastery of Sant Pere de Rodes and the impressive views it offers, before freewheeling down to the coast, and finishing the ride in Cadaques in time for lunch – and a tour of Dali's studio in nearby Port Lligat.
Garrotxa Volcanic Natural Park
40 long-extinct volcanic cones dominate the landscape of Garrotxa, a diverse natural park in the Pyrenees which encompasses lava flows, forest reserves and striking basalt cliffs, as well as Olot's ancient town centre, the medieval castle of Juvinyà and buildings constructed of volcanic rock. Mountain to coast cycle tours often include a day in Garrotxa on the way.
Peralda Wine Trail
A 34km circuit takes you through vineyards producing wine and – more importantly – Cava. Stop off on the way for a tasting – or to pick up a bottle of bubbly to enjoy back home. Peralada itself is a lovely medieval town with a castle and convent worth visiting. The ride includes gentle climbs up to scenic viewpoints to admire the undulating patchworks of olive groves, vineyards and Catalan villages.
Mountains to sea
Spend four days cycling from the Pyrenees to the coast, following the disused carrilet railway which once carried coal and iron ore down from the mines. You'll ride from Ripoll to Olot to Girona, ending at the fishing village of Palamos. On the way, enjoy rides through the volcanic landscapes of Garrotxa, along the valley of the Fluvia River, and past natural forest – with the mountains always in the background.
Sant Marti d'Empuries
The full beach loop is a calf-crunching 116km – but shorter routes can also be planned – just speak to your holiday company. You'll begin in the rolling agricultural countryside of Pla D'Estany and cycle down towards the village of Sant Marti D'Empuries on the coast – with chance to visit the impressive yet virtually unknown Greek and Roman ruins of Empuries, as well as rewarding yourself with a dip in the sea.
Vivian Campbell, from our supplier Cycle Catalan, who is based in the region of Girona, shares her top tips for cyclists in Catalonia:
Packing tips
"We always ask them to bring a mobile phone because it's really important that they keep in touch with us if there's an emergency, or if something happened with the bike – then we can pick them up. So they must bring a mobile phone. We do always say bring sun screen even in April or October because if you're out cycling all day and you're not used to it you can get a bit of sunburn on your wrists. Also mosquito or insect repellent; people think that it's Spain and you don't really need it but actually you do need mosquito repellent in the evenings if you're out and about or at a restaurant. And a camera – always bring a camera or your iPhone, make sure you can take that nice photograph of the vineyard or the grapes and harvest… capture that moment!"
Tips for cycling families
"For families we offer the cycle and relaxation tour, and that's very popular for people who come with children in the holidays. We receive inquiries from families who want to do some nice cycling, as well as different things – some beach activities, a little bit of walking; it's more informal."
Cultural advice
"Remember that Catalunya is independent so although it's part of Spain and everyone there speaks Spanish, the culture there is Catalan. The language is a little bit different. It's always good to say "bon dia" – which is hello, good morning – in Catalan, rather than "buenos dias", and just saying "bon dia" is a recognition that you are in Catalunya and that wins you a lot of Brownie points!

It's got a lot to do with their history. Under the Franco regime they were quite persecuted and a lot of traditions were banished; their traditional dance the sardana wasn't allowed and they weren't allowed to speak Catalan. There were lots of things that were suppressed. After the Franco regime it became a democratic society. Eventually their traditions were allowed to come back in and they've been honoured. I think it's very important that there is a recognition that they are Catalan."
Catalonia cycling advice
from our travellers
At Responsible Travel, we think the best people to advise our travellers are often... other travellers. They always return from our tours with packing tips, weather reports, ideas about what to do - and opinions about what not to.

We have selected some of the most useful Catalonia cycling travel tips that our guests have provided over the years to help you make the very most of your holiday - and the space inside your suitcase.

(The most memorable bit was) The 30k mountain bike ride that took in parts of the local scenery that would have remained unseen without the guidance and assistance of our host.

"The market at Calonge on a Thursday morning is an amazing riot of colour, smells and sounds. The lunchtime menus are excellent value for money and the food is pretty good too! – Lisa Kirkhope

"My daughter and I had an amazing time. The hotel treats all it's guest the same whether you are a top performing athlete or like us a mum and daughter who enjoy cycling and spending time together." – Sue Bound

"We have teenage children and weren't sure if they could cope with a full-on cycling holiday where you go from place to place, so this was perfect for us because we were based in one place but there were many points to cycle to. The children loved it and this holiday has definitely made us keen to do more cycling as a family." – Jane Edwards

"When we travelled (Late October) the weather was perfect - not too hot yet dry and sunny. Evening meals are served at local restaurants or Tapas bars late so young people may be tired after a long and busy cycling day..." – Susan Levy

The food is amazing and we only bought bottles of wine from local vineyards which were excellent every single time.

"Take lots of food and water. You can be cycling for quite some time before coming across any shops, so take a blanket and find somewhere comfortable to stop and have a picnic." – Claire Hermolle

"Don't worry if like us you have little experience of bike maintenance – all equipment was provided and we were given a really thorough explanation of what to do in case of a puncture etc – plus we knew help with this would only be a phone call away should we need it." – Katy Beckhurst

Fit in as many days as you can and try to time it with some of the local village fiestas. The food is amazing and we only bought bottles of wine from local vineyards which were excellent every single time." – Negla Salem
More about Spain cycling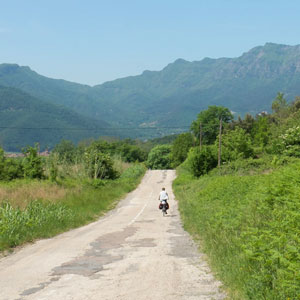 Get on your bike with our Spain cycling holidays travel guide, including details on the best time to visit Spain and a useful temperature and rainfall chart with month-by-month information.
Our Spain cycling highlights page has the best spots for cycling, with everywhere from Catalonia to Andalucia displayed on our interactive map.
Thanks to the gorgeous yellow mountain broom, you can enjoy biking on sunshine when you explore the Sierra de Gredos in central Spain.