Cycling in Spain travel guide
Spain's reputation for sun, sea and summer holidays is well established, but beyond the chaotic Costas and baking interior, it's also fantastic for cycling. Pro teams populate Catalonia and Andalucia, whizzing through their varied terrains in a blur of sweaty Lycra, but that doesn't mean you have to. For the more peripatetic pedaller there are quiet, safe trails to pootle along everywhere, from lush Galicia to sunny Valencia. Pick a point-to-point route with your luggage transported to take in a whole region, or settle in a base, riding out each day on bite-sized excursions.

Cycling in Spain can be leisurely or Lycra-y, covering distance or pedalling between pit stops, but every route takes you to its unspoiled heart.

Cycling holidays can be guided or self guided, with roadside support a phone call away if you pop a tyre, making Spain ideal for the independent but not the outright intrepid. So stick helmets on the kids, grab the handlebars and discover Spain on two wheels, following trails through farmland and foothills that no car can ever reach.
Is cycling in Spain for you?
Go cycling in Spain if...
… you're not a hardcore cyclist. These holidays are more about getting into the countryside and meeting locals than testing your calves. Centre-based cycling holidays remove any expectation of daily mileage, too, and are thoroughly flexible. Go at your own pace, hopping off to nose round a market, or linger over lunch during the heat of the day. Saddle sore? No problem! Ditch the bike and spend the day at the beach.
… you don't own a bike, or aren't confident fixing one. Most cycling holidays provide all equipment, including bikes, while expert tour leaders and hosts ensure everything's in working order.
… you want an active family break. Each day's cycling can be tailored to suit your children's abilities, with breaks for exploring, swimming or refuelling on tasty local food. The Spanish love children, too, so expect a warm welcome.
… you're not keen on traffic. Many roads in rural Spain are quiet, but you may not even need to use them. There are great cycle trails everywhere, including the Vias Verdes – Greenways – a 2,400km network of flat, car-free routes built on disused railways.
Don't go cycling in Spain if...
… you're only free in July or August, and fancy heading south. Soaring summer temperatures (think 40°C+) will limit where you can cycle. Northern Spain is cooler, with the mountains fresher than the coast, so cycling holidays still run here in midsummer. But for Valencia and Andalucia, come either side for kinder temperatures.
… you're on a strict athlete's diet. Cycling in Spain is as much about the meals as the mileage. Hopping off your bike at markets to buy fresh cherries, cycling to meet local wine and olive oil producers and relaxing in a village bar with a cold cava at the end of the day are all part of the experience.
… you haven't got on a bike since cycling proficiency lessons at primary school. Being able to ride isn't enough; you need to be comfortable – literally – with sitting in the saddle for several hours a day. Many cycling holidays in Spain suit novices, but it's still worth doing some practice before you arrive.
… big, dynamic sports hotels are what you love. Rural fincas and rustic cottages are the Spanish way to stay, with lots of self-catering in the mix, making holidaying with children easy and economical.
Our Spain cycling Holidays
If you'd like to chat about Spain cycling or need help finding a holiday to suit you we're very happy to help.

Best time to go cycling in Spain

Spain is perfect for cycling all year round, just pick a date, choose a region with the right temperatures and go.

Spain's climate varies north to south, but July and August are scorchio in most places. In the south, summer days hit the mid 30°Cs or even 40°C, but the oceanic and mountainous climates of the north hold temperatures in the high 20°Cs, making cycling in inland Catalonia or the Camino de Santiago possible. Mid-April to early June and Sep-Oct are the best times to cycle, when the heat dissipates, tourists leave and there are festivals to enjoy. Don't forget winter either. In Dec and Jan, inland Catalonia is wet, but its coast is mild and dry. Andalucia and Valencia get lots of sun and little rain, with lows of 7°C, climbing to 25°C in the sun!
Santiago de Compostela Weather Chart
More about Spain cycling
Our Spain cycling highlights page has the best spots for cycling, with everywhere from Catalonia to Andalucia displayed on our interactive map.
Thanks to the gorgeous yellow mountain broom, you can enjoy biking on sunshine when you explore the Sierra de Gredos in central Spain.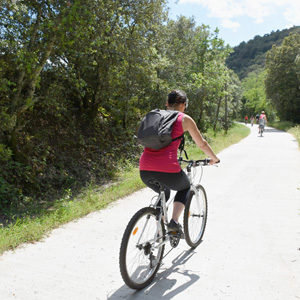 Our cycling holidays in Catalonia travel guide reveals why Girona is could be coined the cycling capital of the world - and why so many professional cyclists relocate here.