TRANSYLVANIA MAP & HIGHLIGHTS
---
MAKE THE MOST OF YOUR TIME
About five times the size of Wales and flanked to the east and south by the Carpathian Mountains, Transylvania retains much of its medieval character both in the cities and surrounding rural communities. Wildlife, including bears, wolves and lynx, all prosper within the area's steep forested slopes and Prince Charles has also been known to make an appearance, although it's far more noteworthy to catch a glimpse of a white tailed eagle wheeling over Zarnesti gorge. Travelling by train is an ideal way to bypass unsurfaced roads although hiring a 4x4 vehicle presents plenty of scope to explore, with the kicks, cuts and hairpins of the Transfagarasan Highway providing passage over the southern Carpathians and into Wallachia.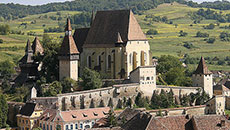 Biertan
Transylvania's Saxon past is in evidence throughout the region with seven villages falling under the UNESCO World Heritage banner thanks to their architectural styles and preserved churches. The village of Biertan, about 80km north of Sibiu, is a prime example and features a fortified church complete with bell and clock towers, Catholic frescoes and an annex for divorcing couples.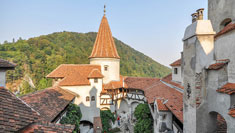 Bran Castle
Visiting Transylvania without mentioning the 'D word' is always going to be tricky and a trip to Bran Castle will do nothing to prevent the occasional: 'Mwhaha, I want to drink your blood,' etc. Once that's out of your system, Bran Castle provides a cultural, if not slightly touristy, interlude with Queen Marie's art and furniture combining with secret passageways and fabulous views from the upstairs balcony.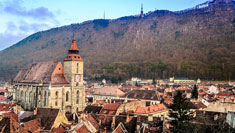 Brasov
Medieval architecture and Gothic church, yup! In the shadow of Bran Castle's fairy tale spires, oh yes! Birthplace of the Romanian national anthem, you've got it! But is Brasov the home of Dracula? No. Brasov is a picturesque market town situated within the southern Carpathians which makes it the perfect base for winter sports enthusiasts, people watchers and summer crowds.
Hunedoara
Famed for Hunyadi Castle, which housed John Hunyadi and imprisoned Vlad III, the tree-lined avenues and green parks of Hunedoara are also a great base from where to go exploring in nearby Chizid Forest. The local bison breeding centre is also well-worth a visit and works in partnership with Rewilding Europe and WWF Romania to help bison and other animals return to the wilds of the southern Carpathians.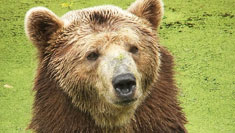 Libearty Bear sanctuary
Thankfully, images of bears in circuses and zoos are becoming a thing of the past and it's organisations like Libearty Bear Sanctuary that are helping to re-wild and look after discarded animals, offering them a safe haven to see out the rest of their days. Get in touch to find out more about how you can visit the sanctuary or volunteer to help bears as part of an organised tour.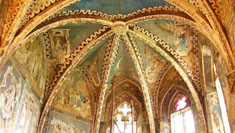 Malancrav
In a region famed for Saxon villages and fortified churches, Malancrav stands out and not just because of the wonderfully green surrounding hillsides. This is one of Transylvania's Saxon crown jewels with the decorative Gothic frescoe, featured within the village church, almost as stunning as the views from the top of the wooden steps that lead to the bell tower.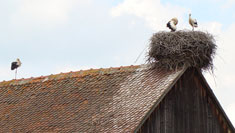 Miklosvar
Storks settle on chimney tops whilst horse drawn carts trundle over potholed roads; forget Stoker - Tolstoy would have a field day with Miklósvár. Populated almost entirely by Transylvanian Székelys, as well as the charming Count Kalnoky, this Hungarian style village is surrounded by wooded hillsides and flower-dotted meadows leading to Carpathian foothills – the ideal haunt for hikers looking to escape the modern world.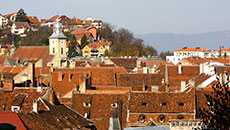 Rasnov
Just 15km from Brasov the red roofed town of Râsnov is well-known for its strategically placed medieval citadel that was once inhabited by locals seeking refuge from invading Turks. Cobbled streets, Saxon houses and traditional tavernas give visitors to Râsnov a glimpse at the past and it's well worth taking at least a stroll before or after checking out the town's famous fortress.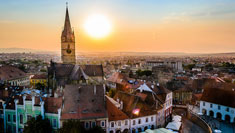 Sibiu
A former European Capital of Culture and one of Romania's most important cities, Sibiu is bursting with Germanic character and features a series of pedestrianised squares as well as over 40km of cycle trails. The Holy Trinity Cathedral, Bridge of Lies and the Passage of Stairs are just a few of the highlights with obligatory fortified churches adding to the attraction of heritage museums and art collections.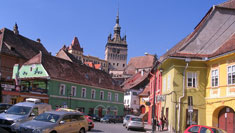 Sighisoara
As one of Europe's best preserved medieval towns, Sighisoara is not to be missed and if you were holding out for the birthplace of Vlad the Impaler you'll find it, rather appropriately, next to the city's weapons museum. A 12th century citadel, a covered staircase leading to a Gothic church, and an iconic clock tower are all present, with views from the hill perfect for potato bread picnics.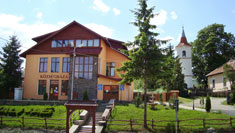 Zalanpatak
The royal seal of approval from HRH Prince of Wales ensures visitors to Zalánpatak are left in no uncertain terms as to the sustainable philosophy of tourism in the area which knits in rather nicely with the wonderfully wild surrounding countryside. Only populated by around 150 people, Zalánpatak retains traditional methods of farming and craftsmanship adding to the authentic appeal of old world ambiance.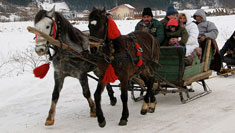 Zarnesti
Providing a gateway to Piatra Craiului National Park is just one of the reasons why Zarnesti is fast-becoming a hot spot for hikers and wildlife watchers looking to access the Carpathians. Staying in a locally owned guesthouse is a great way to put much needed finances back into the community with year-round animal tracking helping to sustain livelihoods away from Transylvania's busier tourist districts.



Hello.
If you'd like to chat about Transylvania or need help finding a holiday to suit you we're very happy to help.
Rosy & team.
01273 823 700
Sample Transylvania itineraries
---
Saxon heritage highlights (9 days):
Bucharest ► Brasov ► Sibiu ► Mosna ► Copsa Mare ► Biertan ► Malancrav ► Sighisoara ► Archita ► Saschiz ► Tarnava ► Mare ► Crit ► Viscri ► Bucharest

Transylvania tour (9 days):
Bucharest ► Brasov ► Viscri ► Mesendorf ► Crit ► Cloasterf ► Saschiz ► Daia ► Vulcan ► Apold ► Stejareni ► Floresti ► Malancrav ► Nou Sasesc ► Copsa Mare ► Biertan ► Sighisoara ► Bucharest

Self-drive tour (14 days):
Bucharest ► Transfagarasan Highway ► Sibiu ► Alba ► Iulia ► Hunedoara ► Cluj Napoca ► Maramures ► Suceava ► Piatra Neamt ► Sighisoara ► Brasov ► Libearty Sanctuary ► Peles Castle ► Bucharest
Sample travel times in Transylvania
---
The following times give you a rough idea of how long it takes to travel between the main cities in Transylvania:

Bucharest – Brasov: 2hrs 30 mins by train
Pitesti – Arpasu de Jos, via Transfagarasan Highway: 2hrs by car
Brasov – Sibiu: 3 hrs by train
Sibiu – Sighisoara: 1hr 30 mins by car
Sighisoara – Cluj-Napoca: 4hrs 30 mins by public bus
Cluj-Napoca – Sibiu: 4hrs 15 mins by train