Winter multi activity holidays in Finland
The Arctic wilderness of Finnish Lapland is about as exciting a destination as you can find during the winter. A multi activity holiday is the best way to experience this incredible environment. Every aspect of these trips has been planned to help you understand more about the relationship that Finnish and Sámi people have with nature, as well as offering a whole range of outdoor exercise in temperatures often below -20°C.

While there are lots of holidays that focus on looking out for the Northern Lights, on a winter multi activity holiday in Finland, seeing the Aurora Borealis is more of a bonus than the focal point of the trip. You will of course have the opportunity to scan the night skies for the green glow, but only after you've enjoyed a full day of snowshoeing, cross country skiing, husky sledding or tobogganing. From ice fishing and ice swimming to Finnish saunas and fires illuminating dark pine forests, a winter multi activity holiday in Finland allows for authentic experiences in sublime, snowy surroundings.
Our Winter multi activity Holidays
Winter activities in Finland
Snowshoeing
In Lapland, snowshoeing is simply the best way to get around in winter. Anyone that can walk can snowshoe. The great thing about it is that you get to explore – in deep, deep snow – places usually only reserved for elite off-piste skiers. It's a great work out for the thighs and one of the least disruptive winter activities for the environment. Think sleek and light rather than strap-on tennis racquets.
Cross country skiing
Although cross country skiing requires a certain amount of practice and instruction, it's pretty straightforward for anyone who's reasonably fit, healthy and a fan of exercising every muscle in their body, often in surreal, snow-draped surrounds. Cross training equipment at the gym and cycling up hills both provide great preparation for cross country skiing through the wilds of frozen Finland.
Husky safaris
There's much more to this winter activity than just whizzing through frozen scenery yelling "mush mush!", although that will put a smile on your face and that of the dogs, too. Staying in a log cabin at a husky farm and seeing the love, care and respect that your hosts pay to their four-legged friends is a real joy and an authentic glimpse at Lapland life without materialism or motors.
Snowmobile safaris
After a full safety and instruction briefing you're good to go – as long as you have a current driving licence. It's usual to have two people per snowmobile, and you can take it in turns as to who's in control. Snowmobile safaris get you deeper into the Finnish wilderness, covering more ground over frozen lakes and Arctic tundra – very handy at night when searching for a break in the clouds. Also, from a sustainable tourism perspective, in remote regions, snowmobiles are absolutely vital. Find out more in this impassioned response to
the environmental impact of snowmobiles
by Finnish tour guide Timmo.
Sámi cultural visits
Winter activity holidays in Finnish Lapland are much more meaningful when you get to know your indigenous hosts, the Sámi. From the open air Siida Museum, on the banks of Lake Inari, to yoik singing, reindeer herding and the 'correct' way to experience the Aurora Borealis, there's much more to Lapland's cultural heritage than Santa and his elves.
Aurora cabins
Although you can't guarantee a cloud-free night in Finland, the further north you travel, into Lapland and above the Arctic Circle, the more opportunities you'll get to witness the Northern Lights. A night in an Aurora cabin or a glass igloo allows every opportunity to watch the skies. Top tip: sign up for Aurora alerts sent to your phone, so all you have to do is get cosy and wait in the warm until the show starts.
Our top Winter multi activity Holiday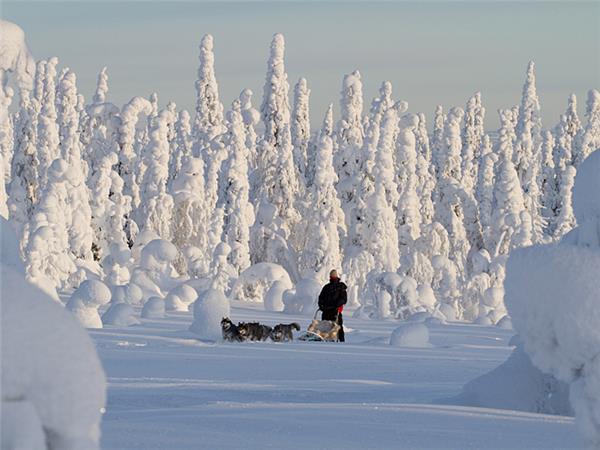 Discover this Finnish winter activity wilderness week
From
£2549

to

£3349
8 days
inc UK flights
Small group travel:
2023: 9 Dec, 23 Dec, 30 Dec
2024: 14 Jan, 28 Jan, 11 Feb, 18 Feb, 25 Feb, 10 Mar, 17 Mar, 31 Mar, 7 Dec, 14 Dec, 21 Dec, 28 Dec
2025: 12 Jan, 26 Jan, 2 Feb, 16 Feb, 23 Feb, 2 Mar, 9 Mar, 16 Mar, 30 Mar, 6 Apr
If you'd like to chat about Winter multi activity or need help finding a holiday to suit you we're very happy to help.

Three fabulous Finnish locations
Menesjärvi
Around 30km west of Lake Inari, Lake Menesjärvi more than competes with its larger contemporary for untouched Arctic scenery and is a great place to look for the Aurora. Settle into your small hotel, on the wild banks of Menesjärvi – a brilliant base for winter activities as well as a wonderfully warm welcome, in every sense.
Lake Inari
Hunkering down in a log cabin on the banks of Finland's third largest lake is just as much a highlight as a full day of outdoor activities. Lake Inari is surrounded by snowshoe and cross country ski tracks, through snow-bowed pine forests, as well as being an integral location for Sámi cultural heritage, especially at the Siida Museum. Reindeer rides, ice skating, Aurora watching – you name it and Inari's got it.
Saariselkä
As Finland's furthest ski resort north of the Arctic Circle, Saariselkä's slopes are well accustomed to winter activities with everything from snowmobile safaris to cross country ski tours offered on a tailor made short break in the Arctic hills. Husky safaris followed by a sauna, an optional ice plunge or a night in an Aurora cabin ensure Saariselkä absolutely excels for Finnish activities in the winter.
Best time to go on a winter activity holiday in Finland
Although snow can start to fall as early as September on Finnish Lapland's higher ground, for many, the best time of year to go is when the snow is at its deepest during March and early April. This is most definitely the favoured time of year for local people as well as travellers on multi activity holidays as there is increased daylight, less cloud cover and 'warmer' daytime temperatures – OK, 0°C – certain to get a mitten-covered thumbs up. The Northern Lights can appear at any time from September onwards, but just remember to keep eager expectations on the back burner. Our winter multi activity holidays run from Christmas through to Easter – so families have plenty of opportunities to make the most of school holidays and half terms.
More about Winter multi activity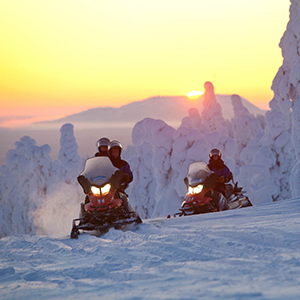 Throw another log on the outdoor sauna, hail the huskies to heel and stay awake long enough to experience the Aurora Borealis; our winter multi activity holiday guide will have you excited all the way through to the end of April.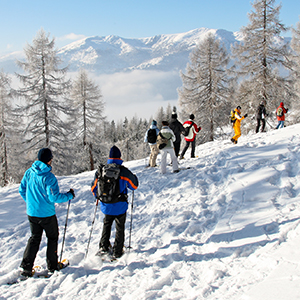 Thinking of a winter activity holiday but without the super sophisticated ski crowd? Look no further than our wonderful winter activity adventures within the wilds of Northern Europe and North America.