Responsible snowmobile safaris
Snowmobiles are the workhorses of Finland's winter tourism industry. They're used for luggage transfers and to open husky and ski trails. Unless you're Eddie the Eagle, there doesn't seem to be a more logical way to get across snow, and get across it fast. We see them barrelling across frozen waterways on fast-paced safaris. They can whizz you away from cloud cover, giving you the best chance of seeing the northern lights. Sometimes they're the safest way to travel. If you go ice fishing and the ice starts to crack, how would you rather escape – on a humble pair of snow shoes?
The rise of the electric snowmobile, like the electric car, has happened in the span of one short decade. In 2011, Fairbanks University in Alaska had an electric snowmobile with a range of
just 30km
. Today, you can put your name down on a waiting list to purchase a
Taiga
, a Canadian-developed electric snowmobile with a 140km range, a 20-minute fast charge, and an operating threshold of -40°C degrees. Electric snowmobiles are non-polluting, and nearly silent, making them great for spotting wildlife, and good for the environment, too.
You don't need to be on a waiting list to try out an electric snowmobile. Skafur-Tours, our Finnish holiday specialists, decided to start offering electric snowmobiles for their 2019 winter season. Riitta Kiukas, the founder of Skafur-Tours, explains their appeal: "Electric snowmobiles are first of all more quiet and easier to handle (you cannot drive too fast) so they are safer. What's more, they will make it possible to get more enjoyment out of the nature and cause fewer disturbances to the lives of local people and wildlife."
You can now book a tailor made
low-carbon Finland holiday
that includes some of the first electric snowmobile safaris in the world out of Rovaniemi, Lapland. The fleet of eSleds takes just one hour to recharge after a 1.5-hour trip, and uses green energy.
"We'll test it as soon as there is snow in Rovaniemi," Riitta from Skafur-Tours told us in autumn 2019, as they waited for the snow cover. Winter 2019 will be the big commercial debut of eSleds in Rovaniemi. The electric snowmobile landscape is currently virgin snow, into which you could be making the first tracks.
A short history of snowmobiles
Snowmobiles came into the market in 1960 in Canada. The 'Ski-Dog' was designed to replace the dog sleds used by trackers – but a typo led to it being called the Ski-Doo. The design is simple: instead of wheels, snowmobiles run on a rotating track, like a tank, powered by a two-stroke or four-stroke engine, or more recently, of course, an electric motor.
Snowmobiles were rapidly adopted in Lapland by reindeer herders in the 1960s. Motorised transport revolutionised the lifestyles of the herders who could afford them. Now they could go out to check on their herds in the day, but return to their families at night. "
In a Changing World, Lapps Herd Reindeer by Snowmobile
" ran a New York Times headline in 1977. The traditional reindeer sled was abandoned.
Why do we need electric snowmobiles?
Whilst snowmobiles are the fastest way to get around Lapland, conventional snowmobiles are simply too loud. Two-stroke engines buzz along at a high RPM, creating an intolerable racket. In a silent, snowy landscape, the chainsaw-like running is abrasive – and pervasive. Before the US government capped park visitors in 2014, a study found that you could hear snowmobiles 70 percent of the time in 11 out of 13 tested locations in Yellowstone National Park during the winter months. A North American study from 1982 confirmed that the noise stressed wildlife, causing a 250 percent increase in heart rate in white-tailed deer1. Go on an aurora tour in Lapland on a snowmobile and you're contributing to light pollution, too, thanks to your headlights.

Using a snowmobile can radically up the carbon footprint of your holiday. Two-stroke engines burn a heavily polluting combination of oil and petrol. One study from 1999 showed running a two-stroke engine for seven hours produces more air pollution than running a 'modern' car for 160,000km. Samuel Bruneau, co-founder of Taiga electric snowmobiles, found further, compelling evidence: "The two-stroke engines on conventional snowmobiles are up to 50 times more polluting than average cars."
In the last 10-15 years, most tourism companies have shifted to using four-stroke engines for their snowmobiles. Four-stroke engines are quieter, more fuel efficient, and less polluting. They release between two and 20 times less emissions than two-stroke engines, but is this enough?
They might be the Teslas of the tundra, but eSled adoption is slow. After all, a conventional snowmobile can last a good 15-20 years. Urpo Heikkinen, from our specialist nature travel company Upitrek, explains that nowadays smaller local holiday companies think twice before purchasing new vehicles. "Snowmobiles are expensive and, at the same time, winters are getting shorter and the time period in which snow covers the ground is shorter too. Investing in snowmobiles should be thought about carefully."
Whilst electric snowmobiles will be fantastic when they're ubiquitous, they're not common…yet. "There are not very many e-cars in Finland, either," says Minna from Äksyt Ämmät, our Finland holiday specialists. "It takes time to develop this technology here. The distances are long, and the winters are cold!" Reliability is key. You wouldn't want to run out of juice on an eSled in Finland's remote north eastern reaches, for example.
Source: 1) The Ecology of Transportation, J Davenport, J L Davenport, eds. 2006 p.348
Around 40 percent of all the trips we run to Finland involve snowmobiles – and they're an almost ubiquitous part of a trip if you travel in winter. Our 15 best-selling Finnish holidays involve snowmobiling on at least one of the days as an optional activity.

Unlike, say, huskies, they don't require year-round care to be used for a short winter season, so their running costs are actually a lot lower. A whole service industry has grown around them. Choose a snowmobile safari, and you're giving money to the mechanics in the area. Companies who use snowmobiles also argue that the alternative isn't dog sleds, but four-wheel drive vehicles, which can be even worse for noise and carbon emissions.

Our travellers are divided. Some love the thrill of snowmobiles. Others point out the negatives. "The only activity which I felt harmed the environment was the snowmobile safari. I am sure that this form of transport is vital for working people, but as a tourist jaunt it is polluting a place that is proud to be the cleanest in Europe," says Irene Mitchell, who booked a winter cottage holiday in Finnish Lapland.

After her tailor made Northern Lights family holiday, Caroline Brooks said, "Snowmobiles seem inherently bad for the environment and, while essential for local people such as the reindeer herder to do their work, our two-hour snowmobile trip with other travellers seemed like a frivolous burning of fossil fuels, even though it was fun!"
Our top Finland Holiday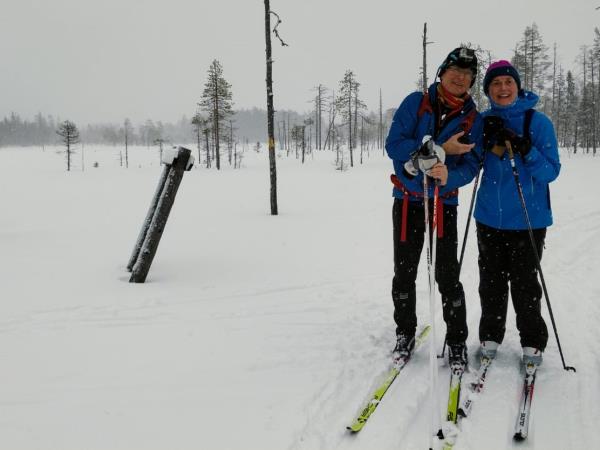 Guided country skiing holiday through remote eastern Finland
From
€1140
7 days
ex flights
Small group travel:
2024: 18 Feb, 25 Feb, 3 Mar, 10 Mar, 17 Mar, 26 Mar
If you'd like to chat about Finland or need help finding a holiday to suit you we're very happy to help.

If you want to go on a snowmobile safari, ask your holiday company if you're able to try out an electric snowmobile. If that's not on the cards, choose snowmobiles with four-stroke engines – these are far quieter and less polluting than their two-stroke equivalents. Responsible holiday companies also make sure that you are two to a snowmobile as default, to minimise the number of vehicles used. Plus, companies will use snowmobiles to pull a 'sledge' of luggage or passengers, so only one snowmobile is needed. Some snowmobiles also run on 'eco' mode – like your washing machine.

Whilst Finnish law states you need to be 15 or over to ride a snowmobile, most companies ask that you are over 18 and hold a full driving license. You should stick to the 60 km/h speed limit (up to 80 km/h on frozen waterways) and always stick to the trails.
No-mobiling
Alternatively, opt for a company that is as motor-free as possible. Our specialist nature travel company Upitrek estimates that its skiing tours produce 4kg of carbon emissions per day, per person, including all transfers, making their full trip as low-carbon as taking one 32km car ride. "For us it is easy," says Urpo Heikkinen from Upitrek. "We do not operate snowmobile tours and that´s it. When we started this company in 2000 we did not want to operate snowmobile safaris. Our thought process was that they are not so nice, they are noisy and bad smelling machines. Now, when we all know more, it turns out they are bad for climate too, as they use quite a lot of fuel."
Sadly, no trip is ever motor-free, as Urpo explains: "We do need a little bit of snowmobiling in our work, ski tracks need to be groomed and in some cases luggage transported by snowmobile." Minna, from our specialist holiday company Äksyt Ämmät, uses snowmobiles but rarely. "We do have to make our skiing tracks by using a snowmobile but we only open the track when we have a group skiing there. The locals also use our tracks, so we're helping local people to keep up their health!"
Swishing through the taiga on a husky sled, sliding across frozen tundra on cross country skis – these have long been the dreamiest ways to experience Finnish Lapland. But even this permafrost landscape is changing. Maybe soon, purring through the trees on a silent electric snowmobile will be as common as enjoying the howl of huskies on your next winter adventure in Finland.