Finnish people believe they are linked to wilderness. That there is a natural, symbiotic relationship between man and land. And hunting is, for many, part of that relationship, something that is hard for tourists to get to grips with. Reindeer herding is also a huge part of Finnish life, and bears and wolves kill reindeer. Hunting is a huge generator of local income, as 65 percent of Finland's land and freshwater areas are in private ownership, and the land owner owns the hunting rights on their property. Often the landowners lease these hunting rights to hunting clubs and there are over 4,000 of these in Finland alone. Although it should be noted that the majority of hunting in Finland is not for bear, but for birds, moose and deer, hunting does still take place for fur, with badger, beaver, fox, mink, muskrat, pine marten, and racoon dog all still sought for their pelts. Hunters also act as volunteers in Finland, monitoring species on behalf of conservation bodies and providing a valuable service in this regard.
Bear hunting is still allowed in Finland, although it is strictly regulated. Historically, the bear was a sacred animal for Pagan Finns, and yet it was still hunted. They believed that it has the ability to reincarnate, and celebrations would take place after a hunt (and feast) to ensure that the animal would be able to find life again in the forest. The hunters buried the bones in the forest, and pinned the skull to a pine tree just to make sure. And so, sadly, for trophy hunters, the head of a bear still represents something magical and historical.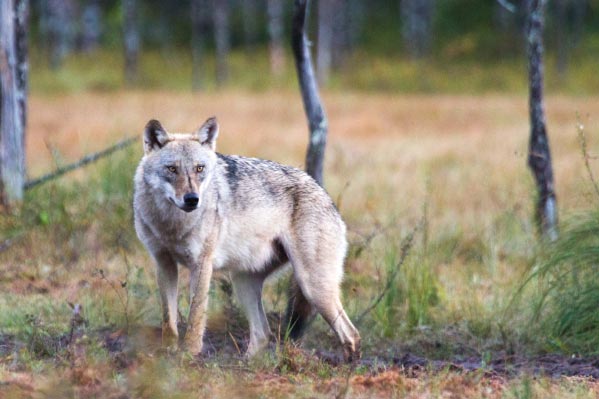 Finns are not fans of wolves, however, as there is a deep fear of them, and also they prey on hunting dogs, thus sabotaging an important and traditional way of life for many - as for the Finns, dogs are considered to be family members. So although local people are starting to understand why visitors might want to watch bears, wolves are a different matter. So hunting is complicated here and, as responsible tourists who have no idea about the culture of hunting, we won't achieve anything by going in with our metaphorical guns ablazing on the subject. Although it is unlikely that you have found yourself on this site if trophy hunting is your thing either, it is worth recognising that there are responsible ways of doing it, such as not using meat to attract animals which you are then going to shoot, or hunting females and her cubs. Both of which are illegal, by the way.