Best time to visit Finland

Finland is a land of extremes; each month is wildly contrasting.

Finns describe their country as having eight seasons, and as the days swing from eternal midsummer sunshine to December darkness, it's clear this is a land of extremes where each month contrasts wildly. Our climate charts show typical averages but temps may soar to 30°C in summer, and plummet to -30°C or lower in the Arctic winters, so come prepared. Deciding what you want to do will help you pick the best time to visit Finland. Aurora and snow activities
occur in winter
, but consider how many hours' daylight you'll need. Equally, summer days are glorious for hiking and kayaking, but holidaying Finns and swarms of mosquitoes might make spring preferable.
December to mid January may seem like an idyllically festive time to be in Lapland, but with the sun nudging above the horizon for just a few twilit hours each day, you'll be limited as to how much you can actually do.
February and March are still snowy but with much longer days. You're also more likely to spot the Northern Lights around the equinox (21 March). Read more about the best time to see the Northern Lights.
Springtime varies wildly from north to south. Snow still lingers into April in the north, while wildflowers are emerging in the balmier south. 1st May sees Vappu celebrations across the country, welcoming the long awaited summer and the eternal sunshine of the June solstice.
Mosquitoes don't just live in the tropics. July sees swarms of the critters in Lapland; this is not the best time to visit Finland unless you fancy getting bitten – or stocking up on bug repellent.
July = sunshine, warmth and Finnish holiday time, so many places will be busier with higher prices. Book well in advance if travelling at this time. Crowds ease off later in August. Read more about summer holidays in Finland .
Photographers will relish the New England-style burst of autumnal colour in September and October, when prices are often be lower. However, this is low season so many tours and attractions are closed or have reduced hours, the summer warmth has ceased and the snow has not yet fallen – so for most travellers, this is not the best time to visit Finland.
The Northern Lights arrive as early as September, but cloudy skies reduce your chances of seeing them at this time.
Snow arrives in November – making for pristine, untouched landscapes. Warm up in a sauna after dog sledding or snow shoeing, and keep an eye out for the aurora once the long hours of darkness begin.
Our top Finland Holiday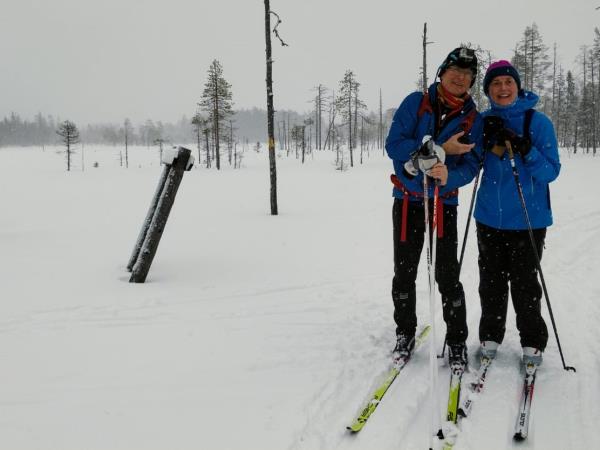 Guided country skiing holiday through remote eastern Finland
From €1140 7 days ex flights
Small group travel:
2024: 18 Feb, 25 Feb, 3 Mar, 10 Mar, 17 Mar, 26 Mar
If you'd like to chat about Finland or need help finding a holiday to suit you we're very happy to help.

Best time to visit Finland
Aki Käräjäoja began working with sled dogs after he finished studying, and fell in love with them. He founded Routa Travel, one of our suppliers, as a way to be around the dogs and live the life he wanted. Here's his best time to visit Finland: "The dog sledding season starts in December and ends in early April, but for this and other winter activities, February and March are the best times as there's more daylight. If you come at the end of December it has its own mystical feel as it's dark all the time, which can be really great – but I prefer the sunshine."
Our culture pick: The summer solstice
Known as Juhannus, midsummer is celebrated on the Saturday between 20 and 26 June. Toast the midnight sun Finnish-style, with lakeside bonfires, cooking, drinking and saunas.
Tangomarkkinat
As you'd expect, Finland hosts plenty rock and heavy metal festivals – but also the tangomarkkinat – the world's biggest tango festival, in Seinäjoki each July. Up to 100,000 attend – although the 'tango-free zone' still has plenty of rock for non-aficionados.
Wife Carrying World Championships
"All participants must enjoy themselves" is one of the rules of Finland's famous Wife Carrying World Championships. Believed to have originated in the 1800s when men would steal women from villages, the contest now attracts thousands of spectators each July. A lighter wife is not necessarily an advantage; the prize for the winner is the wife's weight in beer.
The Annual Mobile Phone Throwing Championship
Finns proudly celebrate their best-known brand, Nokia, with the annual Mobile Phone Throwing Championship in Savonlinna each August. Open to individuals, teams and children, the phone thrown the furthest wins – although the freestyle competition also gets judged on the choreography of their throwing style