Best time to cruise to Antarctica & Falklands

Brace (and dress) yourself for edge-of-your-seat weather changes in Antarctica. The Falklands are a little more reliable, with cool to mild temperatures and even a glimmer of sunshine.

The best time to visit Antarctica and the Falklands is November to March. This is the Antarctic summer, and the only time expedition cruises depart. Wild weather, short daylight hours and ice rule out travelling outside this window. Fortunately, this is also when you'll see the greatest wildlife spectacles. October to November is peak time for elephant seals in the Falklands, while young penguins peek from between their parents' feet from December. Got your heart set on seeing rare wandering albatrosses? Remember that South Georgia's Prion Island is closed between late November and early January to let neighbouring seals breed in peace.
Stanley (Falklands) Weather Chart
Things to do in
Antarctica & Falklands
Things to do in Antarctica & Falklands...
Meet some of the biggest penguin colonies on the planet. Over a million penguins call the Falkland Islands home. You'll find kings in Whalebone Cove, gentoos and rockhoppers on Bleaker Island, and Magellanic penguins on Saunders Island. Yorke Bay hosts another colony – although you won't be venturing near that one. Penguins moved back after the Falklands War in 1982, too light to trigger the mines left under the sands. Balancing minefield clearance with wildlife conservation is one of the big debates in the Falklands.
All that time at sea is the ideal opportunity to watch out for whales. Blue whales, sei whales and orcas mooch around the outer Falkland Islands. Southern right whales are recovering from 300 years' worth of whaling in South Georgia. And you might spy the fin whale in the Drake Passage. Humpback and minke whales stick close to the Antarctic Peninsula.
Be prepared for the Drake Passage. Its reputation precedes it: even Charles Darwin was seasick while exploring this 600-mile-wide shipping channel between Chile's Cape Horn and the Antarctic Peninsula. Don't worry, though: your sturdy ship and crew are well equipped for the gale-force winds that often churn these waters.
The Antarctic isn't exactly known for its shopping scene, so pick up souvenirs in the Falklands. Postcards, badges, tablecloths, stamps, travel mugs – you name it, and it's got a penguin on it. To shop like a local, go for a cable knit jumper and bottle of the local brew (the Iron Lady's not to our taste, but perhaps a Rock Hopper ale?).
Things not  to do in Antarctica & Falklands...
Forget the sun cream. The ozone layer is paper-thin above Antarctica, while the snow and ice act as mirrors. It's worth investing in sun cream and lip balm with a high SPF, plus good quality sunglasses. Rely on the weather forecast. Every Antarctica and Falklands holiday is hugely dependant on a combination of weather, sea and ice conditions. Everything from sudden fogs to unbroken ice floes could change your holiday itinerary. But don't worry: should plan A have to be scrapped, on-board guides and ship captains are experts at having plans B-Z on hand (and they're all excellent). Ignore the guides. They're stewards – not only for your safety, but for the safety of the delicate environment you're stepping into. You'll often be told to stay on footpaths to preserve precious endemic lichens and ground-nesting birds. As tempting as it is, taking souvenirs – even tiny pebbles or flowers – is a no-no. The same goes for interacting with animals. While a curious penguin might shuffle up to inspect your shoelaces, it's important that you don't initiate contact. Try to travel on a small budget. Antarctica and Falklands cruises are specialist expeditions, with a rotating series of expert lecturers, highly trained guides and pioneering ships with kitted-out cabins and glass-wrapped observatories designed for choppy days. Some ships even operate an open bridge policy, so you can see the voyage from the captain's perspective. This is a once in a lifetime trip – with a price to match.
Our Antarctica & Falklands Holidays
If you'd like to chat about Antarctica & Falklands or need help finding a holiday to suit you we're very happy to help.

More about Antarctica & Falklands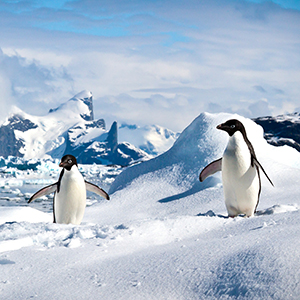 Our Antarctica and Falklands travel guide reveals a wild and strange world ruled by waves, weather and some of the world's biggest wildlife characters – from king penguins and albatrosses to elephant seals and blue whales.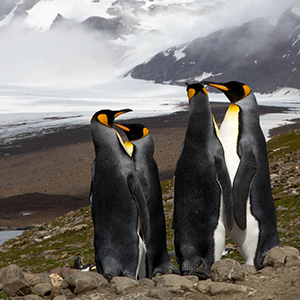 South Georgia is a far-flung British territory filled to the brim with chattering penguin colonies, roaring elephant seals and rocky islands that double as albatross sanctuaries.