Why visit South Georgia on an Antarctic cruise
Sail southeast from the Falkland Islands, across the whale-rich Antarctic Convergence, and youíll come across South Georgia Ė a curved island synonymous with wildlife spectacles and human adventure. Itís an integral part of any Antarctica and Falklands expedition, and a favourite calling point between South America and Antarctica.

South Georgia is a peak of the Scotia Arc underwater mountain chain that links the Andes in South America to the Antarctic Peninsula. Thanks to the notoriously windy weather, it can be a stripped-bare vista Ė but itís also wildly beautiful.

And now there came both mist and snow / And it grew wondrous cold: / And ice, mast-high, came floating by, / As green as emerald.

Ė The Rime of the Ancient Mariner, Samuel Taylor Coleridge
Glaciers, ex-whaling towns, grey-gold penguin beaches and albatross islands carve the coastline. The interior in summertime is all green valleys, meadows and snow-dipped mountains, including the 3,000m-tall Mount Paget. Exploring these waters, youíll be glad that youíve chosen to travel on a small ship. Itíll squeeze between islands and make landings that bigger ships canít, while still having a fleet of inflatable Zodiac boats at the ready Ė perfect for accessing cut-off bays and beaches.

If youíre travelling to Antarctica and the Falklands, a detour to South Georgia is practically guaranteed. Donít fret about the extra two days at sea; itíll give you plenty of time to swot up on island history during onboard lectures.
Wildlife in South Georgia
The king penguins of Salisbury Plain are the stars of the show. Over 200,000 penguins breed here, forming a horizon-to-horizon colony that you can hear across the water. Combined with St Andrews Bay, Gold Harbour and Fortuna Bay, they create some of the largest breeding beaches for penguins in the world.

You'll also see thousands of elephant seals. The restless four-ton bulls are constantly fighting for territory and females; their eye-watering battles practically shake the island. Whiskery Antarctic fur seals are a quieter neighbour, with populations fully recovered after 200 years of hunting.

Wander boardwalks that thread right past raised albatross nests and giant petrel burrows.

Kilometre-long Prion Island floats just off the northeast coast of Georgia. Wandering albatrosses nest here, returning to breed after years at sea. Although the birds arenít hard to spot (at around three metres, they have the largest wingspan on the planet), their numbers have been hit hard by longline fishing and plastic pollution. Itís worth noting that you canít explore Prion Island between 20 November and 7 January to protect seals breeding on the landing beach.

The unlikely subject of the South Georgiaís best conservation success story? Rats and mice. These 18th-century stowaways have raided the ground nests of penguins, pipits and pintails for 250 years. But in 2018, the South Georgia Heritage Trust declared the island rodent free after a 10-year habitat restoration project.
If you'd like to chat about Antarctica & Falklands or need help finding a holiday to suit you we're very happy to help.

Grytviken: whaling ghost town
Abandoned whaling towns perch like shipwrecks around the coast of South Georgia. Grytviken is the main port of call. This century-old Norwegian outpost hunkers down on the (slightly) less windy east coast and once had the dubious honour of being crowned the whaling capital of the world.

With whale stocks decreasing and public outcry increasing, the hardships of living in South Georgia started to outweigh the fading whaling goldrush.

The Antarctic whaling industry was a victim of its own success, with boats harpooning over 40,000 whales in one season in 1930. By the 1950s, humpbacks had almost been extinguished from the Antarctic. Over a couple of decades, fishing families filtered out of Grytviken, shrinking a population of almost 1,000 to a ghost town sunk under snow and ice.

These days, king penguins waddle the streets and elephant seals have taken up shop at abandoned whaling stations. The Whaling Managerís House is now the South Georgia Museum, which traces the islandís history from Shackletonís explorations to the 1982 Falklands conflict, covering a ton of natural history in between.
Shackletonís last stop
Polar explorer Sir Ernest Shackleton launched many of his Antarctic expeditions from South Georgia, including the fateful Imperial Trans-Antarctic Expedition (popularly known as the Endurance Expedition). He died from a heart attack on his fourth voyage and was buried on the island. You can pay your respects at his simple granite grave in Grytvikenís traditional Nordic graveyard.

We had seen God in His splendours, heard the text that Nature renders. We had reached the naked soul of man.

Some Antarctica and Falklands holidays offer the chance to retrace the steps of Shackleton and his crew between Fortuna Bay and Stromness Harbour. You'll pass Shackleton Waterfall, abandoned whaling villages and snow-topped mountain passes, as well as wheeling albatrosses and sprawling Gentoo penguin colonies.
Read our
South Georgia travel guide
to find out more.
More Antarctica & Falklands articles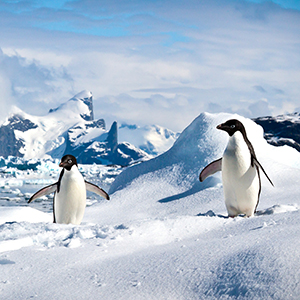 Our travel guide reveals a wild world ruled by waves, weather and real wildlife characters.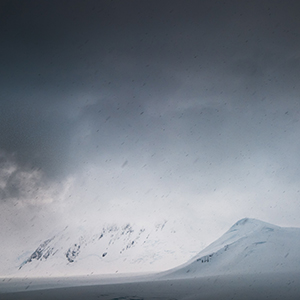 The conditions of shipping passages dictate the best time to go time your cruise.