Family sailing holidays in Croatia
You might think it foolhardy at first to confine your family to a boat for a holiday. Maybe it seems unsafe, or perhaps you're worried your children will get maddeningly bored on board. But in many ways, sailing holidays are perfect for families. On bareboating and flotilla holidays, you set your own pace and your own schedule. You can stay as a close-knit unit and have a floating home all to yourselves. You also don't need very much kit – so you can pack light, even with a bigger brood. Best of all, you only have to unpack it all once and yet you can still travel around and see all the destinations you want.

The water is warm, clear and utterly inviting – but the shore is calling, too. Which first, snorkelling straight off the boat, or pottering over to the beach?

As you set out sailing off the Croatian coast, kids will be happy helping out on deck, and especially helming (steering the ship's wheel). Lunch breaks are when the fun really starts for kids: put the 'toys' in the water – rent a paddleboard and kayak, and throw in the novelty inflatables. Next, all pile into the tender (the little inflatable dinghy that comes with your boat) and run it ashore, aiming for a beachfront cafe. Croatian food is kid-friendly – proximity to Italy, and lots of Italian tourists mean that even the most locally-run of restaurants often have easy things like pizza and pasta on the menus, as well as stunningly fresh seafood.
Our Croatia sailing family Holidays
Flotilla sailing with kids
Flotilla sailing can be great with kids, as there are often other families in the fleet. In the evenings when you're safely docked on the town quay, kids can keep each other entertained whilst the grown-ups swap dramatic retellings of their day's sailing. Can't sail, but want to learn all together? Croatia is the perfect place to go on a 'learn to sail' flotilla. A skipper will join you on board during your sailing and show you the ropes – and they'll get the whole family involved. It's a great sport to learn together, and the Adriatic coast is a forgiving place to start.
Special considerations for sailing with kids
'Safety first, safety second' is a sailing mantra. Stick to a few safety basics with your kids and it should be plain sailing. Your boat will be equipped with proper safety equipment, but there are special items that can make kids feel extra safe. First, on flotilla and bareboat trips you can ask for your boat to be fitted with a safety net around the side to stop anyone accidentally falling in. You'll need to ask for this to be fitted in advance, but it should put your mind at rest when people are roaming around the deck. Next you need to make sure your children are wearing lifejackets or buoyancy aids on board, and a harness. The harness can be clipped securely onto points on the deck so child and boat do not part ways unexpectedly. Make sure jacket and harness are properly fitted and comfortable, so your children will wear them without complaint.
Our top Croatia sailing family Holiday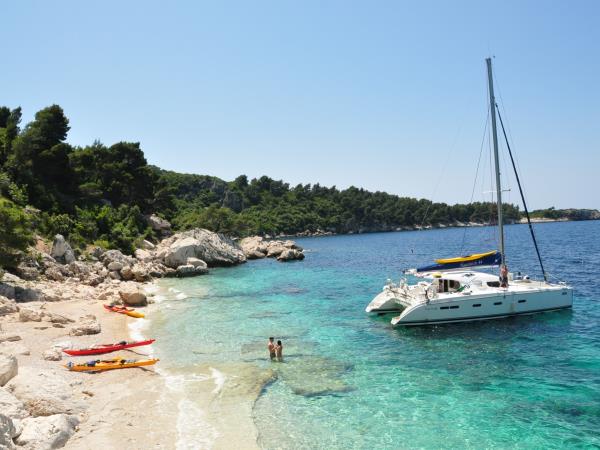 A multi-activity adventure sailing cruise
From
€580

to

€790
4 days
ex flights
Small group travel:
2020: 11 Apr, 13 Apr, 14 Apr, 15 Apr, 16 Apr, 17 Apr, 18 Apr, 19 Apr, 20 Apr, 21 Apr, 22 Apr, 23 Apr, 1 May, 2 May, 3 May, 4 May, 5 May, 6 May, 7 May, 8 May, 9 May, 10 May, 11 May, 14 May, 15 May, 16 May, 17 May, 18 May, 19 May, 20 May, 21 May, 22 May, 23 May, 24 May, 25 May, 26 May, 28 May, 29 May, 30 May, 31 May, 1 Jun, 2 Jun, 3 Jun, 4 Jun, 5 Jun, 7 Jun, 8 Jun, 9 Jun, 10 Jun, 11 Jun, 12 Jun, 13 Jun, 14 Jun, 15 Jun, 16 Jun, 18 Jun ...
If you'd like to chat about Croatia sailing or need help finding a holiday to suit you we're very happy to help.
Age restrictions for sailing with kids
Some companies have a lower age limit of four years old for sailing trips with children. Some flotillas have no age restrictions on who can come on their trips, though you may need to bring your own lifejackets to fit children under the age of four. You also may want to bring your own snorkel masks, to make sure everyone has one that fits. Your children will need to be over the age of 16 to operate the dinghy, and never left unsupervised in it if they're under 16.
More about Croatia sailing
Back to the top
Convert currencies