Flotilla sailing holidays in Croatia
In flotilla sailing, you get to sail your own boat, but you're sailing as part of a fleet. This means that you're looked after by a lead boat and will moor in the same spot as the rest of the group in the evenings. However, you'll have the freedom to sail pretty much as you please during the day. Flotilla sailing is great for intermediate sailors who want some support, but still want to spread their wings.

Moor up in Sudarad on Sipan Island, and spend a balmy evening at a group dinner, then sail to Mljet Island and stroll to its unusual saltwater lakes.

You'll need to have one qualified sailor in your group who holds an International Certificate of Competence (ICC) or similar, but the rest of the crew can be completely new to the sport. You can also hire a skipper to accompany you on board if you haven't got your skipper certificate yourself. Lots of people choose to sail in flotilla because of the social element – you'll be able to mingle in the evenings with the other crews at a traditional Croatian konoba (restaurant), swapping tips and tales of your newfound life at sea over a chilled bottle of posip – the local white wine.
Our Croatia sailing Holidays
What does flotilla sailing in Croatia entail?
Unlike crewed boats, on flotilla you'll have to sail and moor your boat yourself. This is really fun for those who like a hands-on holiday, but it doesn't have to be taxing. There's often a flurry of activity to hoist the mainsail and let out the genoa (smaller sail at the front), but once you've set your sails, you can sit back and relax until the next tack (turn). You can choose whether to sail more, or just head straight to the nearest lunch spot.

Flotilla sailing normally lasts for one week, running from Saturdays (like on chalet or villa holidays, Saturday is 'turnover day' for the boats.) You'll sail on modern, fibreglass boats which are no more than eight years old. Capacities vary: you could get a 34-foot boat just for two of you, or rent a roomy catamaran for up to 11 people. Boats have modern fittings, but are very simple and space efficient inside: there's a small saloon and galley, snug cabins, and normally one or two shared bathrooms.
One of the first things that happens when you join your flotilla is that you'll need to provision your boat. In Croatia this is a simple process. The large marinas have supermarkets close by – swing by Tommy Supermarket at Marina Agana and you'll find most things you need. The best way to provision is to buy Croatian ingredients. In Croatia you can get some lovely olives, cheeses, honey, fruit and vegetables and bread, and build a nice basis for fresh, cold lunches and breakfasts on board. You can top up your stores throughout the week, as nearly all the ports of call on your trip will have some form of supermarket. You might want to buy some killer ingredients for the 'cocktail' contest your flotilla may run later in the week. You'll usually eat with your fleet in small, family-run restaurants in the evenings.

Once you've become familiar with your boat, the next morning you'll get a 'skipper's briefing' with your lead boat on the route and the weather, and then you can cast off. In Croatia, this usually means that you'll leave the mainland behind and start aiming for the islands. Croatia has over 1,000 of them to choose between.

In Croatia, unlike some other places in the world, you'll have to pay mooring and anchoring fees nearly all of the time. A lot of your evening berths will be on town quays, which are generally cheaper than marinas. You'll normally berth right on the esplanade, near all the restaurants and shops. A little crowd might be around to watch you maneuver, but your lead boat will be on hand to help you out and keep you looking swish as you sidle in. Learn to say thank you in Croatian ('H'vala') to the people on the dock who help you with your lines.
Where to go flotilla sailing in Croatia
In Croatia, the most popular bases for flotilla sailing are near Split (in Marina Agana, a large marina 20km from Split airport) and near Dubrovnik, in South Croatia. From Dubrovnik you can potter around the diminutive Elaphiti Islands and get your first taste of island life, before continuing up to Korkula and the Pelješac peninsula on the mainland. In a week's itinerary from Split you can usually go as far as Vis Island, the westernmost of Croatia's inhabited islands, or up to Krka National Park. Routes are circular: you'll finish your flotilla holiday in the same place you started. The great thing about flotilla sailing in Croatia is that you'll be sailing relatively short distances, leaving plenty of time for exploration. You can visit Hvar's UNESCO-listed old town capital, head up into Krka National Park to gawp at the massive waterfalls, or watch a traditional sword dance in Korkula town. Travel out of summer holidays (July and August) to enjoy these without the crowds.
Our top Croatia sailing Holiday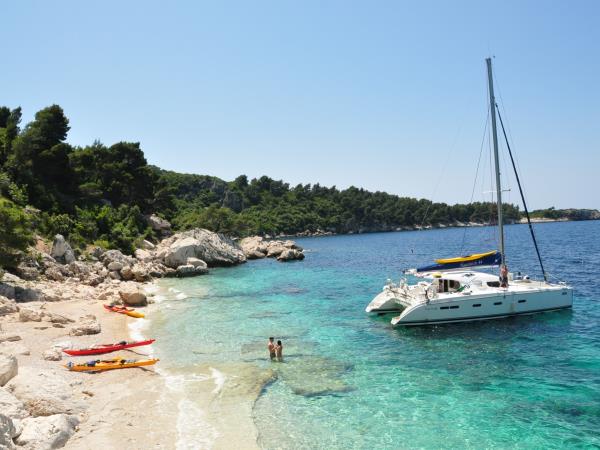 A multi-activity adventure sailing cruise in Croatia
From
€580

to

€790
4 days
ex flights
Small group travel:
2023: 26 Jun, 11 Jul, 24 Jul, 25 Jul, 29 Jul, 3 Aug, 5 Aug, 10 Aug, 14 Aug, 15 Aug, 17 Aug, 21 Aug, 22 Aug, 24 Aug, 28 Aug, 29 Aug, 31 Aug, 7 Sep, 18 Sep, 19 Sep, 20 Sep, 21 Sep, 23 Sep, 24 Sep, 25 Sep, 26 Sep, 27 Sep, 28 Sep, 30 Sep, 1 Oct, 2 Oct, 3 Oct, 4 Oct, 5 Oct, 7 Oct, 8 Oct, 9 Oct, 10 Oct, 11 Oct, 12 Oct
If you'd like to chat about Croatia sailing or need help finding a holiday to suit you we're very happy to help.

Learn to sail on flotilla
Can't sail, but love the idea of a sociable flotilla? You can actually learn to sail on flotilla by hiring a skipper to sail on board with you. You can still participate in all the fun evening socialising, and spend a few hours every day doing a little bit of learning – whilst having a lot of laughs along the way as you crank the winches or let the anchor chain run. This option is great for families or groups of friends who all want to learn together, and you don't need any qualifications to get started.

Lucy Wade, from specialist sailing holiday company Sunsail, has this advice on learning to sail on flotilla: "The 'learn to sail on a flotilla' (also known as the flotilla starter/hero) is booked by the whole yacht rather than just the cabin, so more suitable for families. They are part of a flotilla on a set route with up to 11 other yachts doing the same itinerary however they will have an instructor on their yacht teaching them how to sail."
More about Croatia sailing