Cycling in the Peloponnese
The Peloponnese region – a claw-shaped peninsula connected to the mainland by the Isthmus of Corinth land bridge – is a superb cycling destination for those wanting to escape the reach of mass tourism and find a more traditional, more peaceful side to Greece. After a short transfer from Athens, you'll be equipped with a bike, route maps and GPS (if on a self-guided tailor made tour), and then set loose on a sublime landscape where exploring on two wheels is legendary.
Here are quiet rural communities where you can start each day well in their coffee shops and bakeries. Fishing villages where small boats nudge each other in the harbour and you can tuck into a daily fish lunch in seaside tavernas. Gorgeous routes along the coast, and dirt tracks through scented groves of oranges and lemons. Wineries and vineyards always happy to welcome thirsty cyclists in for a tasting no matter how dusty they may be. Olive oil factories open for guided tours. And practically endless beaches where you can walk barefoot on the sand and take a cooling dip before continuing on your way.
Well-preserved ruins, ancient cities and other points of interest that will satisfy history buffs and the curious are part and parcel of cycling in the Peloponnese. Any itinerary is certain to feature at least a few key sites.

In the northeast Peloponnese the most famous sites include Mycenae, kingdom of the mythical King Agamemnon, and Epidaurus, with a UNESCO-listed amphitheatre renowned for its size, symmetry and acoustics. Both can be reached on day rides from a base in the hillside seaport of Nafplio. There is Tegea, boasting Hellenistic, Byzantine and Classical ruins, and Eva, home to the recently restored, second century Herodes Atticus Mansion that sports dozens of sculptures and colourful mosaics.
Mantinea has another impressively sized Greek theatre, able to seat some 6,200 spectators, as does Argos, the home of Heracles. In Lerna the same divine hero is said to have slain the mythical, multi-headed Hydra, while Trizina was the birthplace of another hero, Theseus, the founder of Athens. You might leave your bikes for an afternoon to explore the multi-hued stalagmites and stalactites of the famous Kapsia Cave, or the Temple of Poseidon, god of the sea, with a ferry over to Poros Island.
Other Peloponnese cycling holidays take you around the southeast of the region, in Laconia. You would start in Sparta, with its ancient archaeology and esteemed military heritage; the statue of King Leonidas of the Battle of the 300 bears witness. Mystras has Byzantine churches, monasteries and palaces that are a joy to wander, while just outside Neapoli there is a forest of petrified palms. The Byzantines, Franks, Venetians and Ottomans all stamped their architectural mark on Monemvasia, and for a day out of the saddle you can simply take the ferry over to the beautiful island of Elafonisos, a sunken city said to lie beneath the blue-green waters off its coast.
You can opt for either a tailor made cycling tour of the Peloponnese region, or a small group tour, each having its own advantages. On a tailor made trip you will ride self-guided, predominantly point-to-point, with detailed maps and information packs as well as a GPS system. You can extend the distances you ride on some days, or make the trip longer if preferable.

They usually operate from mid-May to mid-June, and late August to mid-October, and include 24-hour support. Holidays in the northeast of the Peloponnese tend to be more easygoing, suitable for virtually any fitness level, while in Laconia in the southeast daily rides are between 30km and 60km and require a little more exertion on the pedals.

On a small group trip you have a tour leader showing you the way on a more fixed itinerary, and the companionship and motivation that comes with other riders of similar abilities urging you up every summit. They generally operate in May, June, September and October, on door-to-door circular routes. You'll ride around 50km a day, beginning and ending in Athens.

Both types of trip usually last around a week, although on a tailor made holiday you can stay for longer if you wish. Luggage transfers between accommodations are provided, and you will normally have a choice of either road or hybrid bikes to hire (you'll need your own helmet and water bottle). E-bikes are also available if you want a little extra oomph, as are tandems and bike trailers for anyone wanting to bring young children. Expect quiet tarmac roads for the most part and some dirt trails. Accommodations are typically locally owned hotels in less touristy areas that benefit immensely from this type of trip.

With tailormade trips, virtually every aspect of the itinerary can be customised, so you might have licensed archaeology guides waiting for you at key sites, and picnics provided en route.
Our top trip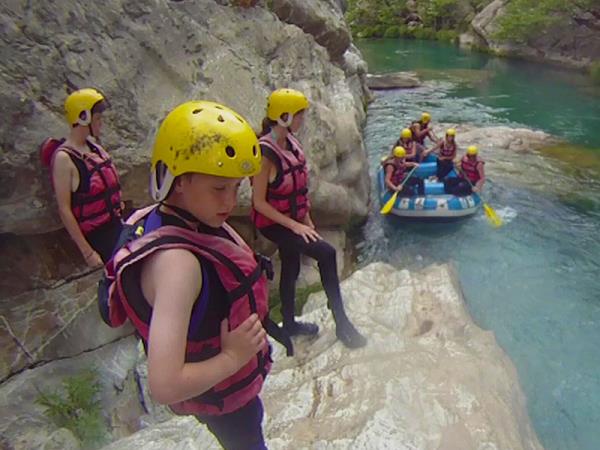 Ultimate family multi activity holiday in Greece
From
€890

to

€970
8 days
ex flights
Small group travel:
2024: 6 Apr, 13 Apr, 20 Apr, 27 Apr, 4 May, 11 May, 18 May, 25 May, 1 Jun, 8 Jun, 15 Jun, 22 Jun, 29 Jun, 6 Jul, 13 Jul, 20 Jul, 27 Jul, 3 Aug, 10 Aug, 17 Aug, 24 Aug, 31 Aug, 7 Sep, 14 Sep, 21 Sep, 28 Sep, 5 Oct, 12 Oct, 19 Oct, 26 Oct
If you'd like to chat about Greece cycling or need help finding a holiday to suit you we're very happy to help.

Best time to go cycling in the Peloponnese
The best time for cycling in the Peloponnese is unquestionably either spring or autumn. Restaurants are empty, the roads aren't busy, and the weather is pleasant. The scenery is incredibly beautiful during these seasons as well – think wildflower meadows in spring and the busy olive harvest in October. Keep clear of July and most of August, when temperatures can easily reach 30°C. It's also worth checking the Greek Orthodox Easter period (which changes every year), when Greek expatriates flock home and the roads can be heavy with traffic.
Peloponnese cycling holiday tips from our travellers
"We took this trip in early May. The weather was generally good, but variable. The first few days, when we were in the interior of the country, the weather was quite cold in the mornings. We encountered some rain as well, but only for short spurts. The day we left Tripoli, I had on five layers of clothing on my upper body. By the time we reached Astros, I was down to my t-shirt." – Tiffany Arthur on a Greece cycling and archaeology tour

"Hard to pick out high points of this holiday because there were no low points. Even the brief and brutal thunderstorms on two occasions did not dampen the spirits (and only dampened cycling kit for a short while). The holiday was very, very enjoyable. Organisation was great and the Peloponnese is both quiet/rural/stuffed with ancient history which is worth the visit, and yet has fantastically enjoyable hotels and cooking. We came back refreshed." – Lucy Watson on a Greece cycling and archaeology tour

Riding next to the coast and through olive groves made this trip a unique experience. The one other tip I can give is to try to get as early a start each day as you can.

– Andrew Wallace on a Laconia cycling holiday
"The entire organisation is incredibly helpful. The bikes are of excellent quality...The lodging is excellent in every town, breakfasts are delicious and hearty, and the GPS was easy enough to use, though I did get lost (and am glad I did) a couple of times. If you're looking for a nice combination of history, culture and spectacular scenery, this is an excellent choice." – Greg Liebman on a Greece cycling and archaeology tour

"This trip is ideal for someone who is comfortable on a bike, in good shape, and comfortable with different types of cycling: some long straightaways on the road, but also some significant mountain roads. As you would expect in Greece, also a good deal of off-road, but not technical. Riding next to the coast and through olive groves made this trip a unique experience. The one other tip I can give is to try to get as early a start each day as you can. The cycling averages 23 miles a day and there is a lot to stop and see along the way!" – Andrew Wallace on a Laconia cycling holiday
More Greece cycling articles