Cycling holidays in Southeast Asia
Cycling in Indochina is about as close as you can get to travelling like a local. No windows, no doors, no barriers – other than ill-fitting Lycra – just you, your bike and the open road. Joining a small group of 18 people max is definitely the safest and most rewarding way to follow the quieter Tarmac routes in between the hilltop villages and riverside towns of Southeast Asia.

Cycling with a support vehicle and staying in tried and tested accommodation is an important part of travelling by bike with the added advantage of luggage transfers aiding an enjoyable and pleasurable ride rather than an uphill, head down, slog.

Choosing a suitable itinerary can be as simple as deciding where and what you'd like to see and do. Of course, fitness will come into it. These aren't pedalling through the park routes. The route from southern China into northern Thailand, for instance, is quite a challenge whereas the route from Bangkok to Ho Chi Minh City is much more achievable for casual cyclists.

The general routes that we've detailed below have been designed to get cyclists as close to local life as possible. You might find yourself being welcomed by school kids on the banks of the Mekong or cycling between the temples around Angkor Wat. Rural villages are dotted throughout the jungles, plantations and mountains. Stopping overnight to rest and refuel as well as exploring out of the saddle is what makes cycling in Indochina much more of a cultural and interactive experience rather than being just about The Ride.
Southeast Asia cycling routes
Cyclists can follow the flow of the Mekong River as it makes its way from China to Chiang Mai in Thailand, via Laos and Southeast Asia's Golden Triangle. A combination of mountainous terrain and lengthy ascents, as well as the climate, make this particular route quite demanding.

You can also cycle from the Thai capital, Bangkok, to Ho Chi Minh City in Vietnam, stopping off at Angkor Wat in Cambodia along the way. Exploring Angkor Wat, Ta Prohm and Angkor Thom by bike is just amazing and offers an opportunity to bypass the crowds and seek out lesser-visited temples, off the tourist trail. Although this route isn't as challenging as the ride from China to Thailand it still shouldn't be underestimated, especially if you're out of pedalling practise.
Road surfaces are usually Tarmac and rural routes incorporate lesser-visited locations as well as avoiding busier main roads. Some dirt tracks feature in Thailand and Vietnam although they're flat and fairly forgiving, despite the odd pothole. Wooden-built mountain villages, hill tribe communities and noisy border towns make for a fascinating cultural contrast whilst fields of bananas, pineapples and rice supply totally tropical cycling scenery.

Cycling in the morning and getting orientated in the afternoon is the best way to enjoy Indochina on and off the bike. You'll also avoid the midday heat and humidity. You can also swap saddles for seats as you board a river boat cruise boat for a couple of days. Vehicle transfers will often take you to the start of a trail head with daily distances ranging from 50km to 100km depending on which type of itinerary you choose.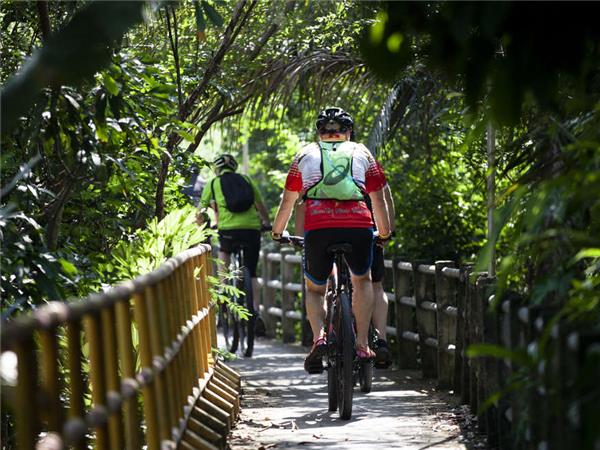 Explore the highlights of South East Asia by bike
From
£2015

to

£2445
14 days
ex flights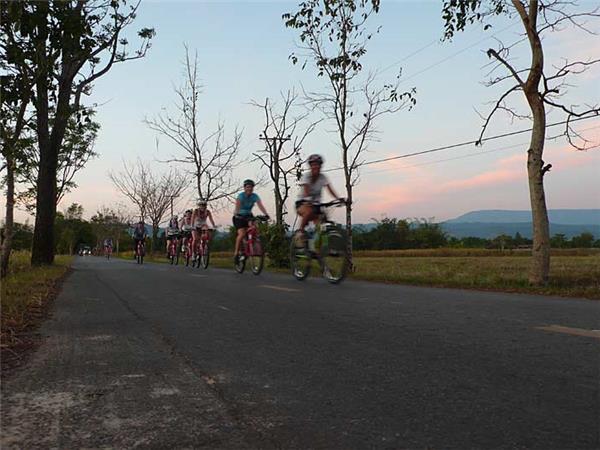 Cross three countries with contrasting recent histories
From
£3645

to

£4495
16 days
inc UK flights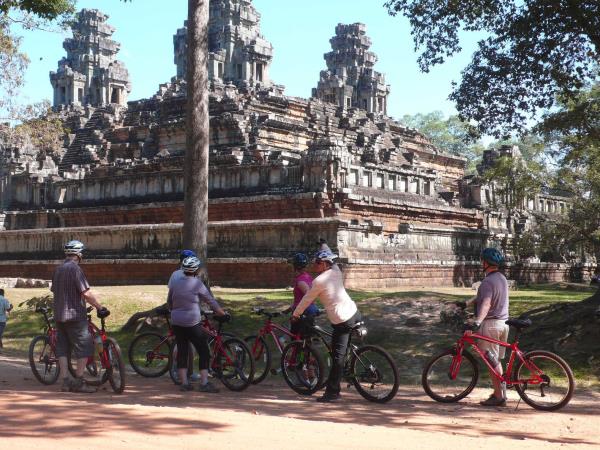 Premium cycling adventure with added comfort
From
£5149

to

£5649
16 days
inc UK flights
If you'd like to chat about Southeast Asia (Indochina) or need help finding a holiday to suit you we're very happy to help.

Practicalities of cycling in Southeast Asia
What do I need to bring?
Road bikes are supplied and you'll be matched depending on your size. Bikes are well serviced and a full support crew are on hand throughout. Bringing your own helmet is recommended, if only for peace of mind. Clip on cycling shoes are not needed. Trainers or sports shoes will be fine. Conditions are usually hot and humid so you're also well advised to take your own gel seat, extra cycling shorts and chamois cream to ensure you're fully prepared for the inevitable threat of chaffing. Insect repellent is also a must.
What are the groups like?
Our recommended routes aren't for racers and sprint finishers, they're more for cyclists looking for a cultural experience, and a chance to hang out with new friends, as well as getting a daily dose of exercise. The minimum age is 16 years old and group sizes range from four to 18 adults as well as a tour leader. Solo cyclists are always welcome and single rooms are available when staying in hotels.
How fit do I need to be?
Best advice is to put in plenty of practise and get as fit as you possibly can. However, you will not be left behind and you can always duck out of a challenging climb or steep ascent by jumping into the support vehicle. Basically, if you're happy to cycle in hot and humid conditions for three hours at a time on consecutive days – with breaks – then you're more than ready to undertake a cycling holiday in Indochina.
When's the best time to cycle in Southeast Asia?
The best time to go is during the drier, less humid period from November to March. May to October is hotter and wetter in the majority of Southeast Asian countries, however, early starts counteract the heat and afternoon downpours as well as freshening things up for the following morning's ride.

Thailand and Cambodia are hot and humid all year round and the recommended route between Bangkok and Siem Reap can be slightly intense between March and May as the build up to monsoon season begins. You can cycle in Indochina all year round just remember to pack light and don't forget sun protection, wet weather gear and lots of layers to ensure you're equipped for every eventuality.
More Southeast Asia (Indochina) articles