For centuries, mahouts have trained elephants across Asia to transport people and carry heavy loads. The tradition of working elephants is a complex one – it is an ancient way of life for entire communities in some regions of Southeast Asia, and elephants are able to penetrate dense forests and cross rivers in a way that vehicles are not – meaning they can be used for small scale logging without the need to bulldoze forests to create roads and bridges.
Today, there may be just 5,000 elephants living in Thailand and Laos's elephant population is thought to be under 500, which is devastating. Over half of Thailand's remaining elephants are described as "domesticated" – this means there are thousands of captive elephants that have been trained to work with humans and are cannot be released into the wild
. However, when the Thai government halted logging, many elephants found themselves "unemployed" – and were put to work in the growing tourist industry.
This encompasses a wide range of activities, from performing in circus-like shows, to being ridden around city centres, from carrying tourists through the jungle to being bathed by volunteers. One thing to bear in mind is that elephants are not "domesticated" in the same way as dogs or horses, as they have never been bred for captivity in the same way as other species. Their wild instincts remain, therefore, and baby elephants must endure a horrific process to tame them into submission.
The sad fact is that tourism has now turned elephants into a lucrative business – a "tamed" baby can be worth tens of thousands of pounds
.
The treatment of endangered animals is also a growing problem in Vietnam and Laos; the continual pressure for the local population to make money means that if killing endangered animals to satisfy the bizarre, but very present western appetite for animal souvenirs and 'exotic' foods makes them money then that's what they'll do.
And let's not forget the 'medicinal' purposes for which animal parts are put to use. Despite claims that the exotic lotions and potions sold in Laos under the umbrella heading 'Traditional Chinese Medicine' can cure all ills, the animal parts used in them such as bear bile, tiger bones and rhino horn are extracted in the most barbaric ways causing nothing but pain, extreme discomfort and in most cases, death of the animal involved.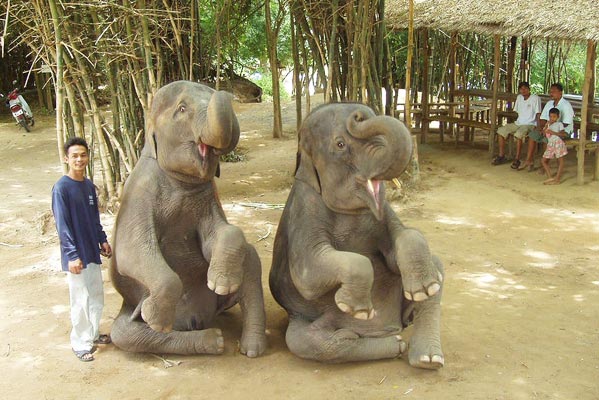 What you can do
Some animal rights organisations urge a boycott of all elephant sanctuaries – but the thing to remember is that there are thousands of ex-working elephants who now need caring for. One of the best sanctuaries for rescued and retired animals is the Elephant Nature Park in Thailand, which has a medical centre, natural landscapes for the elephants to live in and an expert team of carers, who look after them round the clock. The sites exist very much for the elephants, not for the tourists. Volunteers undergo training programmes to be able to look after the elephants, and the fee is reinvested into the elephants' care as well as in local community projects, often supporting the families of the former mahouts, as well as reforestation work.
Research is key, and with the Internet there is no excuse for making incorrect assumptions about a place. Look at photos or videos of the sanctuary you are planning to visit to see how healthy the elephants appear, and what their enclosures are like. Check holiday review sites – as well as the unedited reviews on Responsible Travel – to look for stories of maltreatment. Any good sanctuary will also include plenty of information about where their elephants come from, how they are treated and what visitor interaction does or doesn't involve – anywhere offering performances, painting or rides should be avoided.
Riding elephants damages their spines – and the animals have been beaten or prodded into submission to persuade them to allow riders on their backs. The photos of you riding an elephant may look great at first, but could turn out to be an embarrassment once you have researched what went into "training" that elephant.
Sadly, only wild elephants fall under any legal protection in Thailand, so there is little you can do if you see signs of cruelty. However, you can report it to your operator if a tour was organised through them, to deter them from offering this excursion again, as well as to Responsible Travel. You can also name and shame on social media and review sites – photos add proof of what you have seen.
Some particularly sick-looking elephants are dragged around the streets in chains as "beggars" to get money from tourists – this practice is illegal in Thailand, so photograph and report it to the local police.
Watch
Elephant Whisperer
, a documentary about Lek, who has dedicated her life to saving elephants at Thailand's Elephant Nature Park.