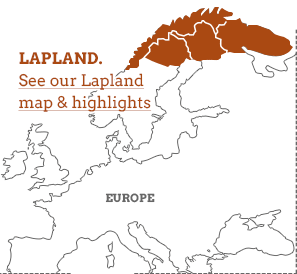 Holidays in Lapland might usually take place in winter, but don't expect environmentally damaging downhill skiing or tacky 'Christmas villages'. Instead, these fantastic, family-friendly multi activity holidays lead you snowshoeing along pristine forest trails, on high-speed husky safaris, and in search of the Northern Lights, with evenings spent in cabins deep in the wilderness. They also provide insights into indigenous Sami culture, while supporting traditional ways of life in remote communities. All of this is set against Lapland's wild natural scenery, which your holiday helps preserve, as our partners always follow strict 'leave no trace' principles.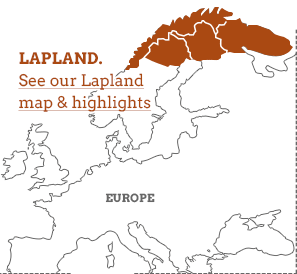 Our top Lapland holidays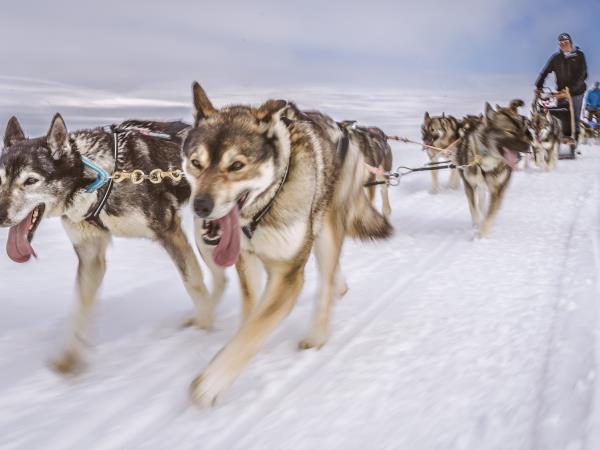 8 days
inc UK flights
Sled with huskies through spectacular Finnish scenery
Small group
2022: 27 Mar, 3 Apr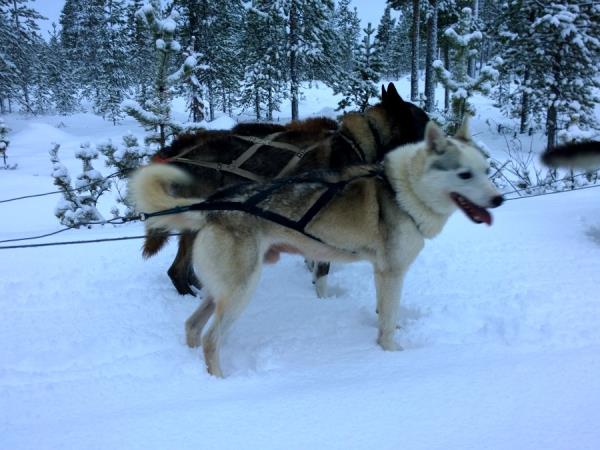 5 days
ex flights
Luxurious log suite,northern lights & overnight husky safari
Small group
2022: 30 Jan, 24 Feb, 28 Feb, 9 Mar, 3 Apr, 6 Apr, 17 Dec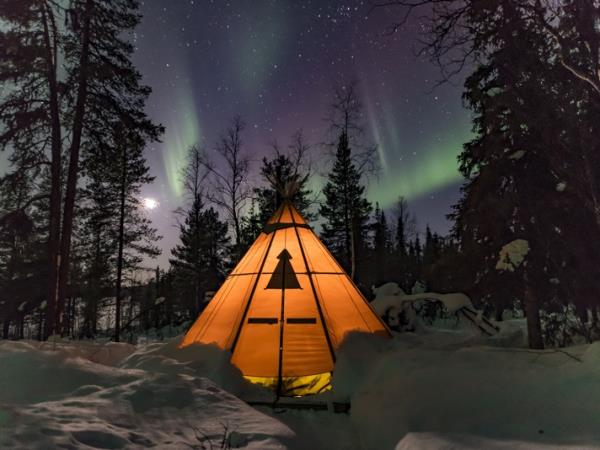 8 days
ex flights
Winter glamping, wildlife, dogsledding and Northern Lights!
Map & highlights
Luosto, 90 minutes from the Arctic Circle, is the launchpad for many classic Lapland activities, from husky sledding and ice fishing to watching the Northern Lights. Rovaniemi, just south, is the capital of Finnish Lapland and home of Father Christmas, while Jokkmokk is the Sámi capital, steeped in ramshackle wooden houses, handicrafts and reindeer farms. Inari, in the far north, is an almost unpopulated wilderness for summer and winter outdoor activities. Kiruna is most famous for the nearby Icehotel that is rebuilt every winter, while the sublime Lulea archipelago is for sea kayaking, foraging and wild camping.
1. Inari
Despite being Finland's largest municipality, Inari has a population of less than 7,000 – including many native Sámi. Much of the region is covered by national parks and designated wilderness areas. Winter sports include downhill and cross-country skiing, husky and reindeer sledding – while in summer the landscape is a glorious backdrop for hiking, canoeing, mountain biking and fishing.
2. Jokkmokk
A small pocket of Sámi history, 'development' in Jokkmokk equates to a church, ramshackle wooden houses and shops, and the Samernas Folkhogskola, the only college in Sweden that teaches the Sámi language alongside lessons in handicrafts, reindeer husbandry and ecology. The Sámi capital, it's steeped in traditional culture and pivotal to their parliament, but wonderfully unassuming too.
3. Kiruna
Kiruna's considered a Swedish Lapland must-see, although there's not that much to do or see there. Its lifeblood is the whopping great iron-ore mine that it sits on, but look past the network of sidings, slag heaps and ore-works and you'll still find a winter wilderness ripe for exciting activities – Sweden's highest mountain, Kebnekaise is nearby, as is the famed Ice Hotel at Jukkasjarvi.
4. Lulea archipelago
Stockholm may have a larger island retinue but Lulea's 'mere' 1,700 offer seclusion far from the capital's tourist throngs and R&R-ing city slickers. In summer, islands like Sandon, Junkon and Kluntarna have mainland ferry links, otherwise get paddling! Forage or fish; camp wild or cosy up in a clapboard cottage; swim or kayak; watch birds, or just hang with the fishing folk on Hinderson.
5. Luosto
Just 90 minutes from the Arctic Circle, Luosto is the leaping-off point for all classic Lapland activities – husky and reindeer sledding, Northern Lights tours, skiing, ice fishing, and even ice swimming and climbing. The nearby Pyhä-Luosto National Park is located on a fell chain covered in ancient pine forests, offering fabulous cross-country skiing and hiking trails.
6. Rovaniemi
Just 5km south of the Arctic Circle, Rovaniemi is the capital of Finnish Lapland and the home of Father Christmas, who can be visited here year-round.This lively university city gets a bad rap for its 'Santa Village' label, but look beyond the December crowds and it's a gateway for activities including Northern Lights tours, reindeer sledding, skiing and ice fishing.
Winter activity holidays in Lapland
Frosty snowbound landscapes provide an atmospheric backdrop for winter activity holidays in Lapland. As a measure of how well-organised these trips are, cold weather clothing is provided to minimise what you need to bring. Your days might be spent visiting Sámi reindeer farms, learning how to snowshoe, or fishing through a hole in the ice, and you'll keep an eye out for the Northern Lights each night. Everyone has their favourite activity, but for many it's an evening in a wilderness lodge waiting for the aurora borealis to appear, or an afternoon mushing a husky-drawn sledge along.
Family holidays in Lapland
Honestly, we have tried, but it is
really
difficult to picture a more exciting place for
family holidays
than Lapland. Kids of all ages and parents (and grandparents!) will love the Narnia landscapes of winter. Younger children have the chance to meet Father Christmas and sleep in an ice hotel, and there are endless opportunities to toboggan or build snowmen. Older kids, meanwhile, can enjoy cross country skiing and snowshoeing. Families can tap into their inner Ray Mears in summer, tracking wildlife through the forests, kayaking on wide rivers, and learning how to forage and build fires.
Northern Lights
The Vikings thought them dancing maidens. Finnish legend has them as sparks falling from the tail of an Arctic fox. Due to its long Arctic nights and near-zero light pollution, Lapland is one of the best places to witness the aurora borealis – better known as the
Northern Lights
– as they flicker across the sky. No two appearances are the same and there's never a guarantee of seeing nature's great light show. But if you want to maximise your chances, travel between September and March, and join a trip that sets aside an evening in the wilderness specifically for seeing them.
Finnish Lapland
The best
Finnish Lapland holidays
treat Rovaniemi as just a stepping stone to the wilderness. Most trips see you joining a small group to explore pristine national parks such as Oulanka, prime Northern Lights viewing territory, or Riisitunturi, where you can meet Sámi reindeer herding families between bouts of cross country skiing and husky sledding. Yes, Father Christmas is found in these parts, but
Finnish Lapland
is about as far from twee as you can get. And don't forget the best-kept secret: summer holidays, with long days for hiking, biking and canoeing your heart out.
Swedish Lapland
Swedish Lapland
is inextricably linked to
allemansrätten:
the 'right to roam'. Taking you practically as far north as Greenland, the services of expert guides are required throughout. That's not only to navigate the wilderness, but to change up your route and activities depending on shifts in the weather, introduce you to Sámi reindeer herders and husky mushers, show you how to pluck a fish from a hole in an icy lake, or track moose by their hoof prints.
Holidays in Swedish Lapland
generally run in winter, when the nights are darkest and the snow is deepest on the ground.
Types of holidays & vacations in Lapland
Winter holidays
are all about the packing – by which we mean packing snow together for snowball fights and packing loads of fun activities into every day including snowmobiling, ice fishing and husky sledding. But not packing lots of heavy coats and boots; these are provided for you. It doesn't require any stretch of the imagination to picture Lapland as a favourite for
family holidays
, with ice hotels, reindeer farms and Father Christmas all helping to create magic memories. And whether you're going in winter or summer, the wilderness and sense of freedom in Lapland is ideal for
adventure holidays
.
If you'd like to chat about Lapland or need help finding a holiday to suit you we're very happy to help.