Montenegro multi activity holidays map & highlights
Montenegro's two main airports, Podgorica and Tivat, are the most convenient entry points to the country, although you can also fly to Dubrovnik in Croatia, just over the border. Be aware that the border crossing can take a while by car, especially during July and August. One option is to take a taxi to the border and cross by foot, before being transferred to your multi activity break base by your holiday company. Once there, you won't need a car, with transfers arranged to all activities and even to restaurants, and bikes often available for popping out and exploring.
1. Durmitor National Park
Packed within the boundaries of Durmitor are 48 peaks over 2,500m, 18 glacial lakes, known as 'mountain eyes', and numerous walking and biking trails, making it a perfect one-stop location for multi activity trips. Mountain bike, hike stone trails through thick forests and between lakes, go wild swimming, raft the Tara River, ride horses through alpine meadow… There are active trips aplenty.
2. Herceg Novi
Standing at the entrance to Kotor Bay, Herceg Novi is easy to love. Its Old Town is home to churches, squares and worn stone steps leading to a pretty seafront promenade, with lots of cafes and restaurants. Try some stand up paddle boarding and kayaking here, or spend the day on the Adriatic learning the basics of sailing. Sightseeing boat tours around the Bay, taking in Perast and its islands, are a laidback option.
Lake Skadar National Park
3. Lake Skadar National Park
The border between Montenegro and Albania cuts through Lake Skadar and this beautiful lake, fringed by soaring mountains, is a 400km2 playground and Ramsar wetland. Kayak to island monasteries, looking out for Dalmatian pelicans, swim at quiet freshwater beaches, or explore on foot around its shores, hiking through woodland, over Ottoman bridges and along riverside trails and old Roman caravan paths.
4. Lovcen National Park
Lying within the Dinaric Alps, Lovcen is one of Montenegro's most beautiful parks. Hiking and picnicking around the summit of Jerzerski Vrh, where there's a monument to one of Montenegro's most celebrated 19th century leaders, offers long views over the Bay of Kotor, Lake Skadar, the Adriatic and the Albanian mountains. There is also a fun high ropes course in the tree tops.
5. Tara River
The Tara River flows from the Komovi Mountains through Durmitor National Park to the border between Serbia and Bosnia and Herzegovina. Clear water, pristine nature and the Tara Canyon, which towers 1,300m above the river in places, make this a rafting hotspot . There are 18 big rapids in the canyon and rafting along the main 16km section takes about 2.5 hours, with swimming and beer breaks on the Bosnian shore.
6. Zabljak
Sitting in the northern rocky massifs, Zabljak is the highest town in Montenegro, at 1,456m. It sits at the heart of Durmitor National Park and serves as its urban hub. It's a bustling town packed with restaurants and cafes, and a great base for a multi activity holiday. You'll find stalls selling local produce, too, including fruit brandies, honey, wild blueberries, strawberries and mushrooms, in season.
If you'd like to chat about Montenegro multi activity or need help finding a holiday to suit you we're very happy to help.

Montenegro multi activity
holidays advice
Stan Zivanovic runs our specialist multi activity holiday supplier, Montenegro Mountain, based in Durmitor National Park. He has plenty of advice for active travellers:
When to go on a multi activity holiday in Montenegro
"Our Mountain Camp is open from 1 May till 1 October each year. Each month is great for a certain activity. May is best for white water rafting, when the rapids are at their highest and fastest along the Tara River. Springtime in June is beautiful when the wild mountain flowers are blossoming and it's ideal for trekking and mountain summits. July and August are perfect for the adrenaline activities such as canyoning, paragliding, rock climbing or quad biking. The temperature does start to decrease in the mountains from mid September onward, and it can start to feel a bit cooler in October, with winter seemingly just around the corner."
Best time to visit Durmitor National Park
"My favourite time of year would be July and August. The weather is most stable in the Durmitor Mountains for those peak months, with typical daily temps of approx 22°C. It is the warmest time in the mountains, with blue skies and magnificent views, and our guests also get to enjoy cooling down, with wild swimming in the lakes and rivers. The air is fresher in the mountains, with Durmitor considered an 'air spa', and a great place to escape the hot and humid conditions of the Adriatic coastline."
How fit do you need to be?
"We can always tailor a tour to suit all our guests so if, say, a family has younger children we can match them with more gentle activities. Likewise, for older teens, a more active tour normally goes down well, with the kids trying out adrenaline rock climbing, mountain summits, canyoning etc. We can also arrange to look after younger children back at camp, if the parents would like some time to themselves to try out more adventurous activities. We're happy to give them a break."
What is a typical day?
"Our activities start at around 9.30 each morning till 16.00 in the afternoon. Our guests then have their free time to relax and enjoy the rest of the day. Some guests choose to put their feet up, read a book, sunbathe at camp, have a drink, play games or table tennis. We try to offer our guests a cake, fruit, biscuits and tea treats – which normally goes down well! We have a communal barn area which is our WiFi zone and many guests, particularly teenagers, start surfing on the web as soon as possible. We also have satellite TV in all apartments, offering HBO channels for films and sport channels for Premier League matches. If guests have more energy, we can also arrange additional activities, such as a couple of hours of horse riding, quad biking, rock climbing, paragliding etc, which is payable on the day. All guests also have a mountain bike and helmet and can choose to explore the Durmitor area or go into town."
Why come to Montenegro for a multi activity holiday?
"Montenegro has dramatically contrasting scenery, from its mountains to coastline. Durmitor National Park has mountains, forests, lakes, canyons and rivers. It's home to many specific wild flowers, herbs and animals such as wild lynx, golden eagles and black bears. The coastline offers the medieval stone towns of Kotor, Herceg Novi and Budva, combined with perfect beaches and Adriatic foods. The activities we offer give guests a chance to see, feel and experience one of Europe's unexplored areas, trying locally produced foods and drink, meeting local people and farmers working their crops without heavy machinery and Western techniques, so it does feel very authentic and as if you've gone back in time. We try our best to offer local people a chance to earn an income that can supplement their own, and help them and their families. Montenegro is also cheaper than most places in Europe and so for guests, food, drink, dining out etc is all cheaper and is much better for families on a certain budget."
Tips from our Montenegro
holiday reviews
At Responsible Travel, we think the best people to advise our travellers are often other travellers. They always return from our tours with packing tips, weather reports, ideas about what to do – and opinions about what not to.

We have selected some of the most useful Montenegro multi activity holiday tips that our guests have provided over the years to help you make the very most of your holiday – and the space inside your suitcase.

Just go for it and be prepared for a lot of physical activity.

"Definitely pack plenty of warm clothing! The weather on the mountain can be hit and miss. We also brought a couple of travel games - was a nice thing to do in the evening over a beer." – Charissa Taylor

"Buy wild strawberries from the street vendors." – Magda Anscomb

"We would definitely recommend booking horse riding as it was a great way to see the incredible views! Make sure that you pack a range of clothing as the weather can be quite changeable in the mountains – bring jumpers for the evenings and raincoats in case the clouds come in." – Becky Thomas

"Don't hesitate to book if you like unspoiled nature, forget the mobile phone and all the modern gadgets. Best airport to fly is Podgorica." – Luis Guimaraes

Take several swimming costumes so you always have a dry one for the next amazing wild swim.

"Seeing the Tara gorge by foot and rafting was great, but seeing the plains by horseback was also good, My advise though is that if you have not been horse riding before only book a half day to make sure you are comfortable with it." – Phil Browne

"I am 63 and my wife 59. We don't want to sit on a beach or look at another museum. This was 5 days of heaven that seemed like 2 weeks. Expect aching legs from walking and a sore bum from cycling, but it is worth it." – John Tuffin on a Montenegro multi activity mountain holiday
More Montenegro multi activity articles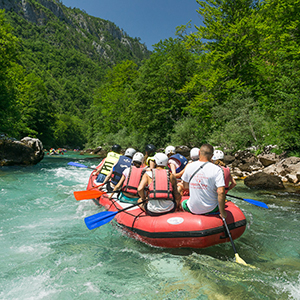 Though pint-sized, Montenegro is packed with beautiful and dramatic scenery.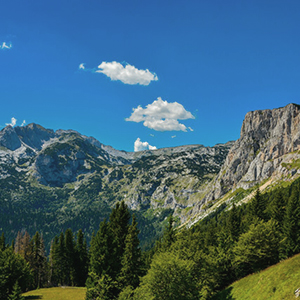 A magnet for active adventurers, Durmitor offers everything from gentle hikes to full on activities.