Travelling in Norway with kids

Other-worldly vistas, icescapes stalked by polar bears, plus epic Viking stuff – and trolls. Kids will love Norway!

Norway will make even the most "landscape is booooring" child reconsider, as they inch toward cliff edges far above heart-stopping fjords or gaze into the ethereal blue ice of ancient glaciers. The wildlife induces wide eyed wonder too: not-so-cute-after-all polar bears bloodstained from a seal catch, giant walrus jousting for supremacy, crabs bigger than you are! Adrenaline junkies can ski cross-country or whizz mountain trails. Five centuries of Viking history extend along Norway's shores and into brilliant museums. And before you go, get them to watch the film Troll Hunter – then send them into the woods!
Activities for families in Norway
Never-ending days - or nights
How better to learn about day and night than messing with them?! Arctic Norway has summer weeks when night never comes and "it's late" loses normal meaning. In winter, darkness can last from October to March – a Nordic night kids can fill with eerie forays and Northern Lights.

Vikings!
Teach kids about Norway's bold past inhabitants whose voyages took them to the Med and - long before Columbus – America. Oslo has a brilliant longship museum, while Haugesund, Eidfjord (with over 350 burial mounds) and the historic battle site at Stiklestad offer other memories.

Troll-hunting
Enliven nature treks by making them troll hunts! These iconic beings haunt forests, moonlit lakes, lonely fjords and mountain plateaux, and can have multiple heads and eyes! Slimy Nokken like mountain ponds, while Huldra try to tempt young men into the woods... Though cranky, most trolls are OK with humans.

Our top trip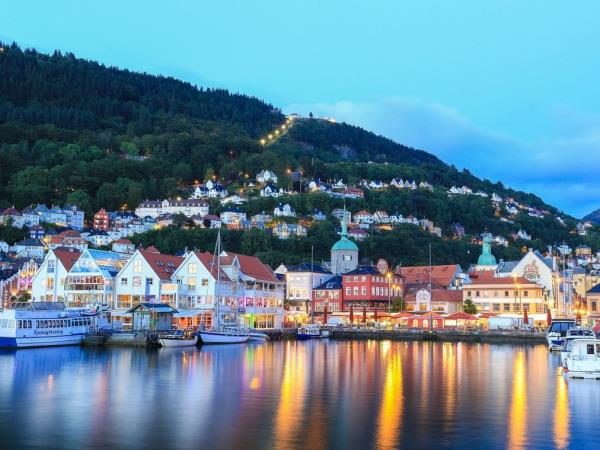 Scenic tour of the best of Bergen, Norway
From
£1045
4 days
ex flights
Tailor made:
This trip can be tailor made throughout the year to suit your requirements
If you'd like to chat about Norway or need help finding a holiday to suit you we're very happy to help.

Travelling in Norway with kids
Charles Wara from our supplier Aurora Borealis tells us why life of togetherness on the ocean wave is a good way to experience Norway with kids: "Our trips are perfect for families, offering a variety of activities and possibilities for doing things together - or divided. I think it is good for a family to sometimes be "forced" to stay pretty close to each other without the possibility for an "escape"! A not too big vessel is perfect for this."
Laura Greenman from our supplier explains how nature helps build bonds when experiencing Norway with kids: "The outdoor life helps family life as young and old can connect in nature - perhaps working together or enjoying a stunning sight. Our guides pass on their love of the outdoors to the younger generation, partly for fear that society is becoming too sedentary! Many families comment that they have felt closer after experiencing the quiet nature in Norway and spending quality time together away from any distractions. Many trips are adapted for a wide age range. In the summer, families enjoy fishing trips, hiking expeditions, sailing and kayaking. In the winter, they love to try out dog-sledding, snow shoeing, reindeer sledding, camping in the wild, and ice-fishing."