Seeing the Northern Lights in Norway

Train rides, husky sleds, Arctic lodges, king crab sailing ships; if you're thinking about watching the Northern Lights in Norway there's more than one way to skin a salmon.

Witnessing the aurora borealis streaking above while huddled beside a herd of reindeer is an incredibly moving experience; no wonder indigenous Sami culture is so deeply connected with nature. Sami folklore tells a tale of souls departed, and for travellers, the chance to see the Northern Lights in Norway can be equally as transcendental. Today's aurora seekers have the option of husky sledding from hut to hut or sailing cruises between remote island anchorages. However you choose to travel, getting as far north as possible, away from artificial light, is best advice for experiencing the aurora in all her natural glory.
Where to watch the Northern Lights in Norway
The further you get from the bustle of Bergen and Oslo, the better. Once you've taken light pollution out of the equation, head north and don't look back. The
Lofoten Islands
, on the Norway's northwest coast, are a great place to start, with their plentiful fishing villages fringed by sweeping white sand beaches. Further along the coast, you'll come to the Lyngen Peninsula where fjords and fishing combine with traditional Sami culture, all within easy access of the beautiful city of Tromsø. There's nowhere like a remote mountain lodge in the Lyngen Alps in which to escape the world and watch the skies with a warm glass of gløgg.
Continuing north takes you to Finnmark, Norway's largest county and its least populated. Finnmark's coastline is dominated by fjords and vast colonies of sea birds, but travel inland, through the pine and spruce filled valleys, and you'll find lakes, rivers and vast plateaus of Arctic tundra. Dog sledding in the wilderness, from hut to hut, is one of the most exhilarating ways to witness the aurora borealis. There's only one scrap of land between Finnmark and the North Pole, and that's the remote
Svalbard Archipelago
. This is one of the only locations on the planet where you can see the Northern Lights during the 'day', thanks to the endless darkness of the Arctic winter.
When to watch the Northern Lights
Late September to late March is the best time to observe the Northern Lights in Norway, particularly around the spring and autumn equinoxes (21 March and 21 September). You need dark skies, and at these Arctic latitudes, the sun barely makes an appearance in the midwinter months. Finnmark, in particular, is exceptionally dark during December and January where the sun never rises above the horizon. This 24 hour darkness is ideal for sleeping during the day so you can stay awake at night. However, there's little to do other than eat, sleep, watch, repeat; so if you want a more active trip, you'll need to avoid midwinter.

Humpback and killer whales, following herring through the fjords north of Tromsø, are also known to appear from late October to mid-January. This provides an amazing opportunity to make the most of Norway by day and by night. You'll just have to sleep when you get home!

The Northern Lights usually appear any time from 6pm until 4am, although as with all of nature's best shows, there's no strict schedule. A cloudy sky can put pay to an entire evening's entertainment, although they are still visible against a full moon. Don't hold out much hope of seeing the Northern Lights during spring and summer – April through to August. Although, they have been known to appear towards the end of August and into early September, this is not a regular occurrence, as the sunlight bleaches them out.
Our top trip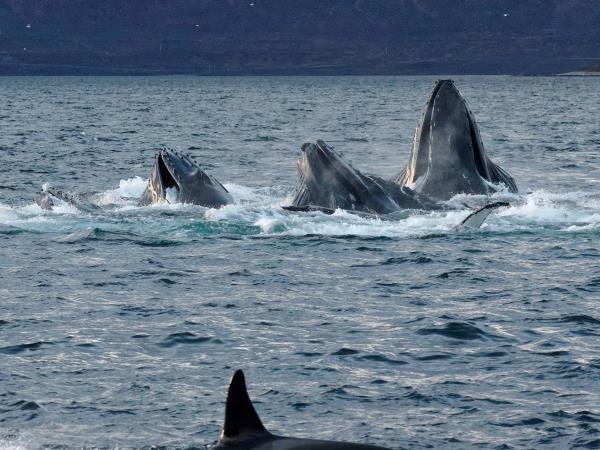 Far North. Far East. Whales and Northern lights.
From
NKr13900
5 days
ex flights
Small group travel:
2024: 17 Jan
If you'd like to chat about Norway or need help finding a holiday to suit you we're very happy to help.

How to see the Northern Lights in Norway
Cruise the coast
Northern Lights sailing cruises around the fjords of Finnmark and along the coast from Kirkenes to Bergen – in autumn or winter – allow you to watch whales by day and cast your eyes to skies by night. Alongside whale and light watching you'll also be able to make the most of line fishing for salmon and king crabs or simply enjoy a warming bowl of fish soup before disappearing into the ship's sauna.
Nordic activity trips
Although snow shoes, huskies and snow mobiles are a novelty to most of us southerners, in the north of Norway they're the only way to travel. Choosing a holiday which includes authentic Nordic activities is a great way to make the most of your days as well as your nights. Husky sledding tours, especially, will take you deep into snow clad forests and across frozen tundra, far, far from artificial light interference. Arctic wilderness lodges or insulated tents allow for nights beneath the lights with hot chocolates, saunas and dog feeding all that's needed to keep you warm and cosy.

These types of tours tend to be four or five days long. Longer trips, for more than a week, may also continue into Swedish or Finnish Lapland. Tailor made tours allow you to create a bespoke itinerary that suits your fitness and comfort levels as well as tying in with your departure dates. Small group tours are usually more affordable, and are also a great option for solo travellers. They start on specific dates and will include activities and accommodation that have been chosen to offer an authentic Arctic experience as well as improving chances of witnessing the aurora.
Self drive tours
If you prefer to take things into your own hands then a self drive tour of Norway from Bergen is bound to tick all the right boxes. You'll have to drive north to best experience the lights on clear nights. Accommodation in little seaside towns and islands opens up the best of Norway's coastline as well as extending opportunities to observe the aurora in all her natural glory.