Best time to visit Norway

Norway loves extremes – summer weeks of eternal light, winter months of darkness, with all shades in-between.

June, July and August are the best months to go to Norway for warmer temperatures and longer days. The warmest month in Norway is July, when there's the fabled midnight sun – ideal for hiking, cycling, kayaking and berry picking. Prices will be at a premium and midges buzz (and bite) around the marshlands. June-August is also the best time to cruise the Norwegian fjords, while Spitsbergen is amazing at midsummer when polar bears are on the hunt. May and September offer mild temperatures and uncrowded, colourful landscapes. Norwegian winters can be bitter, but dress properly and it's a nirvana of snowshoeing and cross country skiing. The best time to visit Norway for the Northern Lights is November-February.
The start of the year is pretty cold and dark in Norway, even on the southwest coast in Bergen, and if you're planning on visiting in January and February make sure you wrap up warm especially if you're heading for cross country ski trails or in search of the Northern Lights. March is the best time to go to Norway for maximising daylight hours and snowfall in winter sports resorts and as April turns to May you'll find an abundance of wild flowers and blossom appearing in country meadows as well as a fair amount of slushy snow underfoot. June, July and August relax under the warmest temperatures and longest daylight hours. This summer season is a popular time to go to Norway… and the higher prices often reflect it. After the school holidays in mid-September and October, Norway becomes slightly more affordable as it's caught between summer and winter with several outdoor attractions starting to shut up shop with the onset of snow and bitter winds. November days are cold and dark with not much going on apart from snow clouds culminating on higher grounds and the Northern Lights starting to respond to conditions. It's really December when things start to turn pretty with snow flurries, frozen lakes and Christmas festivities lighting Norway up like the preverbal spruce.
Our top Norway Holiday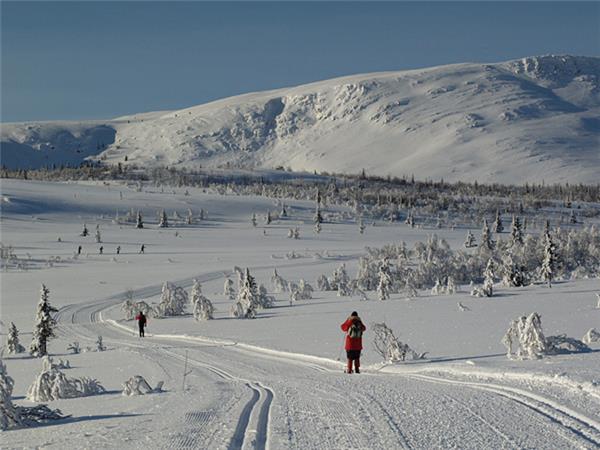 Independent cross-country skiing in dramatic landscape
From £2049 to £2289 8 days inc UK flights
Tailor made:
This trip has selected Saturday departures from December - April
If you'd like to chat about Norway or need help finding a holiday to suit you we're very happy to help.

Responsible Travel recommends
Britt Elton from our supplier Discover Norway explains why winter can be the best time to visit Norway: "Norway is one of the few countries offering cross country skiing from hotel to hotel. It is relatively level terrain, with magnificent views in places like the Jotunheimen National Park and Rondane mountains. Eastern Norway has very good snow conditions from mid-December to mid-April."
Laura Greenman from our supplier Magnetic North reveals what she believes is the best time to visit Norway: "I love early summer – June and July - when the fjords sparkle and the walking is top quality in the mountains. August is great for berry picking - and by September, we're seeing fantastic autumnal displays of the Aurora Borealis."
Festivals & events in Norway
Riddu Riddu Festival (Kafjord, early July)
Now into its third decade, this Sami festival in northern Norway presents an extensive programme of music, film and art bringing together Sami stars like Marja Helena Mortenson, Jon Henrik Fjallgren and Elle Marja Eira with artists from around the world for a creative mingling of indigenous and non-indigenous cultures (with plenty for children too).