Around 40,000 indigenous Sami live in northern Norway, with 25,000 concentrated in Finnmark. And they live on the frontline of climate change in an Arctic landscape highly sensitive to climatic variables. Melting ice, changes to humidity and precipitation plus acidification of waters impact directly on key elements of Sami life such as reindeer husbandry and fishing. In the light of ongoing threats, responsible tourism helps Sami communities both financially and in maintaining traditions.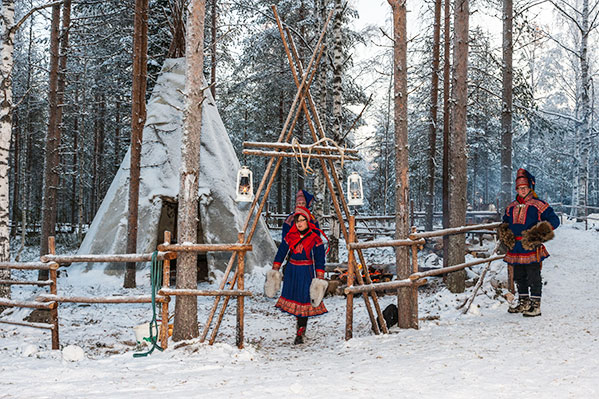 A balance needs to be struck, however, between the benefits of cultural tourism and possible threats from adventure tourism, which can impose competing demands. Reindeer herding is regarded as a key part of Sami identity, for example, but herders are suffering from a shrinking of available herding land as other users encroach on their territory. And while Sami are earning increasing amounts from souvenir sales and small-scale tourism initiatives, there is still little actual Sami ownership of things like hotels. The need is to preserve and present a wonderful Sami wilderness, while maximizing indigenous local benefits from tourism.
On a political level, stresses need to be resolved around the Norwegian state's efforts to mediate between differing Sami groups.. The so-called 'East Sami' who live along the border with Russia and Finland are particularly affected by these developments, with a decreasing number of grazing sites. The situation is worsened by what the 'East Sami' see as encroachment on their territory by the so-called 'Sea-Sami'.
The UN Human Rights Committee has urged the Norwegian government to designate an area along the Neiden River known as Neiden-siida for the sole use of the 'East Sami'. And though the 'East Sami' are unrepresented in the Norwegian Sami Assembly, the Assembly is nevertheless responsible for protecting their interests – but has failed to consider the issue, which remains unresolved.
Source: Media Global News
Source:
World Directory of Minorities and Indigenous Peoples
What you can do:

Support Sami-focused tourist initiatives. Do tours and visit events in Sami settlements like Kautokeino and Karasjok; buy locally-made souvenirs; eat Sami food; visit cultural spaces such as the
Sápmi Culture Park
in Karasjok. And when you are out in the wild, remember that this is their homeland first and foremost, not your playground.