Winter holidays in Norway
Whereas the Scandi concept of hygge is all about cosying up and getting comfortable at home, friluftsliv concerns immersing yourself in open air and nature, embracing outdoor activities. It's the reason why, unlike most of us, Norwegians actually relish the onset of winter. Here cross country skiing and snowshoeing aren't so much fun activities for the weekend, but practically a way of life, and certainly a regular way to commute for many.
Winter holidays in Norway give you a swift and invigorating introduction to friluftsliv. You can expect to be effortlessly outpaced by the locals – kids here progress from crawling to toddling to skiing – but throw yourself into it and you'll have a whale of a time. Especially if you're in Tromsø, where orcas and humpbacks are known to appear during the winter.
And it's not all about Northern Lights, or taking tumbles in the snow. Winter holidays are also a great way to embrace Norwegian culture. You can watch reindeer racing and lasso throwing in Tromsø under the Midnight Sun during Sami week in February. Kids will love exploring traditional folklore, from trolls to suspiciously elf-like nisse, and the curious habit of hiding brooms on Christmas Eve (to discourage witches and other evil spirits said to appear at this time of year). And whatever you're doing during your trip, you'll be fuelled with hearty winter fare, such as reindeer stew laden with lingonberries.
When to take a winter holiday
in Norway
There is winter in Norway – and then there is 'winter winter'. The former spans December to March; the latter, known as the Polar Night, from late November to mid-January. During the Polar Night, the sun doesn't come above the horizon. In the Svalbard archipelago this period lasts for almost four months; further south, in the Lofoten Islands, just a few weeks. Little goes on during this period, though the light during 'Blue Hour' is magical.
Most winter holidays in Norway take place either in October, when Northern Lights watching season gets underway, or from February to April, which is ideal months for winter sports, especially earlier in the year.
More than half of all Sami people, the indigenous people of the Scandinavia's Arctic region, live in Norway. Visiting their communities and learning about their ways of life is a highlight of many holidays, but Sami Week in February is the best time to explore their customs and culture. Events focus on Tromsø, and don't miss the highlight: the reindeer racing, with participants pulled on skis behind their trusty beasts.
Where to go on winter holidays
in Norway
Cross country skiing holidays in Norway are suited to all abilities and usually take place in the south. Kamben, Rjuken and Rondane National Park are snow-sure in the Norwegian winter, and offer a sublime mix of frosted scenery, expert tuition, and a range of other activities to try when not on your skis. You can also try ski touring along the famous
Peer Gynt Trail
from the Olympic town of Lillehammer.
With the Northern Lights making regular appearances, along with whales, Norway is naturally a desirable place for winter photography tours. Trips to the
Lofoten Islands
, led by expert photographers, see you practising dramatic low-light photography against a backdrop of the Arctic Ocean and the aurora borealis. An alternative is the
Varanger Peninsula
to explore forgotten and isolated fishing communities.
Scenic boat tours around the Lofoten Islands to visit Arctic fishing outposts can be combined with the Svalbard Archipelago, traversing its icy wildernesses by dog sled and snowmobile.
Our top trip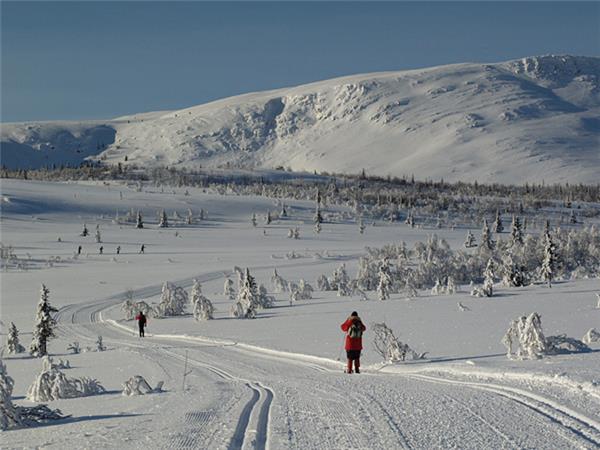 Independent cross-country skiing in dramatic landscape
From
£2049

to

£2289
8 days
inc UK flights
Tailor made:
This trip has selected Saturday departures from December - April
If you'd like to chat about Norway or need help finding a holiday to suit you we're very happy to help.

Winter holiday activities in Norway
In few countries will you find such a passion for winter sports as Norway. From bobsledding and curling in Lillehammer, to Telemark – said to be the birthplace of skiing and home to its own unique style known as Telemarking.
It might surprise you to read Responsible Travel promoting snowmobiles, but during winter they are simply the only practical way for local people to get around in many parts of Scandinavia – the Sami people depend on them to manage their reindeer herds. So we do recommend snowmobiling as a winter activity in Norway, when led by professional guides that take care to stick to the trails and avoid any damage to the natural environment.
Witnessing the Northern Lights tops many a bucket list. While you're reliant on good weather and luck, you can boost your chances of seeing this spectacular natural phenomenon by getting as far as you can from any light pollution. In Norway you can head out into the darkness on husky sleds, or even embark on sailing cruises between remote island anchorages. The Svalbard archipelago and the Lofoten Islands are both ideal places for watching the Northern Lights.
Given their importance to getting around, most husky packs in Norway are treated well. But by taking
ethical husky safaris
with responsible tour operators, you can mush in full confidence that dog welfare tops the agenda.