Best places to go on a safari
---
MAKE THE MOST OF YOUR TIME
With numerous countries and dozens of national parks, game reserves and conservancies to take a safari in, it may seem easiest to just throw a dart at a map of Africa. But a closer look reveals huge differences between the parks – from accessibility to the available species, the type and cost of accommodation and the option to self-drive or not. Some parks are better suited to family safaris, with easy access and child-friendly lodges, while others will inspire your inner explorer, with wilderness camping and few other visitors in sight. Seasoned safari fans may be looking beyond the Big Five, seeking out painted dogs or hyenas, or perhaps alternative experiences such as walking or boat safaris.
Our interactive map will help you choose where to go on a safari.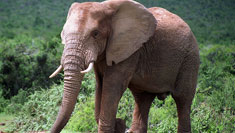 Addo Elephant National Park
Just a short hop from Port Elizabeth, Addo Elephant National Park offers all the adventure of an African safari, without the long drives, the remoteness or the malaria. Now a sanctuary for more than just elephants, Addo is home to the Big Five, and its family friendly activities include horse riding, short hikes and whale watching off the coast.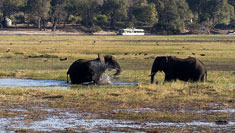 Chobe National Park
Chobe is Botswana's first national park. It has one of the highest densities of wildlife in Africa, and is particularly renowned for its huge elephant herds - total numbers have been estimated up to 100,000. The Chobe River, Linyanti River and the Savuti Marsh comprise the main areas in the 11,700km2 park, and each offers its own unique ecosystem.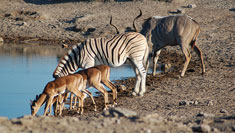 Etosha National Park
Probably the closest you can get to standing in the middle of an Attenborough documentary; the enormous Etosha Pan in Namibia is a salt-crusted, dry lakebed that dominates the park, home to 144 mammal species including lions, elephants, rhinos and giraffes. These species jostle for space around the few waterholes, creating a game-viewing spectacle quite unlike any other.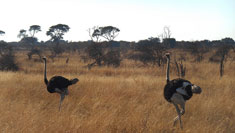 Hwange National Park
Zimbabwe's largest reserve protects over 100 mammal species and 400 birds. Rare African wild dogs have a stronghold here – along with tens of thousands of elephants. Hwange is polka-dotted with pans which attract the wildlife, and the scenery ranges from Kalahari scrub to forest and grasslands. Hwange is just a couple of hours' drive from Victoria Falls.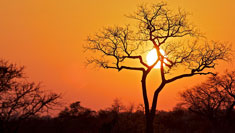 Kruger National Park
Kruger is the most famous gem in South Africa's heavy tourism crown – and deservedly so. This 19,485km² park encompasses a vast array of habitats, over 500 species of birds, and more mammals than any other African game reserve – including, of course, the Big Five. Options ranging from luxury lodges and top-end safaris to campsites and self-drive mean that Kruger really is open to all.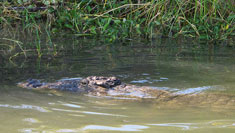 Malawi
Sprawling Lake Malawi gives this landlocked country an almost coastal feel, with kayaking and diving available to complement your traditional safari. In Liwonde National Park, a lion reintroduction programme was completed in 2018 and cheetahs reintroduced in 2017, joining the park's hippos, elephants, buffaloes, crocodiles, antelope and hyena. Nighttime game drives reveal bush babies, genets and jackals.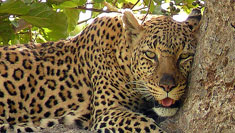 Masai Mara National Reserve
This national reserve in Kenya is synonymous with both safaris and the Maasai people. A stage for the Great Migration, the Mara sees two million wildebeest and zebras spilling into it from Jun-Oct – if they survive the precarious Mara River crossing. The surrounding Maasai conservancies give the chance to spend time with this fascinating people, with bushwalks, village visits and warrior training lessons!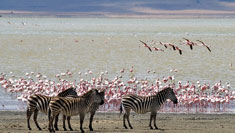 Ngorongoro Crater
This is a giant, 25km-wide bowlful of some 30,000 animals in Tanzania, including massive bull elephants, leopard and black rhino. This UNESCO Site is the easiest place to see the Big Five year-round, hence the high number of vehicles. The crater's Olduvai Gorge is home to some of the world's oldest human remains – including a 1.75 million year old skull – which has shaped our understanding of evolution.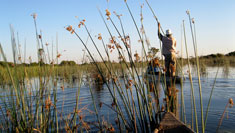 Okavango Delta
Africa's largest inland delta covers 15,000km² of the Kalahari; an immense oasis. Get a hippo's-eye-view in a dugout canoe, as you float past elephants, giraffes and lions, or take a bushwalk with local community guides. Moremi, part of the Delta, was Botswana's first reserve to be established by local residents, who fought back against uncontrolled hunting and expanding cattle farms.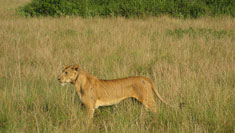 Queen Elizabeth National Park
Uganda's most popular park offers tree climbing lions, 10 primate species and 600 species of birds – a diversity that far outweighs its compact size. Boat tours along the Kazinga Channel take you up close to hippos, crocs and elephants, while scenic viewpoints reveal a spectacular landscape of explosion craters, relics of the region's volcanic past.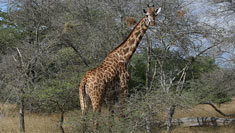 Selous Game Reserve
Little visited Selous in Tanzania is even larger than the Serengeti, with impressive wildlife numbers. Thousands of elephants, buffalo and antelopes roam the park, along with endangered wild dogs. A boat cruise on Lake Tagalala gets you up close to hippos, crocodiles and birds. The massive space and handful of lodges mean you're far more likely to see wildlife than tourists.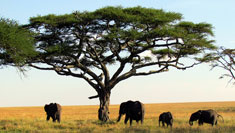 Serengeti National Park
The Serengeti in northern Tanzania needs almost no introduction. It is the stuff of African legend, the savannah traversed by two million wildebeest – zebra and gazelle in tow – during the world's greatest migration. At 15,000km2, it has space for lodges and camps to suit all tastes, plus Big Five game drives, walking safaris – and even cyclists.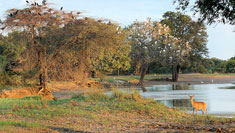 South Luangwa
Zambia's most famous and diverse park in terms of wildlife, scenery and accommodation, South Luangwa is also one of Africa's best walking safari destinations. There are a high number of leopards in the park – alongside the usual crowd of elephant, giraffe and buffalo. The peak season is relative here – Zambia remains off the safari track and Luangwa is never crowded.

Hello.
If you'd like to chat about safaris or need help finding a holiday to suit you we're very happy to help.
Rosy & team.
01273 823 700
Where to go on a safari
---
WHAT DO OUR EXPERTS RECOMMEND?
Where to go in East Africa
---

Roman Biondic, from our supplier Eyes on Africa Safaris, is based in East Africa:
"Tanzania is a very huge country, and the southern parks are still something to be discovered; very few people go down there and it's very undeveloped for driving around. It is a jewel, it's a treasure that is still hidden. In Kenya, not many people know about Lakes Baringo and Bogoria. The Great Rift Valley is very narrow there, so you can see both sides of the rift, and Lake Baringo always has something going on – there are crocodiles inside, pelicans, flamingos, hippos... The morning boat rides are fantastic. And Lake Bogoria is a national park. The landscape there is fantastic, the land is completely red."

Andrew Appleyard, from our supplier Exodus, shares his Kenya travel advice for those looking for a more unusual wildlife experience: "Most people head to the Masai Mara, but I love Samburu and the Aberdares at the bottom of Mount Kenya, along with Laikipia. There's much more specialist wildlife – things like wild dogs that you don't get in the Mara. It is absolutely beautiful, and the big advantage is that you're at about 2,000m there, so it's a lot cooler and you don't usually get mosquitoes. Laikipia is also one of the few places where you've got a mix of rhino – black and white."
Where to go in Southern Africa
---

Rupert Calcott, from our supplier Exodus, shares his South Africa Travel advice:
"Kruger National Park in South Africa is one of the most diverse natural areas left in the whole of southern Africa. Because it's such a long, thin reserve, it covers an extremely wide variety of habitats and the diversity of animals you find there is much greater than in Botswana, Zambia or Zimbabwe. It's got a little bit of everything. Most people don't go to the northern part of Kruger though. I think it's a very underrated part, and well worth looking into."