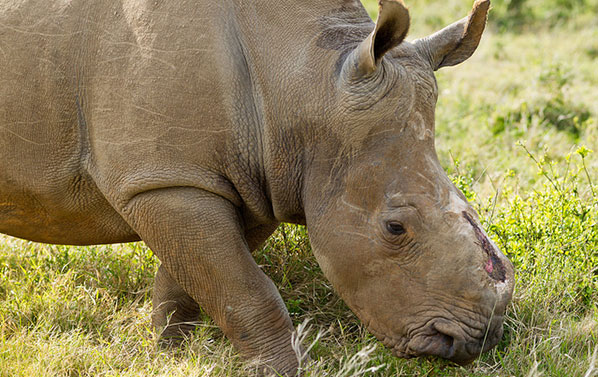 Without a doubt, the biggest threat to African wildlife today is poaching. Until recently, poaching was in decline, but in the last few years there has been a dramatic turn for the worse. In 2007, just 13 rhinos were killed in South Africa. But suddenly, rhino horn was back in favour again as part of Chinese traditional medicine. Despite having no proven medical benefit whatsoever, rhino horn, at $65,000 per kg*, is literally worth more than its weight in gold. But the cost to the rhino has been even greater than the cost to the misled patients. 668 rhino were killed in South Africa in 2012, 1004 in 2013 – and, while figures are yet to be released for 2014, 1020 had been reported dead by November of last year. With so few rhinos left in the world, it's not hard to imagine that they could become extinct not just within our lifetimes – but within the next decade.
While far more numerous than rhinos, elephants are also suffering as a result of the new taste for ivory. 2013 saw the mass poisoning of over 300 elephants in Zimbabwe in a single incident, while in 2012 alone some 25,000-30,000 elephants were slaughtered across Africa – one in three of these were taken from Tanzania. It is estimated that around 70 percent of Africa's elephants have been killed since 1979 – despite the international ivory ban that came into effect in 1990.While the ban briefly devalued ivory and caused it to fall out of fashion, the rapid increase in wealth in the Far East has seen it grow in popularity once more; ivory carving is apparently even taught in Chinese universities.
Meanwhile, across Africa, darker motives spur the poaching industry. In Central Africa, where thousands of elephants have been killed each year, armed guerilla groups, resistance fighters and corrupt armies – as well as organised criminals – have been involved in poaching, using the high profits to purchase more weapons and continue with their other illegal activities.
Poaching is not what it used to be – and not just in terms of numbers. The poachers aren't individuals with rusty rifles – they are part of powerful syndicates, well equipped with weapons and GPS, and strict orders from above. And "above" tends to mean China, well-known in East Africa as being the largest purchaser of ivory, with some 70 percent of tusks destined for its shores**. Despite claiming to be opposed to poaching, the government is alleged to have equipped the poachers. And numerous Chinese officials have been stopped at Kenyan airports for attempting to smuggle ivory – no doubt many more have been let go.
*Source:
BBC

**Source:
New York Times

What you can do
Putting an end to poaching is like putting an end to drug trafficking – it is an enormous, global issue with factors ranging from corruption to misguided beliefs and poverty all contributing to its perpetuation. But there are small ways in which you can still make a difference.
Visit game reserves and national parks – Your entry fee will contribute directly to conservation efforts. A lack of income means fewer rangers to patrol the s landscapes – and less of an incentive to protect the wildlife. If visiting Tanzania, which loses 10,000 elephants a year to poachers, we highly recommend including Selous and Ruaha on your itinerary. In the south, these reserves receive a handful of visitors compared to the Serengeti, and their enormous size makes them incredibly hard to police – this is where most of the elephants are killed.
Donate to an organisation such as
WWF
, who are looking at innovative ways to deter poachers. Just £5.50 can send a local child to an elephant reserve, where they will learn about elephant conservation, and £32 will pay an anti-poaching ranger's salary for a month.
Read more about WWF's African Elephant Programme
here
.