Photography tips
Dereck and Beverly Joubert are internationally renowned filmmakers, conservationists and National Geographic Explorers-in-Residence. Here is their advice for taking better photographs on safari: "When people arrive with short lenses, the problem is that they push to get closer to the animals. But with digital cameras today, you don't have to be as close as you think. You can always crop later on. The key is really to get natural behaviour by standing back a little bit and letting these things pan out. If you push too hard you will destroy the animals' natural behaviour and your opportunities as a photographer."
Culture tips while on safari
Will Fox is the founder of our supplier On Track Safaris, and a conservationist specialising in leopard behaviour. Here's his safari travel advice: "So many people come back from Africa and say, "that was nice, but I wish I'd been more involved." They don't want to just be shown animals, it's not Disney World. Safaris shouldn't just be about seeing animals and staying in a nice lodge with a spa. That's wonderful, but it should also be about understanding the real issues in Africa and learning more about whatever it is you're keen on. We teach our guests a few native words. If you thank the lodge staff in their own language, you'll get such a beaming smile. They're just so impressed that someone has learned a few words of their language."
Tips on avoiding crowds – and saving money
Richard Madden, author of the Bush Telegraph column, shares his advice for going on safari off-season: "Consider picking up a bargain and travelling outside the peak (dry/winter) season. If you travel during the wet season, the bush is actually greener, lusher and more beautiful and the summer storms can be an intoxicating experience leaving the bush feeling fresh and revitalised. While the wildlife is more dispersed and not so focused around the waterholes, you will still often see huge herds of antelope and all the large predators."
Advice on watching wildlife – properly
Andrew Appleyard, from our supplier Exodus, shares his safari travel advice for watching the Great Migration: "It is incredible to see the huge migration lines. On one of my last safaris we saw the Big Five within a few hours and so I asked the group what they wanted to do. They asked me "what would you do?" I said I'd park the vehicle up in the middle of the migration, turn the engine off and sit there for two or three hours and just watch it pass. That would be my top tip. I'd also ban photography for an hour – get everyone to put their cameras down. Too many people just shoot Africa through a lens and come back with 7,000 images – but don't actually just sit there and take it all in. So I make everyone put their cameras down and watch it with their engines off."
Our top Safari Holiday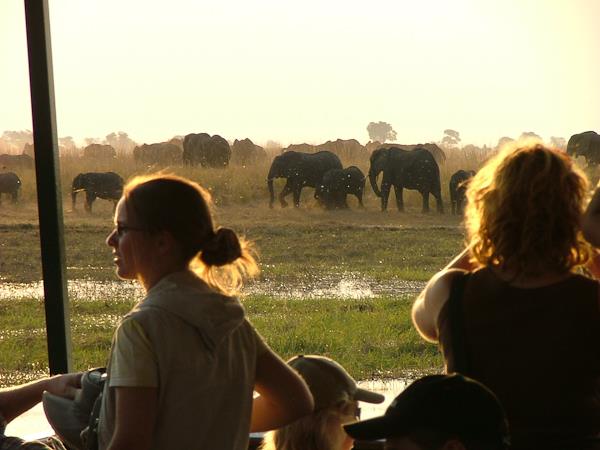 A lodge safari through Kruger, Zimbabwe & Botswana
From
€2680

to

€2780
16 days
ex flights
Small group travel:
2023: 18 Nov, 16 Dec
2024: 6 Jan, 13 Jan, 3 Feb, 24 Feb, 23 Mar, 6 Apr, 13 Apr, 4 May, 11 May, 18 May, 1 Jun, 8 Jun, 29 Jun, 6 Jul, 13 Jul, 20 Jul, 27 Jul, 10 Aug, 17 Aug, 24 Aug, 7 Sep, 21 Sep, 28 Sep, 12 Oct, 19 Oct, 26 Oct, 9 Nov, 16 Nov, 23 Nov, 14 Dec
If you'd like to chat about Safari or need help finding a holiday to suit you we're very happy to help.

Health & safety on safari
HEALTH
Visit your GP at least 6-8 weeks before departure to ensure you are up to date with any necessary vaccinations. You may also need a Yellow Fever Vaccination Certificate to enter some countries.
Some cities have good health facilities, while rural areas may only provide the most basic healthcare. Comprehensive travel insurance is essential – covering all activities you are expecting to participate in, as well as emergency repatriation.
Tap water is generally unsuitable to drink across Africa – but in most of Namibia and South Africa it's perfectly safe. So bring refillable bottles, to reduce your cost and create less waste along the way.
Malaria is an issue in most safari destinations – your GP or travel clinic will be able to advise on the best anti-malarial medication to take for each region. Most of Namibia is malaria-free, as is South Africa – with a low risk around Kruger National Park.
Wear long sleeves, trousers and insect repellent to prevent insect bites, and use mosquito nets where provided. There are numerous insect-borne diseases here, including dengue and sleeping sickness, carried by tse-tse flies.
Africa is not always hot! Desert and savannah regions in particular can get extremely cold – particularly if travelling in the winter months (usually May-September). The further south you travel, the colder the winter will be – you may need warm hats and gloves, especially for early morning game drives.
Even in cooler temperatures it is still easy to burn fast as you are close to the equator – cover up, wear high facto sunscreen, a hat and sunglasses.
Do not bathe in rivers or lakes unless you are specifically told it is safe to do so. There is a significant danger from wildlife as well as water-borne diseases such as bilharzia. In many places it is also illegal.
Make a note of the local emergency telephone numbers for each country you plan to visit.
If driving, avoid travelling outside of towns and cities at night. Roads are often unlit and vehicles are in danger of colliding with roaming wildlife. Always keep valuables out of sight in cars. Generally, national parks and wildlife reserves have no issues with crime. But do exercise the usual precautions in cities – Nairobi, Mombasa, Johannesburg and Dar es Salaam in particular have high levels of crime. Leave valuables in your hotel, use cabs booked by your hotel or restaurant and avoid walking around at night. Homesexuality may be stigmatised – or even illegal – in some safari destinations. Same sex couples are advised to be aware of local laws and customs, and to act discretely in public. Camping in game reserves is thrilling as you are surrounded by wildlife – including elephants, lions and hyenas. Your guide will explain the regulations at each camp – do pay attention to them! Many countries in Africa are quite conservative, particularly in more rural areas, and all travellers should dress modestly. Women in particular should not wear shorts or sleeveless tops. This is especially important in coastal areas of Kenya and Tanzania where the population is largely Muslim.
Check the FCO website for the most up to date travel advice on each destination.
Safari advice from our travellers
At Responsible Travel, we think the best people to advise our travellers are often... other travellers. They always return from our tours with packing tips, weather reports, ideas about what to do - and opinions about what not to.

We have selected some of the most useful safari travel tips that our guests have provided over the years to help you make the very most of your holiday - and the space inside your suitcase.

Take a pair of binoculars - and good ones - we were very glad we were not fighting to see the animals

Safari clothes are that dusty green because whatever you wear you will end up that colour if you do any serious travelling in Africa! - Jane Lloyd Francis in Namibia

If you go during the wintertime, do not forget warm clothes. A woollen cap is not a "gadget", especially in the south. - Denis Robin in Namibia

I learned a new method of washing clothes, stamp on them when you are in the shower - environmentally friendly as well. Remember an alarm clock. - Demelza Potter in Namibia

Packing earplugs might just help you sleep when the lions and jackals are conspiring against it! - Sarah Schmitz in Namibia

Talk with the guides - they are a min of information.

Pack less than you think, you really don't need it! Don't forget the right kind of travel adaoptors so you can charge your camera battery. - Danila Mansfield in Namibia and Botswana

You don't need a fleece in Selous. It's warm, at least in September! US dollars accepted everywhere. Don't bother exchanging for Tanzanian schillings. Lightweight trainers are fine for this holiday. - Ann Evans in Tanzania

Travel lightly, both in clothing and intent - minimise your own impact by being mindful of the culture and facilities (or lack of) in the country you are visiting. Enjoy every moment, especially encounters with the warm, friendly people as well as the animals. – Angie Polkey in Uganda

Where possible,and within reason, take advantage of going out and exploring the local area and interacting with the localpeople – Heather Evans in Kenya