Forget your fears of marauding wildlife and dodgy dinners; these days, safari is probably as safe as a trip to Disneyland - and about a hundred times more educational.

Going on a safari with kids is a life-changing experience. The landscape is an enormous outdoor classroom and safari guides will be some of the most inspiring teachers your children ever have. Africa is not a zoo, of course, so spending time following prints and identifying poo will while away the time between sightings!
Children aged eight and up will gain the most from a trip – journeys can be long, and morning game drives chilly. Bush walks may be limited to those over 12 or 14, so do check with your operator. Kenya and South Africa are our top choices, especially for younger families, with an abundance of superb guides and tailored lodges with swimming pools and games rooms. South Africa and Namibia also have the lowest risk of malaria.
For information on health and safety, please see our
safari tips page
.
Activities for families on safari
Tim Winkworth, from our supplier The Family Adventure Company:
"Check out small group tours. I always used to wonder why I'd want to travel with other people's kids. But when you go on one, you realise you're not travelling with them – your kids are. They've got ready-made playmates, they share, they learn. It's great to listen to them discussing the lions they've just seen."
Liddy Pleasants, from our supplier Stubborn Mule Travel:
"We don't have a minimum age for our family safaris because we don't want to exclude a family group that includes just one very young child. Children aged 8+ can usually enjoy game drives, but then again I went on safari with my children, and my nine year old loved it but my four and 11 year olds were bored after two hours so it's not straightforward. Know your own kids. If they've been lapping up Attenborough documentaries since they were four you're probably OK."
Rupert Calcott, from our supplier Exodus:
"Older kids should experience camping. In a lodge, you only experience the park during the activities. You do a game drive, then go back indoors. But when you camp, you're in that natural environment 24/7. You experience the sounds, the smells, the noises at night – it's much more intense."
Our top trip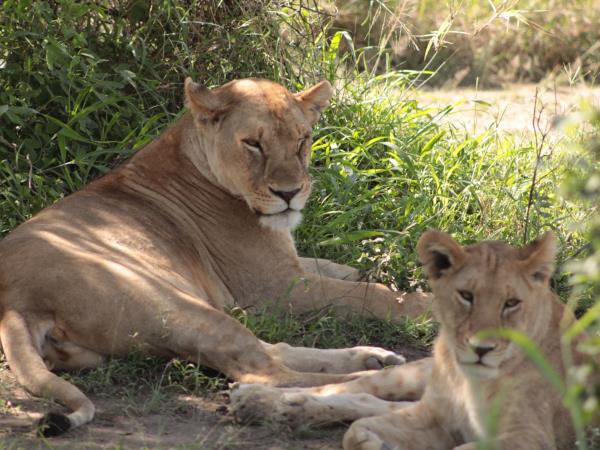 A family friendly tour of the highlights of Tanzania
From
US $5010
8 days
ex flights
Tailor made:
This trip can be tailor made throughout the year to suit your requirements
If you'd like to chat about Safari or need help finding a holiday to suit you we're very happy to help.

Family safari travel advice
Rupert Calcott, from our supplier Exodus, shares his tips for going on a safari with kids:
"Get children out into the pristine areas. They're really dwindling and there is so little wilderness left. It motivates children, it opens their eyes to different experiences in a way a city tour can't. And I believe that in the long term you'll get a budding conservationist."
Arabella is a Botswana specialist for our supplier, Natural World Safaris. She shares her tips for those on safari with kids: "Make sure you book with an operator that has experience with family tours, as some camps have family facilities but no dedicated programmes. Others have guides who are trained to work with children, and there are safe walks around the camp. In the evening there are books they can colour in, and they can even help cook camp meals with the chef. It's the best outdoors education they can get."
Stephan Brückner is the owner of Wolwedans Camps and Lodge in the NamibRand Nature Reserve - as well as being father to three young children: "If I were to come to Namibia with small kids, I would pick three destinations and just stay there. The longer you stay at a place, the more the kids will enjoy it. You don't have to do the whole country – especially if you are driving – as in Namibia, getting from A to B always entails a full day in the car. This also gives you time to relax a bit - which a holiday should be about. Ironically, people on holiday are always super rushed."
Chris Morris, director of our supplier IntoAfrica, shares his advice for families travelling in Kenya: "Take a village, school or home visit. It really can bring home the message about how lucky they are. It has to be carefully managed (so that the Kenyan kids get something out of it as well and you're not part of a circus) but coming face to face with kids of similar age in vastly different surroundings and circumstances is a real eye-opener and can be a life-changing experience for an older child or teenager."