Travel advice
Andrew Bateman, from one of our suppliers, Scot Mountain Holidays:
"Outside the hotspots like Skye, the highlands and islands of Scotland are one of the least populated areas in Europe and if you do have an adventurous spirit and a little imagination it is very easy to escape the crowds. The landscape just absorbs people and if I come across more than twelve people on a mountain day it's a busy one."
Robert Kidd, from one of our suppliers, McKinlay Kidd:
"Yes it takes a while to get to the Orkney or the Outer Hebrides, but I think the journey is all part of the experience. Our islands are something very special. Cycling on Gigha or walking around Colonsay are my favourites."
Cultural advice
John Hutchison, Chairman at the John Muir Trust:
"Take time to consider the link between people, the land and the place names. There is little awareness about this but so many of the place names have a historical significance and a story behind them. It helps you understand the place and brings it alive."
Wildlife tips
Sally Dowden is our wildlife expert and supplier at Speyside Wildlife:
"Don't think you are going to have to cover huge distances to see a variety of wildlife. In the Cairngorms National Park, the centre of the known universe as far as we're concerned, we can go from high mountain tops with semi Arctic species such as Ptarmigan , Dotterel and Snow Bunting and then you can come down into the moors and see Red Grouse, Ring Ouzel and raptors in the valleys. Then right down to the Rivers Spey and Dee where the wetlands and ancient Caledonian pine forests have another variety of species, such as Scottish crossbill, capercaillie and crested tits. And then you are only half an hour from the coast which is a whole other world. All in a day."
Whisky wisdom
Andrew Bateman, Director of one of our suppliers, Scot Mountain Holidays:
"I know this may seem an obvious one but many visitors never get to the truth about Malt Whisky. Although not everyone's tipple it's a hugely varied and complex product if you know what to look for. Also, we have a big issue with too many deer preventing the natural regeneration of our native forests and woodlands in Scotland – eat venison! You will be doing the environment a big favour!"
Our top Scotland Holiday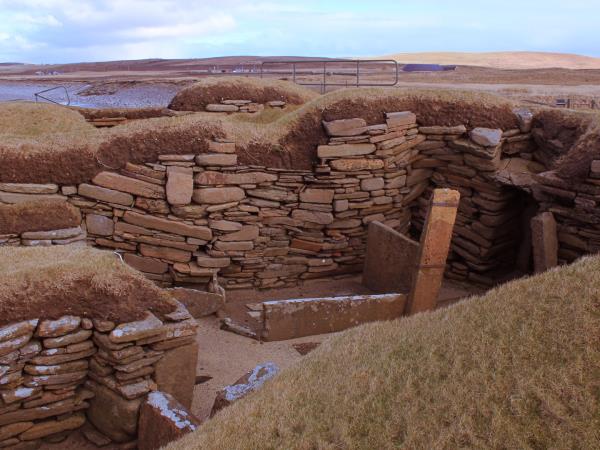 Island hop the wild Scottish Northern Isles on this week's holiday to Orkney and Shetland
From
£955

to

£1045
7 days
ex flights
Tailor made:
This trip can be tailor made throughout the year to suit your requirements
If you'd like to chat about Scotland or need help finding a holiday to suit you we're very happy to help.

HEALTH
Midges are a pest, but you won't look silly with a net over your head in the evening. Everyone does it.
Be wary of ticks. They carry Lyme Disease and others, and best to take precautions. Make sure you carry tweezers so that you can remove them and be sure to inspect your bodies carefully. Always apply a deterrent (a natural one is best for children such as lemon eucalyptus) and then suncream. Read this guide for top tick tips.
If you or the kids are swimming, be aware that blue green algae can be a problem during the warmer months so adhere to any warning signs
SAFETY
If you are taking part in any of the many water activities available in Scotland, always wear a buoyancy aid. Ensure all the straps are tightened especially on kids because they can slip out of them.
If you are cycling on roads, even back roads, wear high vis.
Always check weather conditions before heading out on a hike or a paddle. The mountains and lakes will still be there tomorrow. Don't overestimate your abilities and if there is a chance to use an expert guide, do so.
One of the most common causes for rescue on the Scottish hills is hypothermia usually brought about by exhaustion and injury. So make sure you have enough food and water, the right layers and a shelter. The Mountaineering Council of Scotland is a font of knowledge on all things.
Tips from our travellers in Scotland
At Responsible Travel, we think the best people to advise our travellers are often... other travellers. They always return from our tours with packing tips, weather reports, ideas about what to do - and opinions about what not to.

We have selected some of the most useful travel tips that our guests have provided over the years to help you make the very most of your holiday - and the space inside your suitcase.

Wear layers - my personal favourite is a wooly hat.

"Travel with elasticated waistbands, the food is plentiful and very good" - Anne Feeley

"Book in confidence. The relaxation week is thoughtfully planned with just the right rhythm set up, you can trust that it will work. And bring your waterproofs!" - Lara Gisborne on a yoga holiday in Scotland

"Check out whats on locally for music and dancing - we had a fab time at the local ceilidh on New Years Eve and really enjoyed seeing scottish bands - all at the Village Hall" - Lindy Brown

We had a fab time at the local ceilidh on New Years Eve and really enjoyed seeing scottish bands - all at the Village Hall

"If you're going to the NW Highlands in midsummmer, take an eyemask! Very little darkness this time of year, and I found it quite hard to sleep" - Elaine McAdam

"Join in, enjoy the moment, wear layers – my personal favourite is a woolly hat. I traveled solo and felt comfortable from the outset; sharing a cabin was all part of the experience" - Patricia Moss on our wildlife sailing holiday in Scotland

"Bring waterproofs! We had five solid days of sunshine, but even in these conditions, a waterproof coat and trousers come in very handy for dingy launching and riding, lobster pot launching and retrieval etc where splashing at the very least is inevitable" - Sophie Hood on our wildlife sailing holiday in Scotland