Scotland wildlife holidays
Scotland wildlife holidays are for the adventurous. You might sail a tall ship beneath skyscraper puffin cliffs, camp in frosted heathland with a soundtrack of bellowing deer in the Cairngorms, drive mountain roads that see more golden eagles than people, or brave a cold, dreich day to see the otters that lurk around the lochs.

You'll see wildlife in its element against the elements, where billowing clouds cast a little light and plenty of shade over a land of stone circles, Caledonian forest, crumbling castles and lighthouse-topped headlands.

To maximise your chances of seeing wildlife, you need to travel with a Scottish holiday specialist. They can sort your ferry transfers or self-driving routes, suss out whether you prefer tipi tents or a homely B&B, and pair you up with guides that range from park rangers and ecologists to local fishermen who know exactly where the puffins hang out.
They'll also help you out with timings, which completely depend on what you want to see. Whales mooch in to feed in the warmer waters between March and September. You could see puffball pufflings between May and August. Meanwhile, the Highlands ring with roaring, crashing stags during rutting season from late September to early November.

Read on to find out what to expect from a Scottish wildlife holiday.
Top 5 wildlife spots in Scotland
1. Shetland Islands
The Shetland Islands shelter thousands of seabirds. Many nest and feed at Noss National Nature Reserve, where gannets, guillemots, kittiwakes and fulmars crowd the cliffs in the summer. Sail to the base of the 180m cliffs to peer up at the chaotic colonies; you'll usually be in the company of some very curious seals. You can also take a boat ride to Mousa, where an Iron Age broch – a prehistoric circular stone tower – looms over the storm petrels and Arctic terns.

Tessa O'Hara, from our Travel Team, was lucky enough to spot orcas in the Shetlands: "Nothing compares to seeing orcas wild and free in their natural environment. We had the privilege of watching them for five hours: hunting porpoise, milling about, and travelling along the Shetland coastline with their pod, so close that we could hear their blow everytime they surfaced. It was just the most thrilling wildlife encounter I've experienced in my life."
2. St Kilda archipelago
The four islands in the St Kilda archipelago are some of the most remote islands in the UK. While technically part of the Outer Hebrides, they are a good 60km west of them. The last permanent residents left Hirta Island in 1930 and you're more likely to hear gannets, puffins and fulmars than people. You'll need eagle eyes to spot the tiny St Kilda wrens and giant field mice that are evolutionary enigmas.
3. Outer Hebrides
You could easily spend a couple of weeks exploring the rest of the Outer Hebrides. Out in this northwesterly realm, 10,000-strong seal colonies rule the sands and minke whales peek between the waves.
Small ship wildlife cruises
are one of the best ways to explore; you'll be in the hands of a skipper who knows where the golden eagles nest and exactly what time great skuas return from fishing.
4. Cairngorms National Park
Everything from reindeer, red squirrels and mountain hares, to golden eagles, capercaillie and osprey raise their heads above the parapet outside of winter in the Cairngorms. But things really crank up a notch at the end of September, when the forests turn auburn, heather shades the hills purple and the red deer start rutting. You'll hear the bellow of antlered stags echoing over the mountains before you see them, usually too busy defending their herd of does from interlopers to blink an eye at you.
5. Inner Hebrides
Wildlife and whisky are the watchwords of the Inner Hebrides; the peat-heavy landscapes are stellar for both. On Skye, otters paddle around crystal-clear Loch Scavaig, while at Sgeir Doigich there's a large beach bum seal colony. The Isle of Mull has sea eagles and golden eagles in its rocky bays, hen harriers in the marshlands, and mistle thrush and skylarks in the pindrop-peaceful rural lanes.

The waters around the Inner Hebrides are alive with minke whales, dolphins and basking sharks in the summer, along with the occasional orca, but it's the white-tailed eagle, or sea eagle, that's the conservation success story. They were hunted to extinction by the Victorians, but a reintroduction programme has placed them firmly as a species of least concern. You can't miss them: they have a two-metre wingspan and are the biggest bird of prey in the UK.
Our top Scotland Holiday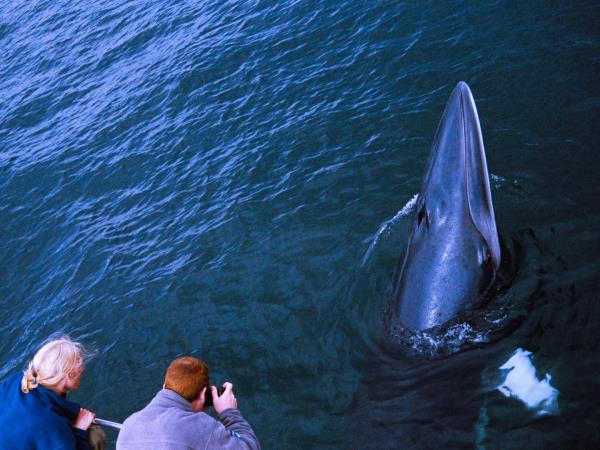 Spot whales, otters and eagles on Isle of Mull, Scotland
From
£575

to

£790
5 days
ex flights
Tailor made:
This trip can be tailor made from late April to the end of September
If you'd like to chat about Scotland or need help finding a holiday to suit you we're very happy to help.

Practicalities
There are many ways to see wildlife in Scotland. Specialist tour operators offer small group wildlife trips headed up by naturalists, park rangers and marine biologists. Other holidays are tailor made with optional added day trips that focus on wildlife – perhaps a six-hour whale watching voyage from Skye or a wildlife hike through the Cairngorms.
Wildlife holidays come in all durations. You might want to spend five days zooming in on Mull or two weeks cruising around the Outer Hebrides with the kids. In fact, almost all the holidays are family-friendly, including sailing trips.
If you want absolute freedom to detour to off the map or pack in as much (or as little) as possible, then a self-drive holiday is for you. You can cut your emissions with an electric or hybrid vehicle.
If you've got your heart set on seeing whales and seabirds, consider a small ship cruise
. You might wake up to breaching whales or be followed into a bay by a pod of dolphins. The smaller the ship, the more freedom you have to play with the schedule and seek out those birds or animals that most fascinate you. Your skipper will be happy to oblige.