The Amazon is the largest and most climatically important area of forest on Earth – yet it continues to be decimated at a terrifying rate in the interests of mass market agriculture and other big business enterprises.
Loopholes in Brazilian environmental laws have actually been used to increase deforestation. Satellite data in 2014 revealed a 190 percent surge in land clearance in August and September compared with the same period last year as loggers and farmers exploited loopholes that were designed to protect the forest. Figures released by Imazon, a Brazilian nonprofit research organisation, show that 402 square kilometres – more than six times the area of the island of Manhattan – was cleared in September 2014 alone.
Reasons for the setback include a shift in government priorities, putting a lower priority on the environment in favour of building
alliances with powerful agribusiness groups
. As part of this, the authorities have weakened environmental legislation, and also pushed ahead with highly controversial dam construction in the Amazon.
In Argentina, similar catastrophic loss of forests is being driven by the short-term demands of agriculture rather than the long-term needs of the environment. According to a report by the
UN Food and Agriculture Organization
, Argentina has lost at least 70 million hectares of forest in the last century, with over 16 million hectares of tree cover decimated between 1980 and 2000 alone.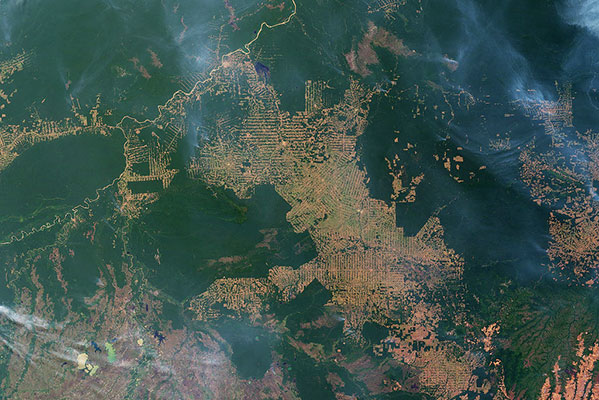 The clearing of forests to provide grazing for cattle has long been cited as a major cause of mass deforestation in Argentina, damaging swathes of the Espinal shrubland forest and the Chaco region. But vegetarians have nothing to feel smug about. Research by the
WWF
also points major blame at soya cultivation, with deforestation due to expanding soybean cultivation posing a serious threat to environmental jewels such as the Yungas 'cloud forest' as well as, again, the Chaco region – one of the largest forest biomes in South America.
Chile's precious temperate rainforests have suffered too from logging for over a century. According to the
WWF
, between 1985 and 1995 alone, Chile lost nearly 2 million hectares of native forest – destroyed for pulp, then replanted with pine and eucalyptus plantations which were expanding at an annual rate of nearly 10 percent. The result is the Chile now has the world's largest expanse of radiata pine tree farms – while also having some of the world's most endangered native forests. These are a global jewel – Chile has the second largest expanse of temperate rainforest on Earth, second only to British Columbia in Canada.
The destruction of native forest also has devastating effects on wildlife. 90 percent of the native forest-dependent species in Chile are found nowhere else in the world, including the world's smallest deer (the pudu) and a remarkable hummingbird that builds nests entirely from moss and spider webs. The genetic isolation of such indigenous animal species into little pockets – native islands amid a sea of foreign trees – severely threatens their ecological needs and long-term survival.
SOURCE:
The Guardian
SOURCE:
Reuters
What you can do:
Try to use paper products that carry a certification from organisations such as WWF to show they have come from sustainable forestries. Support organisations such as WWF that are campaigning to protect vulnerable environments. Visit national parks and protected areas to demonstrate that these precious regions are worth far more intact than razed.