Patagonia is defined by its scale. Encompassing almost all of the southern halves of Argentina and Chile this is a land of endless open steppe, colossal ice fields cut by some of the world's only advancing glaciers and jagged mountains rising impossibly steeply from the desert below. Orca and gigantic elephant seals line the coast here, with magnificent southern right whales regular visitors, while huge Andean condors circle and glide overhead as you hike. Argentina's share of this vast region is one of sweeping emptiness, sprawling estancia ranches and towering glaciers, while Chilean Patagonia seduces with deep fjords, crystalline lakes and a unique Mapuche culture.
It can be tempting to try to pack all of the highlights into one holiday, but Patagonia's raw natural power is best felt by slowing down. Take the time to be part of the landscape here and it holds you under a spell that is otherwise broken by the window of a car or a plane. So lace up your walking boots, step onboard a boat or mount a gaucho-led horse to discover the true might of the Patagonian wilderness.
How do I travel to Patagonia?
Getting to Patagonia
Flying is practically unavoidable on a Patagonia holiday – international flights arrive into Buenos Aires (Argentina) or Santiago (Chile) from where you'll need to catch a connection south. The alternative is a 24-hour or more journey by road which is less than ideal in the time-frame of most annual leave-constrained trips.

If you want to avoid too many flights, however, you'll need to pick one part of Patagonia and stick to it, with the region around El Calafate, Los Glaciares National Park and Torres del Paine National Park a popular option. This area encompasses some of Patagonia's most classic scenery all within a few hours' drive.
Getting around Patagonia
South America specialists offering bespoke tours will be able to arrange quality car hire at Patagonia's gateway airports, and the for the most part paved, easy to navigate main roads make self-drive holidays a popular option here. With no rail service, Argentina and Chile's buses otherwise take the strain for long journeys on some tailormade tours, and they are usually comfortable and of excellent quality. The far south is no exception and travelling by bus in Patagonia offers a similar level of independence as car hire, without the need to get behind the wheel.

Alternatively, small group specialists will take you on a guided tour of the region accompanied by a local guide who will be able bring to life the culture, wildlife and history of Patagonia as you travel. Using a mixture of private and public transport – and dependent on the itinerary several domestic flights - these tours are ideal for solo travellers, or if you're sociable and like the convenience of having everything arranged for you.
From the iconic multi-day 'W' hike through Torres del Paine National Park to gentle strolls along the Beagle Channel in Tierra del Fuego, Patagonia was made for walking. A network of trails snakes out from Argentina's trekking capital, El Chaltén, into the heart of the Fitzroy Massif where hidden lakes reflect the rocky pinnacles of fairy-tale mountains. The deep valleys, towering glaciers and dramatic mountains of Torres del Paine call to travellers across Patagonia who flock to enjoy the outstanding hiking trails and the views from the park's sublime miradores.
Guided tours abound, but the well-marked, well-trodden nature of Patagonia's popular hiking trails mean that self-guided trips too are a breeze in the national parks. And despite its wild nature, Patagonia is surprisingly kind to novice hikers, with even the shortest, gentlest hikes yielding glorious mountain vistas.
Elephant seals and sea lions crowd Peninsula Valdés' wild beaches, and as their babies take their first tentative paddles in the Atlantic, orca lunge from the foam, risking beaching themselves along the rocky coast for a taste of juvenile seal. This is Patagonia's undisputed wildlife hotspot, with land-based and on-the-water whale watching (for southern right whales as well as orca), sea lion and penguin-spotting all possible.

Right at the far tip of the continent the nutrient-rich cold waters of the iconic Beagle Channel , which pass the edge of Tierra del Fuego National Park, support colonies of Magallenic penguins, as well as fur seals, beavers and a plethora of water birds.

Wherever you travel in Patagonia you won't escape the curious, haughty gaze of herds of guanaco, a wild cousin of the llama and alpaca, while puma wander the more remote reaches of Torres del Paine National Park, which is also home to Andean grey fox and the endangered Chilean huemul deer. Look skywards among the mountains and you might be lucky enough to spot Andean condors rising gracefully on thermal currents. Pack good binoculars for the best views.
Our top trip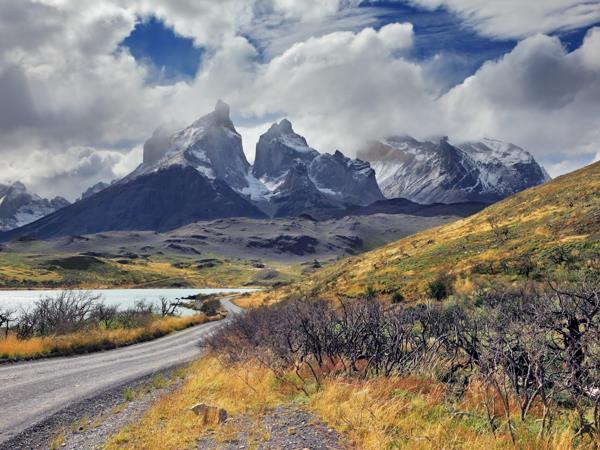 Explore the spectacular wilderness and mountains of Patagonia
From
£4900
20 days
ex flights
Small group travel:
2023: 10 Dec
2024: 14 Jan, 11 Feb, 10 Mar, 27 Oct, 17 Nov, 8 Dec
If you'd like to chat about South America or need help finding a holiday to suit you we're very happy to help.

Torres del Paine National Park
Arguably the jewel in Patagonia's crown, Torres del Paine's lakes, glacial valleys and towering mountain pinnacles are a hiking dream. Lace up walking boots to take on the iconic four to five-day 'W' trek, past Lago and Glaciar Grey, into the spectacular Valle Francés and finally to the base of the 'Torres' pinnacles themselves. Alternatively, a network of basic, yet comfortable refugios – trekking lodges – and more luxurious hotels give flexibility for gentle day walks.
The Lake District
Argentina's answer to Switzerland is usually accessed from chocolate-box Bariloche – where tourists returning from adventures among the turquoise alpine lakes and ancient forests can enjoy some of the continent's best ice cream. The Chilean Lake District is more rugged and wild than its Argentine counterpart, with towering volcanoes and intricate rocky fjords. Visits to the wooden stilted houses and traditional communities on Chiloé Island are a real highlight here.
Los Glaciares National Park
Take a boat ride along the 60m high, constantly calving, wall of turquoise ice where the Perito Moreno glacier meets Lago Argentino. Or lace up walking boots to enjoy hikes in the fairy-tale-esque Fitzroy Massif – the nine-hour round trek from El Chaltén to the mirador at Laguna de los Tres is particularly spectacular. Argentina's unremarkable yet perfectly pleasant El Calafate is the gateway to Los Glaciares, and a pretty universal stop on most Patagonia itineraries.
Tierra del Fuego
The end of the world – well South America anyway – offers a stark change from the classic Patagonian open steppe. Here you can expect spectacular vistas across the Beagle Channel, steeply-forested valleys and rock-strewn glacial lakes – all home to Magallenic penguins, fur seals, beavers and a plethora of water birds. The small, frontier city of Ushuaia is the gateway to adventures in Tierra del Fuego, as well as the starting point for Antarctica and cruises around the ice fields, glaciers, mountains and channels around Cape Horn.
Peninsula Valdés
Southern right whales, orca and elephant seals are some of the bigger visitors to the wildlife-rich coastline of UNESCO listed Peninsula Valdés. Take to the water to watch whales in the protected Golfo Nuevo, or stay on land to watch orca grab their lunch straight from the beach in a unique, impressive display of speed and power. Alternatively, you can walk among vast colonies of Magallenic penguins or snorkel with sea lions.
Chiloe Island
Visitors to windswept Chiloe are met with stories of ghost ships and mermaids, and traditional wooden houses. Chile's second-largest island is splintered from mainland Chile by the narrow Gulfs of Ancud and Corcovado. Homestays are popular here and offer an insight into a seafaring culture little changed over the last century – and a taste of delicious curanto, traditional seafood and meat stew cooked in a hole in the ground.
Best time to visit Patagonia
The best time to travel to Patagonia depends on the region – it is vast – and there are huge variations between the north and far south, the wetter and milder coast, and the arid, cold interior.
In general, the best time of year to travel is November to April, when the days are longer and warmer and more suitable for on foot adventures. November to mid-December is less crowded, as are March and April; the latter bringing golden sunshine, vibrant autumn colours and spectacular sunsets.
At any time of year you'll need to come prepared with warm, windproof and waterproof layers - Patagonia's weather is characterised by unpredictability. And the williwaw winds, when they come, can be fierce.
More South America articles