South America travel tips
Chilean cornucopia
David Orrock from our supplier Pura Adventure highlights the dazzling variety of distinctive experiences in Chile in his South America travel tips:
"There are so many… wrapped up warmly, star gazing in the Atacama Desert; staying in a family home on the Pacific Coast of Chiloé tucking into the freshest seafood and sipping delicious Chilean wine; travelling by boat upriver into Torres del Paine National Park rather than bouncing around on a gravel road. We spend as much time out and about in the open air to make sure people get a sense of Chile every day of their trip."
Our South America Holidays
Going wild in Brazil
Anna Scrivens from our supplier Audley Travel offers wise words contrasting the Amazon and Pantanal for wildlife fans in her South America travel tips:
"We're very careful with how we describe the Amazon because some people go there expecting to see a lot of wildlife. But really you don't because the rainforest is so dense. So people can be disappointed if they have the wrong expectations. The Amazon is not really about the wildlife; it's more of a jungle experience. If it's wildlife you're interested in then you need to go to the Pantanal. It's not as famous as the Amazon, but the wildlife is much better. It feels much less like a jungle because the vegetation is so dense – but that's why you see more wildlife."
Is an overland tour for you?
Is an overland tour for you?
Jess Millett, from our supplier, Tucan Travel, shares her advice on what sort of traveller is suited to a South America overland trip: "To make the most of an overland tour you need to be very flexible, quite patient, and up for a really good adventure. Due to the very nature of these tours, there's always a chance that something can go wrong – like a tyre blowing, or a break down – so you need to be able to shrug that off and make the most of it. An overland trip is ideal for solo travellers as it's a very sociable style of travel – you're mucking in together; you're cooking together; you're cleaning together, so there's a definite community spirit. You're almost guaranteed to make some really good friends and share some incredible memories."
City tips
Elena Larkin from our supplier Natural World Safaris is originally from Lima, and highlights its growing appeal in her South America travel tips:
"Lima is changing - and it's all due to the gastronomy boom of the last few years. The city itself has a lot to offer: the centre is still very colonial, there are lots of museums and we have ruins about an hour away. It's been understated for so many years - people just stayed there for a night before heading to Cuzco - but nowadays people are starting to stay for two or three nights."
Argentine Patagonia
Kathy Jarvis from our supplier Andean Trails goes misty-eyed about vast skies and cowboy culture in her Argentina travel advice:
"Immense skyscapes are one of Patagonia's key features. Though travelling distances can be long these amazing skies and vast empty scenery are so different you switch into a different time mode – hours float by. Glacier lakes and granite spires are oases in the landscapes. Spit roasted lamb and huge chunks of beef accompanied with a fabulous Malbec epitomises the Argentine attitude to food: plenty of it, tasty, nourishing and uncomplicated."
Our top South America Holiday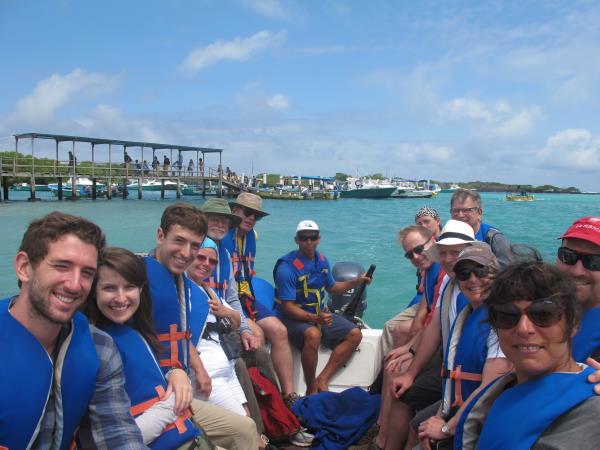 Cruise the Galapagos Islands on sailing boats and yachts
From
£2797
8 days
ex flights
Tailor made:
Daily departures throughout the year.
If you'd like to chat about South America or need help finding a holiday to suit you we're very happy to help.

HEALTH
Anyone travelling above 3,000m – and there are plenty of places that high – should be aware of altitude sickness, known in Spanish as soroche or apuniamiento. Symptoms can be dangerous as well as simply debilitating – they include breathlessness, nausea, headache and extreme tiredness. Try to avoid rapid changes of altitude on foot or otherwise. If moving from lower altitudes to higher perhaps spend a night at an intermediate altitude. Symptoms usually pass after 24 hours but if they persist, descend as much as possible. Also be sure to drink extra fluids, as dehydration is made worse by altitude. And take time to acclimatise before treks like the Inca Trail.
Food may be "samey" (think some kind of meat plus several different carbs) but it is generally of high quality and food poisoning is uncommon - unless you're a real fan of ceviche. However, if travelling to remote areas, bring medication for mild stomach upsets, just in case, as medical facilities will be limited. Do sample the delicious and great value street food, but avoid washed salads, unpeeled fruit and juices made with unpurified water or ice cubes.
Visit your GP at least 6-8 weeks before travel to ensure you have the necessary vaccinations. You may need antimalarial medication if travelling to the Amazon or coastal rainforests; the highlands and southern regions are malaria free.
Wear long sleeved shirts and long trousers in the jungle, and use insect repellent. The coastal rainforests and mangroves are far worse than the Amazon for mosquito bites. Mosquito nets should be provided when necessary.
Zika is still present in South America. However, unless you are pregnant or planning to become pregnant, it should not present a major health threat. If you are pregnant, check with your GP and with the CDC website before travelling. It may be advised to avoid any areas where Zika is present.
Though extremely rare, rabies is present in South America – though largely restricted to parts of Bolivia and specific isolated areas of Brazil and Peru. Avoid contact with street dogs, and if bitten or scratched by any dog – or bat – seek medical advice immediately.
Hypothermia is a risk at high altitudes and Patagonia. Take all the usual precautions in terms of clothing and when camping. Your holiday company should provide comprehensive packing tips.
Sunburn and dehydration are issues due to both heat and altitude. Be sure to carry plenty of water if hiking – especially at higher altitude – and wear high factor sunscreen and broad brimmed hat. The sun is particularly dangerous at higher altitudes where temperatures are cooler but the air is thinner, and you may not remember to cover up.
The safety of tap water varies between countries and within them, always check with your tour leader or ask local people whether it is safe to drink.
SAFETY
Hikers need to be well-prepared in South America – trails can be challenging. Take all usual precautions in terms of water, sun protection, good maps and compass. Also carry extra layers of warm clothing, as temperatures can drop suddenly, particularly after sundown. Crimes such as pickpocketing and mugging are common in many of South America's major cities. Be extremely vigilant, never walk around at night – especially if you are alone – and only carry essential valuables and cash, hiding them when possible. If you wear a money belt, keep this concealed – keep any change for spending handy, as otherwise you will be advertising your money belt to potential thieves. Leave jewellery and watches in your hotel, and don't wear backpacks in towns, cities and on public transport as these are easy to steal from. Crime increases during Carnival and other festivities, so be extra cautious if visiting at these times. Thieves are unfortunately often armed in Brazil – so do not attempt to resist them. Your life is worth more than your mobile phone or wallet. Major South American cities experience periodic protests against local issues. These can turn violent, so it's advisable to keep away from large gatherings and demonstrations. In an attempt to stop ATMs being tampered with, any machines which have been damaged will stain bank notes. Report this to the bank immediately; bank notes with stain marks will not be accepted anywhere. If possible, use ATMs inside banks. Don't take anything other than the essentials to city beaches – bring only the cash you need, and leave your camera behind. Visiting a Brazilian favela is not advised unless you travel with a reputable guide. Check the safety procedures on board boats – accidents on the Amazon are not uncommon. Enquire about life jackets for adults and kids in necessary. Research beaches you plan to visit – some have strong currents which can be dangerous.
At Responsible Travel, we think the best people to advise our travellers are often... other travellers. They always return from our tours with packing tips, weather reports, ideas about what to do - and opinions about what not to.

We have selected some of the most useful South America travel travel tips that our guests have provided over the years to help you make the very most of your holiday - and the space inside your suitcase.

Talking to local people about their lives was one of the most fascinating aspects of this holiday

"Make sure you're in good shape for long and sometimes challenging hikes in Patagonia." - Karen Cutler

"In the Atacama, be ready for no internet. But the experience is worth it." - Victoria Edwards

"The ability to speak a little South American Spanish would make it a lot easier. Also make sure you take some warm clothing for early starts and high areas visited. But don't forget the sun hat and sun screen as well." - Dave Thalrose

"Peru and Bolivia are developing countries and hygiene and timekeeping are rather different there. Remember to respect locals and their way of life too!" - Kristiina Puusaari-Sheahan

In the Atacama, be ready for no internet. But the experience is worth it.

"In Iquazu, all payments for tours are required in cash - no cards accepted. And the US dollar is in favour - but in the shops/restaurants cards are OK." - Vera Alladitta

"Make sure your camera has a huge memory card... and take a good lip balm because the altitude makes your lips dry!!" - Jo Curry

"If you are not on a direct flight back to the UK - we changed planes at Madrid - you may have to change terminal and the authorities will take any liquid duty free off you. I'm still cross about my vintage wine!" - Patricia Stott

"Talking to local people about their lives was one of the most fascinating aspects of this holiday." - Joanna Rothon