South America travel guide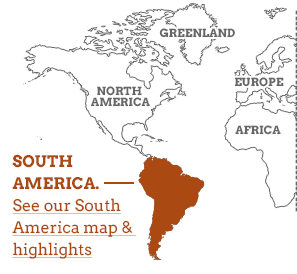 Forget South America's mass market tourist clichés: sipping caipirinhas on a beach; pan-piping Peruvians; Carnival hedonism in Rio. Even if you think you know this vast continent of contrasts, you probably don't know the half of it. Our South America travel guide will pick out justly renowned highlights – the Inca Trail, Patagonia, Galapagos, Iguazu, the Amazon – each a global draw precisely because they're fantastically unlike anywhere else on earth. But we'll also shine a light on more off-the-beaten track places that will remain with you forever if you go.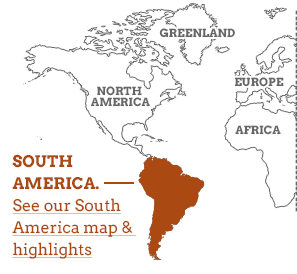 meet a continent cradling the world's driest desert and largest jungle, alongside some of its most awesome volcanoes and iceberg-filled fjords.

Chile's Atacama, the world's oldest and driest desert – yet dotted with snow-capped peaks and jetting geysers. In Bolivia, marvel at the high-altitude Andean setting of the vast Lake Titicaca. Discover Colombia's history-soaked Caribbean coast, the vibrant hill villages of mainland Ecuador, or Guyana's 'Lost World' wildernesses. South America's secret half and famous half make a breathtaking whole.
South America is/isn't...
South America is...
a stunningly diverse mix of unforgettable nature and culture.
South America isn't...
a group of similar countries.
What we rate & what we don't
Inca Trail
The
Inca Trail
is a journey and a destination rolled into one, waymarked with natural and cultural rewards. High windswept tundra and humid cloud forest mix with hidden ruins reached by ancient paths. The legendary final destination of Machu Picchu is spectacular but the world of traditional Quechua villages traversed along the way is equally memorable.
Galapagos Islands
Ecuador's island offshoot was a pirate hideaway until its uniquely evolved bestiary provided an evolutionary bonanza for a spellbound Charles Darwin in the 19th century. The landscape – forest, smoking volcanic features, sweeping coast – is as breathtaking as its wildlife that shows no fear of humans – from seals and penguins to giant tortoises and salt-snorting iguanas. Each of the
Galapagos Islands
offers its own varied geography and ecology.
Amazon Rainforest
Manaus is the base for the northern forest, including the wildlife and pristine jungle environment of Jaú National Park. Cruise past tropical archipelagos, looking for pink river dolphins and giant otters. Or encounter native culture canoeing to Yanomami and Tukano villages. In the southern forest, spot some of the 550 bird species and multiple types of monkey, as well as giant capybaras grazing the riverbanks.
Iguazu/ Iguaçu Falls
Straddling the Argentina-Brazil border,
Iguazu
, the world's finest cascades stretch 3km and tower higher than Niagara. There are over 270 falls, and you'll need to border-hop for the full experience. The Brazilian side has rainforest walks and catwalks above the cascades, while Argentina allows you to cruise upriver on a zodiac – navigating rapids to reach the Devil's Throat Canyon.
Drug tourism
Coca leaves are an important traditional crop in countries like Bolivia - a mild stimulant and excellent for altitude sickness. But it also makes the vile, weirdly glamorised drug cocaine. La Paz's cocaine bar draws tourists, as do cocaine-themed drug tours in the Amazon. Please avoid. They are not only illegal but take money away from legitimate and far worthier initiatives.
All-inclusive Brazilian resorts
Brazil's vast coastline is fringed with spectacular beaches, but for years visitors opted for famous city beaches like Rio's, leave the idyllic secluded strands to beach bums. Now, all-inclusive resorts are springing up in places like Ceara, Bahia and Rio's Green Coast, which aim to keep visitors in the resort rather than out contributing directly to often struggling local communities. Avoid.
Orphanage volunteering
It sounds like a wonderful and worthy cause – but travellers are waking up to the fact that all may not be as ethical as it seems. A revolving door of short-term, unqualified volunteers mean that the children – many of whom may have emotional or mental problems – are abandoned again and again. Worse – when orphans become a "business" thanks to the availability of travellers' cash, fake orphanages may be set up to lure well meaning volunteers in. Nasty stuff.
Fake culture
Handmade crafts are brilliant mementoes – but they're also a target for fakers keen to get gringo dosh for mass produced tat. Ditto fake 'indigenous' sites such as the floating reed island village in Lake Titicaca. There is nothing wrong with setting up replica sites as a demonstration of traditional culture - as long as visitors are told this, and aren't surprised to discover the 'inhabitants' all leave at the end of the day.
Eating & drinking in South America
Forget the hipster hype; quinoa is a tasty, protein packed Andean grain, sacred to the Incas.
Giant king crab is a treat from Patagonia's cold southern oceans.
Carnivores will love herb grazing, flame grilled, Patagonian lamb as well as barbecued Argentine/Brazilian beef.
Compare superb Chilean wine from Colchaqua, Maipo, Aconcagua and Elqui with Argentinian gems from Mendoza, Salta and Jujuy, San Juan and La Rioja.
Spirit lovers can compare Brazilian cachaca with pisco from Peru or Chile.
South America mainly speaks Spanish, complemented by Portuguese-speaking Brazil and the English/Dutch/French speaking Guyanas! But shared language doesn't mean shared character. Chileans are, unsurprisingly, quite different to Argentinians, Bolivians from Peruvians, and Ecuadorians from Colombians. Add hundreds of indigenous peoples, each with their own rich traditions, from Inca-descended Quechua to African-influenced Bahia, and Amazon tribes barely touched by the modern world, and South America starts to look less like one big Latino mass, and far more complex and colourful.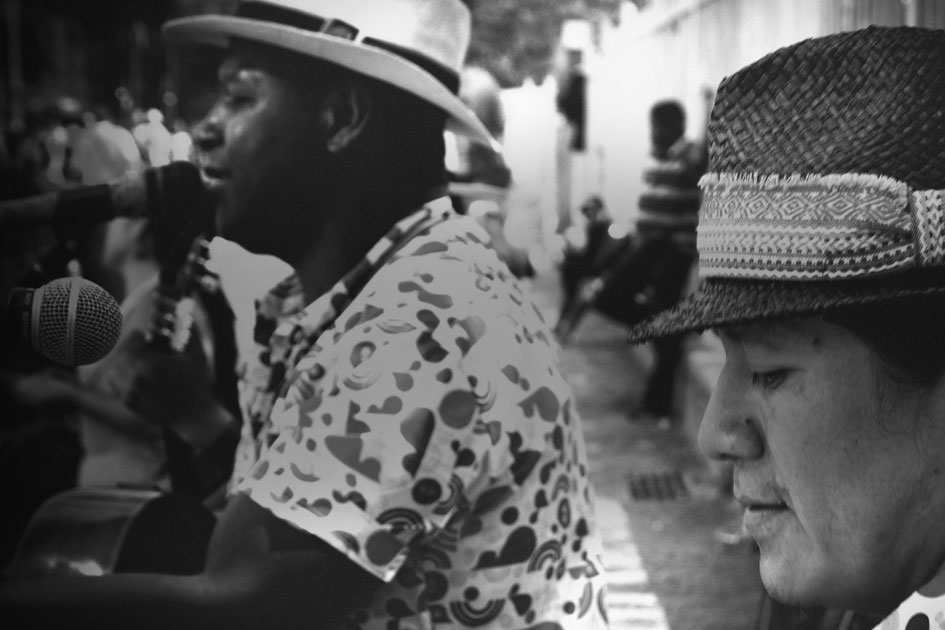 Despite the name, Panama hats come from Ecuador. Strong and flexible, they can hold water – and be rolled up to pass through a ring.

Our top trip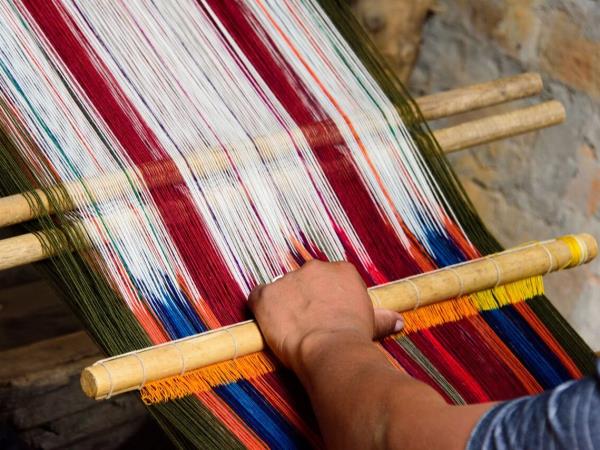 Private in-depth tour of Ecuador and The Galapagos
From
£6800

to

£7900
23 days
ex flights
Tailor made:
This trip can be tailor made throughout the year to suit your requirements
If you'd like to chat about South America or need help finding a holiday to suit you we're very happy to help.

Authentic Panama hats from Ecuador are easily-packed and very useful.
Shawls/ponchos/jumpers made from alpaca are soft and very warm.
Watch out for shoddy fake 'native crafts'. Buy from local makers in the actual native regions or ask about bona fide specialist shops, such as Amoa Konoya in Sao Paulo, which sells work by 60 Brazilian tribes.
Beautiful jewellery is widespread and distinctive, such as Chile's lapis lazuli pieces.

Contrary to appearances, Chile is not the longest country in the world - Brazil is! It stretches 4,395km north-south, borders ten nations and spans three time zones.

Plate of curanto in Chiloé (Chile): £6
Authentic Panama hat (Ecuador): £15 - £35
Entrance to Iguaçu Falls (Brazil/Argentina): £13
Torres del Paine Refugio with breakfast (Patagonia): £60
Budget train journey from Machu Picchu to Cuzco (Peru): £34
Wandering among South America's Scribes
South America inspired two of the most acclaimed travel journals of recent decades, with the 1970s publication of
Paul Theroux's
Old Patagonian Express
and
Bruce Chatwin's
In Patagonia
. More recently,
Hugh Thomson
has written with gusto about ancient and modern Peru in books like
The White Rock
and
Cochineal Red
.
Read more
More South America articles