Wildlife in South America
From Brazil's elusive jaguars to the playful blue-footed boobies of Ecuador's Galapagos Islands, the wildlife in South America is as diverse as the continent itself. Motorised canoes take you deep into the Amazon basin, where rivers teem with black caiman and piranhas, as well as the occasional rare pink river dolphin, and the canopy is alive with monkeys, sloths and a plethora of multi-coloured birds. You can ride on horseback through the open wetlands of the Pantanal region for some of the best opportunities to see jaguars on the planet. Offshore, the Galapagos Islands, which have inspired a host of scientists and travellers since Charles Darwin, are home to a riot of wildlife with little fear of humans. Or you can head south, for spectacular whale watching around Argentina's Peninsula Valdés and to see giant condors cruising over the mountains in Chilean Patagonia.
The human side of South America is a vibrantly coloured tapestry of cultures, identities and traditions that is inextricably woven into the heart of the natural world. Travel on a wildlife holiday in South America and you'll be visiting some of the most vulnerable environments on the planet – understanding the relationship between local people and their neighbouring nature will cast a light on the challenges, and future, of protecting and conserving some of the world's most special wildlife.
Where to see wildlife in South America
The Amazon, Brazil
There's a magic to spending time in the Amazon that goes beyond the thrill of its animals, which is handy, because the dense vegetation can rather get in the way of the wildlife. The Amazon experience is as much about immersing yourself in the cacophony of sound, embracing the humidity and discovering the knowledge and stories of your indigenous guides as it is about spotting individual species.
Saying that, while your chances of seeing jaguars or other big mammals are quite slim in the heart of the forest, you'll still need to keep your binoculars handy for glimpses of sunburnt-looking Uakari monkeys swinging through the canopy. Or red howler monkeys, three-toed sloths, black caiman and a host of vibrantly-coloured birds. Remote lodges, often owned and run by indigenous forest communities, are accessed from the jungle city of Manaus. From here, comfortable yet basic expedition cruises and motorised canoes take you explorer-style along the Rio Negro, Rio Japurá and other tributaries and channels of the Amazon into the heart of some of Brazil's most pristine forest. Guided walks through the jungle, kayaking, canoe safaris to spot pink river dolphins, wild swimming and visits to remote villages are all possible.
Given the need for a flight to Manaus, it is easy to combine a few days in the heart of the Amazon with a wider itinerary to the Pantanal, Rio de Janeiro or other areas of Brazil. Read more about Amazon adventures in our
Brazil travel guide
.
Patagonia, Argentina and Chile
Travel to the UNESCO-listed coastline of Argentina's Peninsula Valdés between September and April and you may be lucky enough to see orcas launch themselves out of the Atlantic spray, risking beaching themselves for a tasty bite of seal. This is Patagonia's mecca for marine wildlife; while not always indulging in such unique hunting behaviour, the orcas are here all year round (although can be tricky to spot), and are joined by vast colonies of Magallenic penguins, sea lions and huge, comically-nosed elephant seals. From June to December pods of southern right whales arrive in the Golfo Nuevo to breed, and whale watching here either from the land or by boat, is spectacular.
Further south, the open Patagonian steppe is home to herds of curiously haughty guanaco - the wild cousin of the llama – and the mountains and rock-strewn glacial valleys of Chile's Torres del Paine National Park hide puma, endangered Chilean huemul deer and Andean grey foxes. While pumas are notoriously difficult to spot on Torres del Paine's busy main hiking trails, cast your eyes skywards as you walk and you may well see Andean condors – with their mighty three-metre wingspan - cruising on thermals. Discover more about Patagonia in our
Patagonia travel guide
.
Galapagos Islands, Ecuador
The islands that inspired Darwin's Theory of Evolution astound tourists and scientists alike, not for the size of its wildlife but for its boldness in the face of visitors. Centuries of isolation have left these animals with little fear of humans, so the Galapagos have become a unique place to immerse yourself in their wild world. Marine iguanas lounge atop volcanic rocks, sea lions play as you snorkel and giant Galapagos tortoises roam the islands' highlands. The birdlife here is as noteworthy as the marine life – frigate birds with their scarlet balloon-like throats are a constant companion overhead while huge waved albatrosses launch themselves off the cliffs on Española Island. Among the most unique are the Galapagos penguins, the only species to be found living north of the equator.
Small cruise ships, carrying a maximum of 100 passengers and often just a fraction of that number, criss-cross between the islands while a network of locally-run guesthouses on the few inhabited islands make land-based tours a more family-friendly, and affordable, option. Read more in our
Galapagos Islands travel guide
.
Our top trip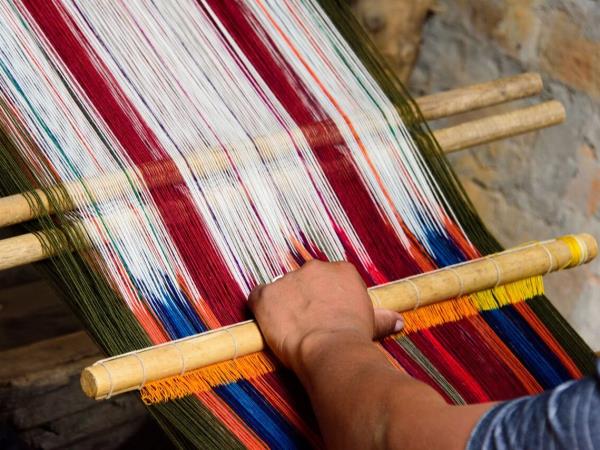 Private in-depth tour of Ecuador and The Galapagos
From
£6800

to

£7900
23 days
ex flights
Tailor made:
This trip can be tailor made throughout the year to suit your requirements
If you'd like to chat about South America or need help finding a holiday to suit you we're very happy to help.

Manú National Park, Peru
Manú National Park, and its surrounding buffer zone the Manú Biosphere Reserve protects some of the most pristine, untouched rainforest in Peru, as well as swathes of cloud forest and indigenous Machiguenga tribal communities. One of the most biodiverse reserves on the planet, UNESCO-listed Manú is home to thousands of species of birds as well as some of the Amazon's most endangered wildlife. Jaguars and giant otters call this steamy wilderness home, alongside spectacled bears and the unique nocturnal night monkey.
Guided walks in the jungle and motorised canoe trips along the Madre de Dios River reveal the life in this rainforest. Head into the highly protected Manú Reserved Zone to experience virgin rainforest, where pristine Lake Salvador hides families of giant otters and black caiman. Camping huts are a unique way to enjoy jungle life, alongside a network of remote lodges run by Manú's indigenous communities.
Manú also encompasses the almost-permanently mist-shrouded cloud forest - a unique wildlife-rich environment that sits between the high-altitude Andes and the Amazon lowlands. Hike through the forest to a lek of the Cock-of-the-rock for a chance to watch the wonderful mating dance of these vibrant red-headed birds. Read more about wildlife in Peru in our
Peru travel guide
.
Tambopata National Reserve, Peru
Tucked away where the Amazon rainforest meets the Andean cloud forest, Tambopata National Reserve is home to vast array of wildlife including jaguars, pumas, ocelots, giant otters, spider monkeys, tapirs and a plethora of birds to name just a few. Sunrise at the park's clay licks unveils dozens of scarlet macaws, emerald green parakeets and blue-headed parrots, among others, which feast on the nutrients in the clay each morning. Night-time jungle walks and boat trips on isolated ox-bow Sandoval Lake, are all possible from rainforest lodges tucked deep into the trees. A short flight to Puerto Maldonado from Cusco means Tambopata is easily combined with hikes along the Inca Trail to Machu Picchu.
The Pantanal, Brazil
Brazil's Amazon may be the headline nature act in South America, but if you want to see swathes of wildlife then there is nowhere better than the Pantanal. The world's largest seasonal wetland offers almost guaranteed sightings of jaguar in the wilds around Porto Jofre, as these well-camouflaged and notoriously elusive cats prowl the river banks.
You might think it would be tough to spot individual creatures in a wetland the size of France, but the openness of the terrain, and lack of dense forest coupled with the sheer quantity of animals here – a thousand species of birds and 300 species of mammal – means there's every chance you stumble across capybara, tapir, giant otters, piranhas and even jaguar as you explore the flooded forests and grasslands by boat. Guided night walks by torchlight reveal the glowing red eyes of caiman, while gentle horse-back safaris are also possible. Find out more in our
Pantanal travel guide
.
More South America articles