Things to see & do at the Grand Canyon

Let this great wonder of nature remain as it now is. You cannot improve on it. But what you can do is keep it for your children, your children's children, and all who come after you, as the one great sight which every American should see.

– President Theodore Roosevelt Jr
Despite its fame, the Grand Canyon is neither the longest, the deepest nor the widest canyon in the world – all of those epithets belong instead to the Tsangpo Canyon in Tibet. But it is without question the most recognised and most visited canyon in the world, as well as being among the most loved
American national park
. One of the great natural spectaculars in a country that's hardly short of them, the Grand Canyon was designated a national park in 1919, and today attracts some six million visitors annually – no matter how many times you see it, this plunging fracture in the Arizona desert still has the capacity to take your breath away with its sheer scale.
The canyon has been shaped by the Colorado River, which runs for 2,300km through seven American and two Mexican states, and has been running for over two billion years. Some of the oldest rocks on the planet are scattered over the canyon floor, and it was considered a holy site by the ancient Pueblo people. Their history, and those of several Native American tribes that settled in the canyon and its caves over the centuries, along with the canyon's fascinating geology, are explored at visitor centres around the canyon. You can also wander historic structures such as the Grand Canyon Railway Depot and several buildings designed by the architect Mary Colter.
Of course, it is the canyon itself that is the star attraction. No one viewpoint can ever do it justice whether from one of the rims, or from its belly. It stretches almost 450km, and at its widest point is nearly 30km across. At sunrise and sunset, the ancient rock walls glow magnificently. This is not a place to simply stop by for a quick selfie – you need to explore it to really appreciate one of Mother Nature's greatest achievements.
The canyon floor is accessible on foot, by mule or boat – you can even try white water rafting along the Colorado River. Despite that, only five percent of visitors actually hike below the main rim trails, likely because the paths down are so steep. The trek down is not to be underestimated, around 15km each way, and it can be significantly warmer at the bottom than it is on the rim.

That said, you don't need to walk all the way, as there are several stunning viewpoints a little below rim level such as the aptly named 'Ooh Aah Point', Bright Angel Point and Mather Point. The terrain can also be damp and slushy early in the year after the snow has melted. Small group trips are accompanied by a tour leader, but they will usually not be allowed to guide hikes, so you will need to decide which route(s) you prefer and are capable of walking in the time available.
Scenic helicopter flights are immensely popular, and a good way to get a sense of the canyon's scale, but you don't need to leave the ground for that really. The Skywalk, at Grand Canyon West (and not part of the actual national park) was opened by the Hualapai tribe, and offers outstanding panoramas over the canyon while providing the tribe with valuable income.

If you're visiting the Grand Canyon on a family holiday then, as with many American national parks, kids can join a junior ranger program, earning badges by hiking, or making observations through writing and sketching. The park also has an IMAX theatre where you learn how the canyon was formed through an audio-visual presentation.
The Grand Canyon is an American icon, the
second-most visited national park
in the country, and during peak season
(the summer months)
you can expect to be sharing the trails, the viewpoints and the various attractions such as the Skywalk with immense crowds. The best time to visit the Grand Canyon is between
March
and
May
, or
September
and
November
, when the weather is cooler and there are not so many people around. In
January
and
February
the canyon is often blanketed with snow, making it even more photogenic. In
summer
the temperature inside the canyon can reach almost 40°C while in the
winter
it can be as low as -18°C on the rims. These extremes of temperature mean you need to prepare well if planning to hike down into the canyon, taking sunscreen and lots of layers of clothing.
Our top USA Holiday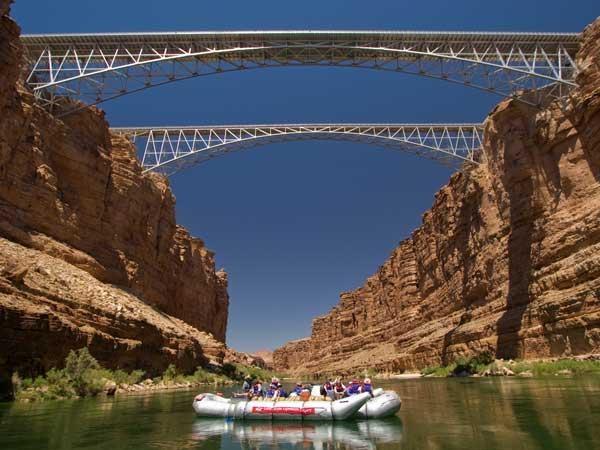 White water rafting down the Grand Canyon
From
£3199
8 days
ex flights
Small group travel:
2022: 15 Apr, 16 Apr, 5 May, 6 May, 7 May, 12 May, 13 May, 14 May, 19 May, 20 May, 21 May, 26 May, 27 May, 28 May, 2 Jun, 3 Jun, 4 Jun, 9 Jun, 10 Jun, 11 Jun, 16 Jun, 17 Jun, 18 Jun, 23 Jun, 24 Jun, 25 Jun, 30 Jun, 1 Jul, 2 Jul, 7 Jul, 8 Jul, 9 Jul, 14 Jul, 15 Jul, 16 Jul, 21 Jul, 22 Jul, 23 Jul, 28 Jul, 29 Jul, 30 Jul, 4 Aug, 5 Aug, 6 Aug, 11 Aug, 12 Aug, 13 Aug, 17 Aug, 18 Aug, 19 Aug, 20 Aug, 25 Aug, 26 Aug, 27 Aug, 29 Aug ...
If you'd like to chat about USA or need help finding a holiday to suit you we're very happy to help.

North Rim or South Rim?
It's said that you visit the South Rim to appreciate the canyon's depth, and the North Rim to appreciate its width. The North Rim is only open to visitors between mid May and mid October as it sees heavy snowfall in winter. As it's less accessible, the North Rim also sees only around a tenth of the visitors as the South Rim, and has a much greener, calmer appearance. The South Rim, at 2,100m above sea level, is open all year round, and has a much larger visitor area, so most people head here. There are some two dozen viewpoints, compared to only a handful on the North Rim, and far more activities. It's also a lot more accessible from major cities.
Grand Canyon small group tours
The Grand Canyon National Park is such a hotspot that it makes best sense to travel as part of a small group. That way, all the logistics; booking accommodations from hotels to campsites, transport and even some included activities are done on your behalf. If you're spending a day or longer at the canyon with time to yourself then you can make use of the free shuttle service which transfers you between locations and trailheads. The famous Rim Trail gets very busy in peak summer season so if visiting then either make the earliest start possible or consider other walking routes.
The Grand Canyon is often included as part of a loop or point-to-point trip between Las Vegas (four hours away) and San Francisco (12 hours) or Los Angeles (eight hours), taking in other western national parks – the
loop around Zion, Bryce and the Grand Canyon
being one example, and a neat way to admire three strikingly different canyon landscapes. Other key sites you might take in en route include Route 66, which passes close to the canyon, Hoover Dam and Monument Valley, so if you want to see a great deal in a short space of time, an organised small group tour is a solid bet.